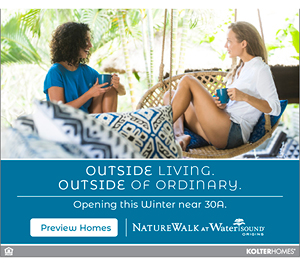 By M. Shaye Smith
We've been celebrating Thanksgiving as an American holiday for 158 years. Established by Abraham Lincoln during one of America's darkest times in 1863, shortly after the devastating Gettysburg battle during the Civil War, in both good times and in bad, Thanksgiving has always been a gathering to celebrate our biggest blessing—that of beloved friends and family.
Avoid cooking, cleaning, and shopping—dine in or grab it to-go, and enjoy some of Destin's finest food for your Thanksgiving Day feast!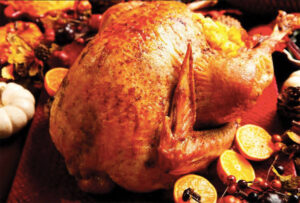 Beach Walk Café at Henderson Park Inn is offering a Thanksgiving Day Buffet on
Thursday, Nov. 26 from noon to 5 p.m. | $56++ per person | Reservations Required.
Reservations are required and can be made by calling (850) 650-7100. BeachwalkCafe.com
The Henderson: Crystal Ballroom | Seatings at 11 a.m., 2 p.m., and 4 p.m.
A family style feast with all of the classic Thanksgiving fixings! Enjoy carved to order roasted turkey, prime rib, or glazed ham. Round out your plate with cornbread stuffing, roasted brussels sprouts, bourbon sweet potato puree, and much more! Reservations required. Call 850-424-4436. Adult $69 | Child $29 | 4 years & under are complimentary.
Open Face Turkey Sandwiches in Horizons at The Henderson: If you're looking for more intimate, low-key Thanksgiving plans, then come to Horizons any time after 5 p.m. to enjoy a hand-crafted open-face turkey sandwich complete with sides and a slice of pumpkin pie to finish it off! These will taste just like Thanksgiving without all the cooking, cleaning and prepping! The cost is $28 per meal.
Turkey Takeaway Meals at The Henderson: Avoid over cooking or under cooking your bird and let the resort culinary staff take the reins. Your turkey will be perfectly cooked, perfectly moist and ready to carve on your dining table. Sides include creamy yellow corn, rustic cranberry compote, cornbread stuffing and much more! They'll also add in two freshly baked pies to top it off. The cost for 4-6 guests is $160 and for 8-10 guests the cost is $275. Visit HendersonBeachResort.com to view the full menu. Limited turkeys available, so call 850-424-4436 to reserve yours today!
Honey Baked Ham: A great place to stock up on all food Thanksgiving! Ham, turkey and delicious sides or the full Thanksgiving feast. Available for pick up or delivery. 137 Crystal Beach Dr, Destin, FL 32541 (850) 650-2636 www.honeybakedham.com.
Whole Foods Destin: For Thanksgiving dinner to go, you can choose from a wide selection of holiday meals that range in size and price and serve up to 14 guests. They also carry organic meals, turkey dinners, ham dinners, prime rib, and even vegan meals. Order pre-cooked turkey and sides either in the store or online through their Destin E-store. (850) 269-7400. Wholefoodsmarket.com
No matter what activities, events or restaurants you choose for your Thanksgiving, we wish you a happy and blessed time filled with fun, food, family, friends and great memories.