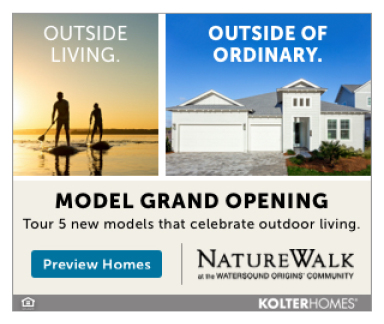 Fall Brings October Specials!
Smallcakes: A Cupcakery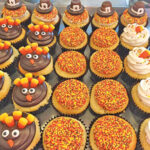 YUM! As seen on the Food Network and Cupcake Wars, experience this cupcake heaven on earth with the best-tasting, "frostacious" frostings and a variety of special cupcake flavors to suit your taste all month long! The buzz is all about Maple Butter Pecan, Snickers, Kickin' Kat, M&M, Pumpkin Cheesecake, Rolo Candy, Apple Cobbler, Butterfinger, Pumpkin Spice Latte, Apple Cobbler, All My Joy, Butterfinger, Pumpkin Spice Latte, Apple Cobbler and Biscoff Cookie Butter. There are also gluten free cupcakes—moist, delish and delightful. Let Smallcakes do your baking this holiday season for any occasion. You can choose from custom large and small cakes, cupcakes, cookie cakes, brownies, cupcakes-in-a-jar and more! For your special events, desserts and "wowing" family and friends, make it personal with custom edible logos and images to go on these amazingly tasty treats—there's even mini-cakes, too. You get them baked fresh with up to 13 flavors to choose from daily, perfect for holiday parties, office or family gatherings, birthday parties, weddings, Halloween, Thanksgiving and Christmas events! But don't hesitate to grab one during the party, for they will be all gone! Don't forget your pets treats and football cakes perfect for games or tailgating! Call ahead for pre-orders or curbside pickup!
(850) 460-7487
facebook.com/SmallCakesOfDestin
www.smallcakes.net
Why You Should You Invest In A Rental Property
Brian Locicero, REALTOR®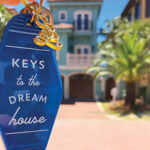 Ready for the "keys to the dream house?" Brian K. LoCicero, Realtor®, Be On The Coast Real Estate says there's many benefits.
Values Increase over time. During COVID, money put towards real estate investments has increased substantially, due to an influx in demand of rental properties, as more employees work remotely, creating an increase in rental rates. This upward trend means your property's value increases as well.
Steady Growth. Unlike investing in stocks, it's more steady with minimal chance of losing it overnight. Generally, experts can predict when the market will start to dip in advance, and you can adjust accordingly.
Mailbox Money/Create passive income. You can make you money while you sleep and the rent you collect can cover or exceed your mortgage payment and other expenses, allowing you to bring in extra cash flow.
Flexibility to sell. You can be selective about when and if you sell while the home is still appreciating. Once the market is in the right place and the lease is up, you can pull the trigger.
Tax breaks. You can take advantage of several tax exemptions. Rental income is not subject to self-employment tax and government provides tax breaks on insurance, repairs, legal fees and property taxes.
Inflation. Rental property owners actually benefit from inflation, because as the cost of living increases, so does your income.
Visit BeOnTheCoast.com, enter your budget and the area you'd like to invest in and hit SEARCH, to find homes available for sale in your price range. For questions or to schedule a residential or commercial property showing, contact Brian at (850) 739-3800.
New Ways to Plug in at CRYO850
CRYO850 Performance and Recovery Center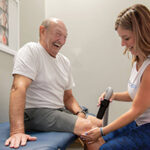 As the world puts a renewed focus on health, CRYO850 wants to make sure our community finds a way to plug into health! Good nutrition and daily exercise are a must! Couple that with self-care and you are on your way to a better you! Memberships, Day Passes, Weekly Passes and CRYO850's all new Wellness Circuit Pass all offer access to the entire CRYO850 Wellness Circuit including Infrared Sauna, Red Light Therapy, Whole Body Cryotherapy, Localized Cryo, Vibration and Compression. CRYO850 now also offers an unlimited cryotherapy pass and a drop-in discount card. All services are also available a la carte!
• Memberships – $119, $169 or $219 for 4/month, 10/month or unlimited
• Wellness Circuit Pass – $111/month–3 visits/month
• Cryo Express Pass – $99/ month for unlimited cryotherapy
• Drop in Discount Card – $19.99/month – holds a 30% discount on any a la carte
Name the age, race or fitness level and you'll find it here—a myriad of people wanting better health and wellness without drugs or injections.
(850) 279-4145
facebook.com/CRYO850
www.cryo850.com
Start Christmas Shopping!
Frill Seekers Gifts and Personalized Fabulous Finds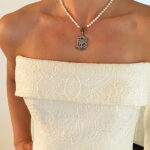 Should you start Christmas shopping now? The resounding answer is YES! Forget what you'll wear for Halloween or who you'll invite to Thanksgiving dinner…those decisions can wait. Christmas shopping, on the other hand, cannot. This is the year to think and plan ahead. With the labor shortage, cargo issues and supply chain disruptions, if you wait too long, you likely won't have time to get that fabulous monogrammed necklace or the personalized stationery. If you start thinking about gifts now, you'll actually be able to think of a gift your recipient will adore, rather than just grabbing whatever's available in December. It's important to remember that personalized gifts, such as Frill Seekers popular custom monogrammed necklaces, bracelets and monogram earrings take time to design, create and make. Planning ahead is imperative this year. Most importantly, you can actually enjoy December. Spend your time baking cookies, looking at Christmas lights, or going to holiday events. The sooner you can start shopping, the better. If you have several gifts to be mailed, keep mailing costs down and consider getting gift cards from Frill Seekers, so they can create a wishlist and design their very own piece of personalized jewelry or a luxurious set of monogrammed stationery that they'll remember for years to come. Start your shopping online now at: FrillSeekersGifts.com or visit the shop in City Market Bayside off Highway 98 in Destin, Florida.
(850) 460-2700
facebook.com/FrillSeekersGifts
frillseekersgifts.com
Extend Yourself! It's a Game Changer.
Pure & Couture Salon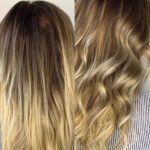 A stunning before and after! It's amazing what extensions + a great stylist can do! Meet the experts in an enhanced look with hair extensions to add thickness, volume and length—a BIG answer for hair struggles! Like magic, Pure & Couture's hand tied, new, invisible-beaded hair extensions are a game changer solving problems previously encountered. As fun as an ice cream shop, there are an array of colors from which to choose for fall: Bronzed curls, beautiful red tones, chocolate melts, a blonde, beachy bob, even a Caramel swirl and so many more! Give this gift to someone special and, voila, witness their transformation! Who on your list wants a beautiful, colorful, trendy transformation this sensational season? For all the fall vibes, a Brazilian blowout can take all your frizz away and leave it sleek and sexy. Add a bit of color (a healthy, vibrant red is superb for the season) styling, makeup, a pampering facial or even a therapeutic massage and anyone on your list can experience a mighty makeover. Pure & Couture also offers beauty services for weddings, special events, consultations and trial sessions including airbrush makeup, blowouts, lash extensions, spray tanning and hair extensions—everything from cuts and colors, blow outs, trims, highlights, all over color, root touch up and corrective color, the team customizes them just for you! And, don't forget your gift cards, shampoo, conditioner, curbside pick-ups and online ordering, too!
(850) 424-3935
facebook.com/Pureandcouture
pureandcouture.com