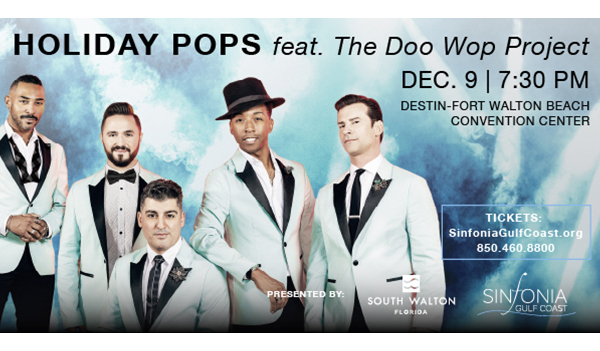 Mothers' Day May Madness
Cryo850 Performance & Recovery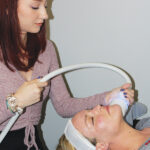 It's our favorite time of year at CRYO850 when we get to honor the women in our lives! Most moms spend their days focused on everyone except themselves. What better way to celebrate her than with amazing, rejuvenating, full-service, lineups of advanced, drug-free options for self-care? In appreciation, we are offering specials so you can give back!
TWO FOR ONE DAY PASS $99 ($175 value): Spend an afternoon with mom experiencing all the latest technology in health and wellness. Detox in the Infrared Sauna. Refresh your body and your mind in the Emerald Coast Igloo. Rejuvenate your skin and body in the Red Light Therapy Room. Shake it out with Vibration and move your lymphatic system and increase circulation in our Compression Lounge.
COLLAGEN ENHANCMENT TREATMENT $145 ($175 Value): Hot and cold applications to the skin to awaken dormant collagen and enhance elastin combined with a wrinkle eraser to take 10 years off the face and neck! Finish off with an Oxygen mini facial and a Liquid Collagen Infusion.
Give mom the gift of youth and self-care!
(850) 279-4145
www.cryo850.com
Polished, Classy, Edgy, Inviting…
Pure & Couture Salon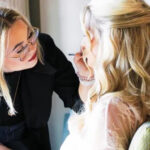 Join Pure & Couture owner Adrianne Brackett for the Grand Opening Ribbon Cutting Celebration of sister salon, Pure Collective Salon, on Thursday, May 12th!
12-2 p.m.: Brunch, bubbles and blowouts: Enjoy lite brunch bites and mimosas. Purchase two blowouts and receive a third one for free!
2-4 p.m.: Meet Pure Collective's aestheticians! Receive a complimentary skin care analysis by one of their aestheticians. Purchase a signature facial and receive a second one for 50% off! 4pm: Walton Area Chamber Ribbon Cutting
Pure Collective Salon is located at 600 Grand Boulevard, Suite 102 (next to The Beaufort Bonnet Company). It offers world-class services, including specialized color, cut, hair extensions, facials, eyelash extensions, makeup applications and eventually barbering services, including hot shaves. www.purecollectivesalon.com Facebook event: https://fb.me/e/1KpSmJIlC
Pure & Couture's and Pure Collective's team of experts can take you to summer with "pure" confidence.
(850) 424-3935
pureandcouture.com
Weddings! Dinosaurs! Beach Cakes! Oh My!
Smallcakes: A Cupcakery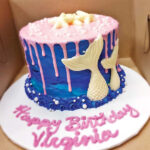 An exorbitant, flavorful cupcake heaven on earth with "frostacious" and "fanciful" toppings, and made-from-scratch cupcakes fresh every day! So popular are they that sometimes they even sell out! Smallcakes creates a variety of signature cupcake flavors daily, 18 to be exact, to suit every taste and craving. But did you know that Smallcakes also specializes in "normal-size" cakes made to order? ALL cupcakes come in regular-size cake form, too, such as wedding cakes with delectable cake flavors and any basic design of your choosing from designs offered. Surround it with Wedding Cupcakes which begin at $2.50 per cupcake and include any signature filling. Smallcakes even offers a variety of stands for displaying your cupcakes. And then there's the cutest popular custom cakes such as the Dinosaur Cake, a hit with the kids, the Beach Cake, the Cannoli cupcake, the unique Ombre Rosettes, and, well, we could go on and on! And don't forget your furry family member's doggie treat "cakes!" Make your celebrations personal with custom edible logos and images! Fit your flavor fancy, and request a custom order for, well, just about anything you can think of! Smallcakes believes in its slogan of "Maybe a Cupcake Will Help?" We do, too!
(850) 460-7487
www.smallcakes.net
Tennis Anyone?
Frill Seekers Gifts and Personalized Fabulous Finds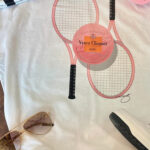 Around the Destin-30A area, tennis isn't just a fashion statement, it's a lifestyle that we "love!" For those serious team players or wanna be fashionistas, themcore component of this sporty look is surely a classic tennis skirt, paired with one of Frill Seekers' designer inspired Novel Tees. Start with the tee, then, layer up your outfit with some white tennis shoes, a solid tennis skirt, a pair of ankle socks, and a light jacket or sweater draped over your shoulders for good measure. Frill Seekers Gifts' super soft, cotton CHAMPAGNE DOUBLES T-shirt or the MVP (More Veuve Please) sweatshirt, are the most fabulous accessories to sport for your next practice session, tennis match or girl's trip. It also comes in a tank top—a darling swimsuit cover up, and on ball caps, too. If you want to score points with your tennis team, you'll have a ball giving them the stainless-steel champagne tumblers that feature one of four popular tennis-themed sayings: Game, set, match, pour! MVP more veuve please! Make mine a double! Sip, sip, play away!
Shop online at www.FrillSeekersGifts.com.
(850) 460-2700
frillseekersgifts.com
Homeownership Offers Stability and Security
Brian K. LoCicero, Realtor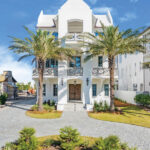 Thinking about purchasing a home or second home this year? Should you or does it make more sense to wait? Depending on your situation, here's how homeownership can help you combat the rising costs that come with inflation. During a period of high inflation, prices rise across the board for things like food and entertainment, even housing. Both home prices and rental prices are on the rise. As a buyer, how can you protect yourself from increasing costs? Buying a home allows you to stabilize what's typically your biggest monthly expense: your housing cost. If you get a fixed-rate mortgage on your home, you lock in your monthly payment for the duration of your loan, often 15 to 30 years. Even if other prices rise, your housing payment won't. If you rent, you don't have that same benefit. Buying now lets you lock in at today's rates and prices before both climb higher. "Homeownership a historically strong hedge against inflation," said REALTOR® Brian K. LoCicero. "Once you buy a house, any home price appreciation that does occur will be good for your equity and your net worth. If you're ready to buy, call me at (850) 739-3800.
BeOnTheCoast.com