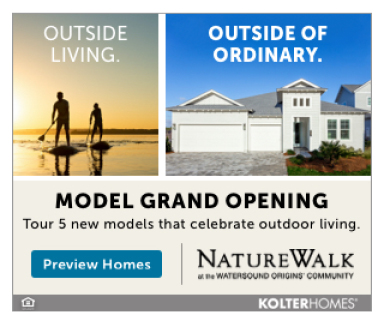 A Hot Market: Get Your Home Ready To Sell
Be On The Coast Real Estate Team

Hot! Hot! Hot! "These three words adequately describe the real estate market from Pensacola to Destin, Miramar Beach to 30A and beyond," said Brian K. LoCicero, Luxury Realtor® at Be On The Coast Real Estate. In many instances, a hot market can mean a faster sale at or above asking price. Before you get ready to watch the money roll in, you'll need to get your property ready to sell. A seller in a hot market has a better chance of selling a home "as-is" without having to make major updates. Discuss with your realtor whether you, as a seller, should make any significant updates or repairs to your property before listing it. Your realtor can evaluate comparable properties in your neighborhood. A seasoned realtor will also give you a priority list of things to fix or update, in order to list your home at the best and highest price point. Your realtor may recommend a home inspection before listing your property, to identify areas that need to be addressed prior to the first showing.
In a hot market, buyers want to move quickly and are driven by first impressions of the property and emotions. The best way to make someone fall in love with your house is to declutter it, interior and exterior, and then "stage" it. Giving the home a "wow" factor will distinguish it from the rest of the homes viewed and give your property an even better advantage over any other homes for sale in your area. Clean out closets for a more spacious, organized look and feel. Furniture surfaces should be knick knack free and personal photos put away, so the potential buyer can best picture their own items in the home.
Make sure you have all relevant property documentation to give to your realtor to share with potential buyers and the title company. Lastly, have a place to go. Hot markets mean quick sales and closings. Decide this before you list the property. Once offers come in on your property, you have greater bargaining power to use to accommodate special moving needs and timeframes. Don't be afraid of negotiating. Your buyer is just as aware as you are of the limited options on the market. It doesn't hurt to ask.
If you're ready to buy or sell your property, call the Be On The Coast Real Estate team at (850)739-3800 or visit: BeOnTheCoast.com.
The BEST Gifts for MOM!
Frill Seekers Gifts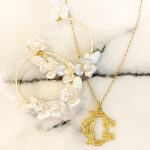 The best mothers deserve the best Mother's Day gifts. Give her the best with a personalized gift from Frill Seekers Gifts! Personalized presents tell mom you've put some thought into the gift and were intentional about the gift having sentimental meaning. Your mom will appreciate a gift with her name or monogram for years to come, maybe handing it down to the next generation! Frill Seekers Gifts has Mother's Day gift ideas for every kind of mom out there—moms-to-be and new moms, seasoned great-grandmas and step moms. For mommas with a green thumb or for those that love having fresh flowers in her home, the porcelain flower arranger is an ideal gift. This container comes with top openings to slide the flowers into, making arranging flowers effortless. The piece features your momma's initials front and center in the color of your choice. If your Mother is stylish and into all the latest fashion trends, the Floral Paradise earrings pictured here make an elegant fashion statement. They are both lightweight and stunning with exquisite details in gold and pearl. The Peygotti two-letter monogram pendant, also shown here, is always a favorite with fashionistas. This necklace and pendant work with almost any outfit selection mom makes from dressy to casual. "Cooking up fun" is what many grandmas and moms are known for. Give an engraved wooden serving board, marble lazy Susan or a monogrammed apron.
Frill Seekers Gifts offers complimentary signature gift wrap and also ships gifts for any occasion. Start shopping now: FrillSeekersGifts.com or visit the store M-F 10am-5pm or Saturdays from 10am-2pm.
(850) 460-2700
facebook.com/FrillSeekersGifts
frillseekersgifts.com
It's officially, wonderfully Spring at
CRYO850 Performance and Recovery Center!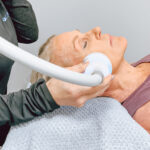 What better way to celebrate the newness of the season than rejuvenating with amazing, full-service, lineups of advanced, drug-free options for self-care? You'll feel amazing after experiencing Nitrogen-free, whole-body Cryotherapy, whether it's aching joints, inflamed muscles or an extra inch or two around the waist. The cold exposure reduces acute and chronic pain, expedites post workout and/or surgical recovery, and provides metabolic boost, increased focus and mental clarity. Red Light Therapy aids healing both on the surface and at the cellular level. The Mito Red Light Therapy system offers three wavelengths of light that offer full-body exposure. CRYO850's Near Infrared Lighting boosts ATP (energy) and balances hormones. NormaTec® Compression, a favorite among professional training facilities, mimics the body's natural circulation patterns to increase blood flow and soothe fatigued limbs. For aesthetic touches, try the Pagani® Italian Body Contouring for fat and cellulite reduction and skin rejuvenation. Whether you're a dancer, an athlete, a mom or dad, a student, a business person, whoever—you can benefit from an improved immune system, metabolism boost, better sleep, reinforcement of cognitive abilities, inflammation and pain management, improved athletic performance and antiaging.
(850) 279-4145
Facebook.com/CRYO850
www.cryo850.com
Blonde Bliss • Bridal Beauty • Youthful Glow
Pure & Couture Salon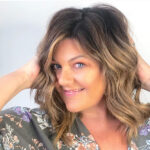 Have you been in the chair recently? If you haven't, you should! "The stylists are amazing!" say Pure & Couture customers. "From the welcoming front desk staff to the stylists, who come highly recommended by other women with gorgeous hair, everyone is so knowledgeable about everything they do." These famed stylists are experts in prettied-up ponytails, beautiful braids or an enhanced look with hair extensions to add volume and length for that important day. Pampering customers who become friends, making them look beautiful and feel confident on any special day is the team's passion. Pure & Couture works with you offering beauty services for weddings, special events, consultations and trial sessions including airbrush makeup, blowouts, lash extensions, spray tanning and hair extensions. Color specialists freshen up your look! Everything from cuts and colors, blow outs, trims, highlights, all over color, root touch up and corrective color, the team can make it happen. Even owner Adrianne Brackett likes to be pampered with fresh color and extensions. Set up a consult today—time to finally have full, shiny and healthy spring hair you LOVE!
(850) 424-3935
facebook.com/PureandCouture
pureandcouture.com
We Smell (and Taste) Sprinkles!
Smallcakes: A Cupcakery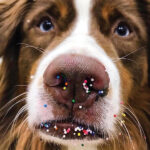 Happy Spring Destin! Life is better with sprinkles on top (or on the nose)! Not to be left out, our furry friends love to be pampered with scrumptious pet treats, and yes, with the sprinkles from Smallcakes! April is here, ushering in a new wave of "ALL" cakes, in all flavors and varieties—cupcakes, cookie cakes, "mini" or "mighty" cakes, gluten-free cakes, brownies, cupcakes-in-a-jar, birthday and wedding cake heaven on earth! You can choose from an array of "frostacious" frostings and a variety of cupcake flavors to suit even the pickiest palate! Try Smallcakes for yourself or give a gift of sweets! You'll be a hit when you take them back to school. Make your celebrations personal with custom edible logos and images to go on these tempting treats, baked fresh, with up to 18 flavors to choose from. As seen on the Food Network and Cupcake Wars, "ALL" cakes are perfect for birthdays, school events, grandmothers and grandfathers, moms and dads, anniversaries, celebrations, office or family reunions! All month long we will have Cookie Monster and Caramel Crunch available! Cookie Monster: Brown sugar and chocolate chip cake, topped with cookies buttercream and a chocolate chip cookie. Caramel Crunch: Devil's food cake with caramel icing, topped with pretzels and sea salt. Yum!
(850) 460-7487
facebook.com/SmallCakesOfDestin
www.smallcakes.net