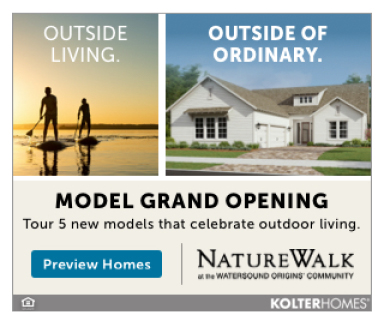 Word on the street was—you or your BFF need a Social Distancing treat! What?!?!
Frill Seekers Gifts
If someone you know needs a little encouragement, a bit of sunshine and some positive vibes, look no further than the gift shop voted, "BEST IN DESTIN," Frill Seekers Gifts in City Market Bayside—a feast for the eyes, but also inspirational and fun gifts good for the soul.
Personalize. Inspire. Make your heart happy. As temps rise, sunshine in full force, it feels like brighter days are just ahead. Meet one of Frill Seekers' most popular go-to products—the Funfetti Confetti Clear Tote Bag! Oh, she is fabulous, with her bright colored confetti floating between the bag's clear sides, trimmed with metallic gold piping and shoulder straps. This bag will be your tag along for beach and pool visits as it's water resistant. Add your name or monogram in durable vinyl to the outside. As fall approaches, "tote" it to football games, as it is stadium approved.
Help stay six feet apart with your very own personalized beach towel! This will not only claim your space, it will be the ideal spot for photo ops and cool beach and pool shots. Hint! Hint! Towels make THE best graduation gifts for the girl on the go.
And let's talk about the shop's zip top Funfetti Confetti pouch. Add this item to a Gift Box Set—a package of happy mail filled with treats. Simply log onto their website:
FrillSeekersGifts.com, pick a Gift Box set, enter the each Gift Box bundle purchase provides 50 meals to those in need through Feeding America! Like we told you, brighter days ARE ahead when you shop at Frill Seekers Gifts. Ready. Set. Shop!
(850) 460-2700
frillseekersgifts.com
Purely Beautiful Even at Home!
Pure & Couture Salon
Pure & Couture misses all of its clients and wants to express its gratitude to the community for sticking by them. "With all the stress of not being able to see our clients during this time," says owner Adrienne Brackett, "we're proud to have created an environment in which our stylists value growing continuously. Working on a new certification is just what some of us creatives needed!" Pure & Couture is happy to now have certified Invisible beaded extension (IBE) stylists and excited to serve its guests with the most up-to-date certification in hair extensions. IBE extensions were created to solve obstacles encountered with the different types of hand-tied hair extension methods available. "Adjusting to our clients' needs and comfort are the biggest concern. Offering versatility and styling options for our clients' experience is key," says Adrienne.
Pure & Couture will be practicing safe methods of service and offering extended hours to accommodate customers' needs once open. They will also continue curbside pickup. So, get Mom what she wants for Mother's Day—a gift card from Pure & Couture! You can also purchase your favorite shampoo, conditioner or other products all online at pureandcouture.snapcerts.com, too! You were made to do beautiful things! Feel beautiful doing them even at home—BE PURELY BEAUTIFUL!
(850) 424-3935
pureandcouture.com
May Means Maximum Merriment!
Smallcakes Destin
Bring the fun and tastiness of the shop to your home! Smallcakes has cupcake and/or cookie decorating kits.
$25 includes:
• 6 freshly baked cupcakes of your choice (vanilla & chocolate) OR 12 cookies (chocolate chip and sugar) OR mix them up with 3 cupcakes and 6 cookies
• 3 frosting piping bags
• Candy sprinkles and assorted toppings
By Special Order only. To order call 850-460-7487.
May Specials include Apple-stuffed French Toast, Caramel Latte, Coconut, German Chocolate, Kentucky Bourbon, Key Lime, Mint Cookies, and Raspberry Cheesecake! And did you know they ship? Send someone a large, fresh-baked cupcake with layers of icing in a reusable mason jar! $5.95 each, plus shipping. Choose from 13 signature flavors.
Smallcakes Destin is beyond humbled and thankful for all the love and support locals have shown this Veteran family-owned and operated business in this difficult time. It is currently open for To-Go orders and purchases from Mon. – Fri., 11 a.m. – 5 p.m. to continue to bring you smiles. Personalize your cupcakes with custom edible logos and images on just about any flavor creation you can think of! Call ahead for pre-orders or curbside pickup!
(850) 460-7487
www.smallcakes.net
Shoes – Shorts – Summer Accessories 
Dressing Room Boutique & Art Gallery
The Dressing Room misses all its Dressing Room Babes! But, is looking forward to seeing you all again soon. In the meantime, now is the perfect opportunity to go through your closets to donate your gently-loved upscale clothing shoes and accessories to be "re-loved." The Style + Wellness Series is hosting a Swap + Shop benefiting Friends of South Walton Sea Turtles. Co-hosted by Dressing Room Boutique, Destin Life, La Maison Creative and Friends of South Walton Sea Turtles, the virtual event will occur Sat., June 27, 2020 at 1 – 3 p.m. With each accepted donation, you'll receive a voucher of monetary value to be used toward purchases with Dressing Room Boutique, La Maison Creative, Essential Beauty by Tonya, or Friends of South Walton Sea Turtles. The Style + Wellness Series was co-founded by Abbie Reeves, Liliam Yates and Tonya Allen, with a mission of building a stronger community by embracing relationships + knowledge for a healthier, happier lifestyle. Share with your friends and RSVP for your free ticket and reserve your seat on Eventbrite: swapandshop.eventbrite.com.
Shop The Dressing Room online for handbags, bracelets, belts, beautiful wardrobe and artistic jewelry pieces and scarves for that put-together look once you venture out! And don't forget that special gift for mom on Mother's Day—the more accessories the better, so we think mom deserves a bunch! Mix and match with her favorite colors for a great Mother's Day surprise!
(850) 218-8776
dressing-room-boutique.shoptiques.com