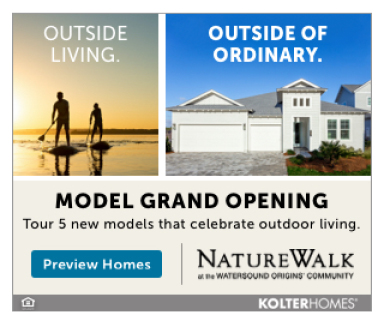 By Kenneth Books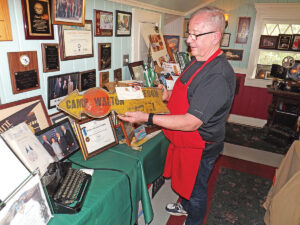 Our Hometown Hero, Tom Rice, has always loved three things: the restaurant business, charity and the U.S. Army. After 28 years in uniform, finishing as a First Sergeant, he retired from the military and made it a point to open his own restaurant, a journey which began when he was just a child.
"I worked in Perri's Italian Restaurant while I was in junior high school, high school and college," Rice, 72, said. "I loved it. I loved making pizzas and stirring the sauce."
Perri's, located on the site of the Fort Walton Beach Publix supermarket, later became Tom's first restaurant, a 1950s-style diner. "It was all chrome and glass," he said. Today, he's the owner of the Magnolia Grill, a unique eatery that is as much a museum of American history – particularly military history – on Brooks Street, which was moved from the original site to make way for Publix. But the Perri's influence remained.
"People kept coming in to the restaurant and asking how to make Mr. Perri's recipes," Tom said. Today, he said, about 30 to 40 percent of Magnolia Grill's entrées are Italian.
To open the current Magnolia Grill, Tom bought a nearby house in 1999, which he moved to the current location 500 feet away. The move cost about $50,000.
In 2001, the restaurant was open for business. "The renovation took 18 months, Tom said.
But Magnolia Grill is more than a business. In addition to the great food, the second floor contains artifacts from World War II, Vietnam and other segments of American history. But that's not the whole story.
Charities are among Tom Rice's pet projects. Whether it's pancake breakfasts aiding the Salvation Army, help for Catholic Charities or other needed and altruistic enterprises, Tom is dedicated to helping to make a difference. He serves as the secretary for Catholic Charities and chairman with the Salvation Army. "We've been given a golden opportunity here," Tom said. "Once in a while, someone will come to us for help. If they're willing to do some work, I donate pancake mix." He also donates sweat equity from his family members. For example, his brother-in-law served as Santa Claus during a recent pancake breakfast for the Empty Stocking Fund of the Salvation Army. He's also helped Disabled American Veterans, and worked on cemeteries for Memorial Day and Veterans Day, providing flags and chairs for those functions. "When the DAV folded in 2010, we continued with the ceremonies," Tom said. He also assisted with the construction of the bell tower at Beal Cemetery, a 30-foot-tall edifice, which was completed in time for the 9/11 commemoration in 2014, including the casting of a 300-pound bell, cast in Ohio. The entire project cost about $500,000, all of which was donated by locals. No government aid was needed.
Tom was part of the founding board of Fisher House of the Emerald Coast, which provides a home away from home for military families to live in during treatments for serious illness or physical or occupational therapy. It's within easy walking distance of the Eglin Air Force Base Hospital and Veterans' Clinic. "There are resources being in business," Tom said.
Tom and his wife, Peggy, have been married for 40 years. They have a daughter, Meghan Gordon, who serves with the ministry at Crosspoint church.
"Life is short," Tom said. "Make it count. Teach the value of giving. It's not always money. It's also time and talent."