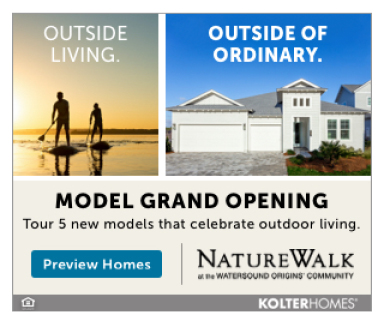 By Cali Hvalac, To Do In Destin
2021 marks the 73rd Annual Fishing Rodeo in "The World's Luckiest Village" and with it comes the return of many events that were canceled in the previous year, prompting community excitement.
Since its inception in 1948, the Destin Fishing Rodeo has expanded into one of the largest fishing tournaments along the Emerald Coast. The rodeo is all month long, spanning October 1-31st. More than 30,000 anglers compete each year!
Back for 2021: Shark Saturdays, the Destin 5K Rodeo Run on October 3, the Kids Fall Movie Festival on October 11, Ringing of the Bell on October 16 and Halloween on the Harbor on October 31.
The weigh-ins happen on the docks behind AJ's Seafood and Oyster bar located on the Destin Harbor and this year's Miss Destin, Kaylie Sparks, is right there alongside long-time weigh-master Bruce Cheves. They are free to the public and are open daily from 10 a.m.-7 p.m. To participate, charter boats and private boats must be registered at least 24 hours prior to weighing in a fish. There is no fee for anglers fishing on a registered vessel (private or charter) and shore fishermen can participate by simply bringing their catch to the scales. You can fish by kayak, paddle board, pier, bridge, jetty, shoreline and surf – whichever you prefer. When a shark or a big grouper or tuna is on the scale, the weigh-in watching crowd reaches "standing-room-only." The Rodeo has also become a very popular "spectator sport" in October.
If you're planning to make a trip down to the docks, expect to see a broad spectrum of fish being weighed in. From Sharks to Amberjacks, Grouper to King Mackerel, Tunas to Marlin, the rodeo has it all. According to the Destin Rodeo website, "Virtually every gamefish is recognized with awards during the Rodeo." Rodeo anglers are competing for more than $100,000 in cash and prizes, awarded for both daily and overall catches, sponsored in good part by area businesses. Other awards are paid for by the Rodeo through entry fees and merchandise sales.
Even if you're not a fisherman, the energy level and excitement that comes from being at the docks for weigh-ins is like nothing else you've ever experienced. Boats back into the scales, pull the fish from their boats while the announcer hypes up the crowd. Fish are strung up on the scale while the crowds cheer and applaud the boats and their teams. For the best seat in the house, get there early, grab a few beers and snag a seat on the bleachers by the leaderboard or above on AJ's upper deck.
The Destin Fishing Rodeo has a significant economic impact on Destin. In 2019 an estimated 36,518 anglers from 33 states and two countries, including 13,421 locals participated in the Rodeo.
Halloween on the Harbor will signify the end of weigh-ins on Wednesday, Oct. 31, when the captains, anglers, volunteers and even Miss Destin will be dressed in their favorite costume. Everyone is invited to partake in the fun!
Meet Miss Destin 2021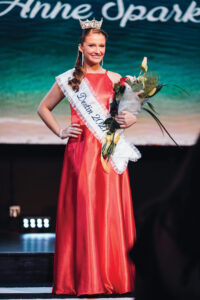 Having lived in Destin her entire life, Kaylie Sparks is an honors student who graduated Cum Laude and is the recipient of the Anne T. Mitchell academic honors award as well as being invited to be a member to the distinguished National Honors Society of Northwest Florida State College. She is a four-year member of the nationally ranked Niceville High School cheerleading team, which was ranked number one in the state of Florida as well as being ranked first in the nation. She is also a current member of the Verve Dance Company, has competitively danced since age two and has won many awards for her performances. Currently a freshman at Northwest Florida State College, Kaylie participates in many community organizations such as the National League of Junior Cotillion and Destin United Methodist Church.
As Miss Destin, she is promoting pediatric cancer awareness in our community, a cause she is passionate about after having overcome it herself. "I have always dreamed of fulfilling this role ever since I was a little girl. From an early age I saw the Destin community come and deliver meals to my family in difficult times. This is a great opportunity for me to give back to the wonderful people that have supported my family," stated Kaylie.
The Miss Destin pageant was held in May and, as the winner, Kaylie received a $2000 academic scholarship. Each contestant was judged on personality, communication skills and availability to fulfill the duties of Miss Destin at this year's Destin Fishing Rodeo.