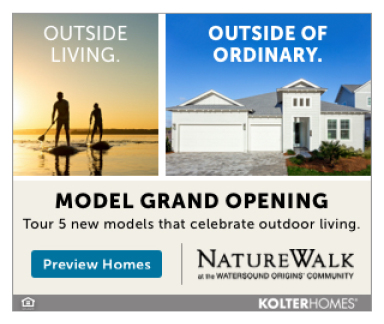 By Ron Sandstead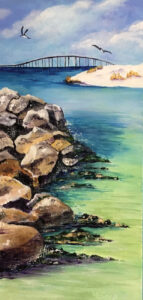 Most people enjoy seeing art in their everyday lives — whether it is a painted mural on an elementary school, a carved tree on the Harbor, a mosaic on the wall of a bank, or even a colorful print on the back of a T-shirt. There are lots of ways to show art in public.
In 2013, a group of us started meeting and discussing ways to make Destin a better place to live. I have always loved art and seeing it makes me feel good. So, it was an easy decision to choose promoting public art as a project. We also wanted to promote our local artists. We decided that a good way to do both would be to print art on banners and hang them on the street so they could be appreciated by everyone. We called ourselves the Destin Banner Art Project and began talking to the city. The city already owned eight banner poles in the medians on Main Street. So, it just made sense to use the existing poles. Our proposal to use them was approved by the City Council in 2017.
After a few delays, we were able to get our first eight banners up on the poles in January of 2019. We made it through 2020 and are now into our third year. Every four months, city workers arrive to remove the old banners and replace them with new ones. When this happens, our artists come to Flutterby Antiques on Main Street for pictures and local media interviews. It is a celebration – especially when the banners go on the pole!
Who are our artists? Basically, it is anyone with artistic talent who has made a permanent home in the Panhandle of Florida and wants to contribute their art. Our artists currently range from aspiring 5th graders to senior citizens. Some are professionals who display their work in galleries and others paint as a hobby. The one thing they all have in common is that they love our area and want to make Destin a better city. How cool is that?
Our artwork theme is Coastal and our banners reflect life in Destin. Our current banners feature the Jettys and Marler Bridge, yoga on the beach, a sea turtle, a cartoon of an old man fishing, a cartoon of a fish on a hook, sand dollars, sandpipers on the beach and sailboats anchored at sunset.
Overall, I am happy with the progress we have made. Our banner project is a success and will continue for the foreseeable future. But, where do we go from here? Do we stop looking around or do we try something new – something different – something fun? Do we take on a new project?
Are there other art projects that our city would support? Do we expand our scope to murals on buildings? Mosaic benches along sidewalks? Artist decorated cast sculptures? What do we do next? It is exciting to think of the possibilities.
Okay, so now I am going to ask you for your thoughts. Most of us have traveled to other cities and seen what they have done to promote their artists and make their cities more interesting and beautiful. I'd like to know what will work here in Destin. I'm looking for something unique. So, put on your thinking caps and let me know what public art project you would get excited about.
I want Destin to be everything it can be. Let's have some fun and do this! Contact me at ronsandstead@hotmail.com. Also, we are on Facebook at "Destin Banner Art Project."