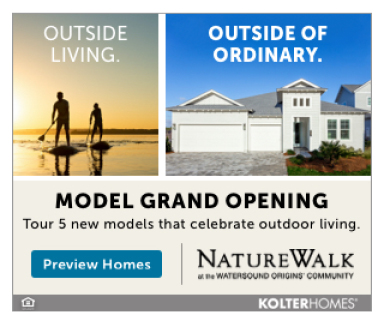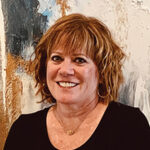 By Kim Schneider
Statement lighting is one of the boldest additions you can make to a room and one thing is for certain – your guests will notice! Whether your space showcases a dramatic chandelier or striking pendant lights, it can transform the whole look, elevate the elements and pull everything together, like a great piece of statement jewelry.
I think it's fun to take a bit of a risk when selecting statement lighting, but it can present challenges too. Style, scale, function, weight and height are just a few things to consider when selecting a statement light for your space.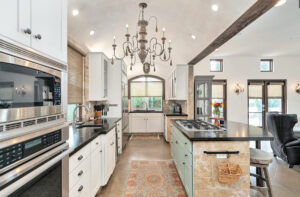 Style: Statement lighting is a great way to add color, texture and a little drama to your space in an unexpected way, but it should always be harmonious with the décor in your room.
Scale: The proper size of the fixture is essential. When lighting is too small, it looks lost and unintentional – definitely missing the element of making a statement. Think outside the box when choosing your statement light. Bigger is better, especially in the bathroom or a master closet – it's the unexpected wow factor!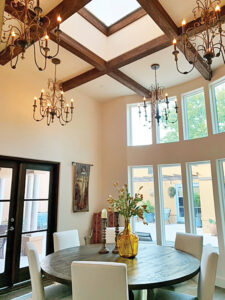 Function: Knowing where the lighting will be hung in the room will help determine how much light you need. Consider the number of bulbs or lumen output needed for this room. Will there be other lighting in the room? How much natural light is in the space? Do you want to dim the lights? Answering these questions before you look for your room jewelry will make the process go smoothly.
Weight & Height: Consider the weight and height of the fixture you're searching for. Do you want heavy iron, crystal and wood, clusters or more than one? Yes, you can hang multiple chandeliers in a room. Each space will vary in height requirements and the design will determine placement of the fixture and the weight. Weight means not only how heavy the fixture is but also the weight it will project in the room when hung. A large dark metal fixture with shades can be very heavy, but if the room is large enough and the ceiling is high enough it may be the icing on the cake for your space. A light and airy crystal chandelier may be grand in scale yet it could be just that, too light and airy for the room and go unnoticed.
Looking at magazines and searching online is a great way to help you discover your style. If you see something you like, try scouring your local stores, go to an antique show or flea market to see if you can find something similar. Follow your gut, buy what you love, but if you're unsure, Coastal Design by Kim is just a phone call away at (850) 904-6622. We're here to help you find your show-stopping "statement light!"