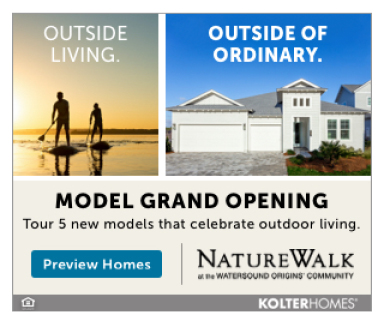 There's something BIG going on every month it seems at The Village of Baytowne Wharf. And May is no exception!
Welcome Summer During the Memorial Day Celebration Weekend!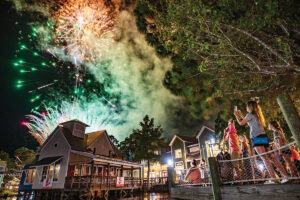 Saturday, May 28th, 7-9 p.m.
Sunday, May 29th, 6-9 p.m.
Monday, May 30th, 7-8 p.m. | FREE
Kick off the 100 days of summer as festivities begin on Saturday, May 28th, when a true locals' favorite, Forrest Williams Band, takes the stage at the Events plaza from 7-9 p.m.
On Sunday, enjoy live music from Jarred McConnell and The High Aces from 6-9 p.m. Free children activities will be from 6-9 p.m. and fireworks at 9 p.m. You won't want to miss the fireworks, live music, shopping, dining and fun all weekend long!
On Monday, May 30th, 7-8 p.m., join the Sandestin Owners Association for a special Memorial Day ceremony!
Baytowne is boomin' all month long with events, activities and fun! The Village and its merchants welcome you to come shop, dine and play! Celebrate, escape and embrace some of the best of Baytowne Wharf at one of the most gorgeous times of the year!
Alissa Steffens Vocal Studios Presents a Spring Concert!
Tuesday, May 10th 7-8:30 p.m. | Events Plaza Stage | FREE
All Invited! Please join Vocal Coach Alissa Steffens and some of her very talented students as they present a night of music! All Genres! Performers are Kids through Adults! May 10th at 7pm. Location: Baytowne Amphitheater (next to Zip Line). Will be a night to remember! Come on out and support local talent! Open to public! No charge. Grab a chair or blanket and enjoy the evening! Can't wait to see you there!
Coach Alissa Steffens is a Performer, Professional Songwriter, Recording Artist and Vocal Coach with a history rich in the Nashville Music Industry! After moving to Sandestin/30a area a few years ago, she continued her work as a Vocal Coach, specializing in Mentorship, Vocal Performance, Songwriting, Artist Development/Career Planning, Acting and Speaking. Alissa works with students regionally, nationally and internationally. Her students sing all different musical genres and range from the Beginner to the Advanced Career Artist. She and her students work on various projects together that involve vocal performance, songwriting, albums, tours, career planning, artist development, commercials, film acting projects, theatre, speeches, etc. Alissa has a big heart for giving her students both a voice and a platform.
Champagne While You Shop at Bubbly Baytowne
Thursday, May 19th 5 p.m. | FREE
Join Baytowne Wharf for an evening full of FREE champagne and shopping during the always popular Bubbly Baytowne! Sip and Shop through the Village streets! Stop into various retail merchants while you savor a selection of premium champagnes.
* This event is free and for 21 and up only. The Village will be open to the public during this event.
Wildlife Monday
Mondays | May 23rd – August 8th 5:30-8 p.m. | FREE
Enjoy wild face painting and animal crafts from 5:30-6:30 p.m. at the Events Plaza Stage! Then from 6:30-8 p.m. join Emerald Coast Wildlife Refuge and meet all their animal friends while you learn all about the Emerald Coast ecosystems, wildlife rehabilitation and more!
Boomin' Tuesday
Tuesdays, May 24th – August 9th 7:15 p.m.-9:15 p.m. | FREE
Turn your eyes on the sky and watch as Baytowne Wharf lights up the night with a breathtaking, fireworks show over the Village Lagoon at 9:15 p.m. PLUS now enjoy a DJ Dance Party with DJ Mike Whitty in the Events Plaza at 7:15 p.m.
A Can't Miss Wednesday Night Concert Series!
Wednesdays through May 25th, 7-9 p.m.
FREE | Events Plaza Stage
Wednesday Night Concerts at The Village of Baytowne Wharf are BACK! Sit back and relax with an outdoor concert and enjoy LIVE entertainment. The concert series features both local and regional talent from a variety of genres. Don't forget your lawn chairs and blankets.
Live Local Favorites Music Lineup:
May 11: Cosmic Rascals
May 18: Boukoo Groove
May 25: Cadillac Willy
Fly Guy Thursday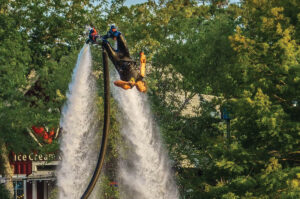 Thursday, May 26th – August 11th | 6:30 p.m. & 8:30 p.m. | FREE
Enjoy shows from flyboard extraordinaire Ben Merrell over the lagoon! Watch as he soars to the sky and makes waves at Baytowne Wharf.