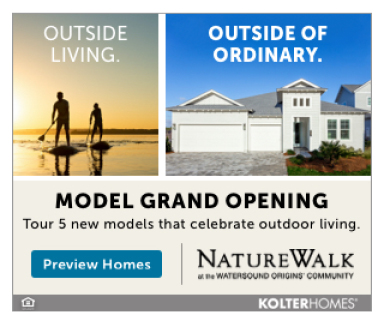 By Lori Leath Smith, Publisher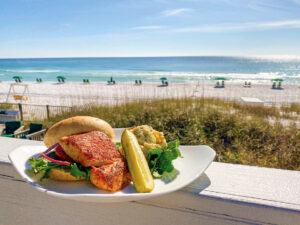 When was the last time you ran away with your sweetheart? I did that just recently. After my stay last year at Henderson Park Inn, I was simply spoiled and itching to get back to my happy place—one of the most romantic hotels in the U.S. located adjacent to Henderson Beach State Park.
Here, it seems as if the Inn was woven into the fabric of Destin from the time the area was discovered. This 35-room, upscale boutique resort is known for creating a romantic atmosphere and offering personal service with all-inclusive amenities. It's become a local favorite! And, as a local, I truly felt as if they were honored we chose to stay there, their warm welcome comforting right from the start.
With safety an utmost priority, it seems the Inn has more than adjusted to offer any visitor the same personalized, excellent service and optimized stay they come for. I couldn't have imagined it would be even better than my first visit to the Inn! Once again, we were "wowed" from the time we arrived. No amenity or service was lacking. Need a drink or a towel on the beach, someone's there to get you one. Want to hop on a bike and ride, it's right at your fingertips. You get hungry at any time of day, there's always snacks available. There's even easy access to The Henderson Resort's amenities, including two resort-style pools and an impeccable spa. We could order our breakfast the night before for delivery to our room upon waking. But, we opted to enjoy a cooked-to-order, complimentary breakfast each morning outside on the deck — omelets, bacon, waffles and fresh fruit…oh, the waffles! Our custom-ordered complimentary lunch was waiting for us each day as well. I know it's cliché to talk about amenities, but you just can't help it; they're simply part of "what" Henderson Park Inn is.
Social distancing and the utmost hygiene and cleanliness could clearly be seen. From the time we parked our car, we were greeted with smiles and very personalized attention. When the front desk person remembers you name, you feel special and pampered. Everything is designed for adults only, ages 25 and older, with a private beach.
Our adorable room overlooked this stunning, undeveloped beach of Henderson Beach State Park and coastline view. I was told our room was one of the most popular at the Inn and I now know why! From the moment we opened our door, we were greeted with fine wine and chocolate, ready and waiting for us! And if I wasn't already swept off my feet, the view overlooking the beach and the Gulf was breathtaking for miles, especially standing from our quant overlook outside. I couldn't wait to get out on the main deck when evening fell where there was a burning fire pit surrounded by comfy, cozy seats, nestled on the lower deck where we could feel the warm breeze and enjoy the glow. Tiki torches completed the ambiance around the back deck which familiarly beckoned us to sit in its hammocks, rocking chairs and loveseat-style swings.
You know you're in a special place when you find out local designer Alec Hritz, who was part of the White House Christmas decorating team in 2019, designed the most spectacular Christmas décor the Inn has ever displayed this year.
It was almost painful to leave this extremely memorable, relaxing…and safe experience. I do plan to make our "staycation" a yearly vacation.
Rest assured, the Inn and its Beach Walk Café, have indeed implemented procedures for optimal safety, impeccable service and utmost comfort. We simply called the front desk to make any request and it was handled.
If you're looking for a great escape with your honey for Valentine's Day, look no further. The Inn has crafted a package that includes all of what I describe here! And for locals, Beach Walk Cafe is hosting a Locals' Night on Wednesdays in January and February! Savor delicious food from Executive Chef Daniel Peters along with 15% off your entire bill, excluding alcohol, and 50% off select wines. To redeem, you must present a valid Santa Rosa, Okaloosa, Walton or Bay County ID. Just call (850) 650-7100 to book your table.
For a complete list of Henderson Park Inn's safety procedures or to book your own Staycation, visit hendersonparkinn.com.