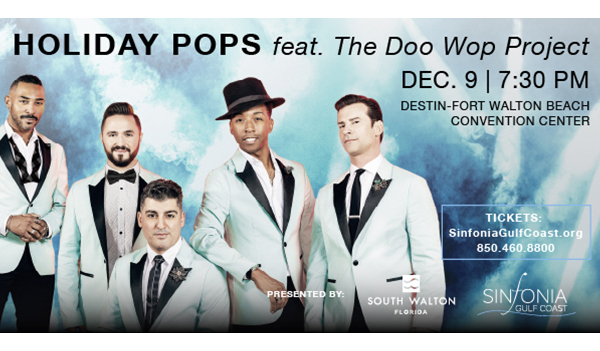 Army veteran and Destin's own Geoff Speyrer is making his way around Destin five times to bring hope and awareness to veteran suicide. The SET22 endurance event starts Friday, May 13, and continues throughout the night and into the next evening. As founder of the event, Geoff will make his way around five times with a 26.2-mile run, a 100-mile cycle and 1-mile tire flip (200 pounds) to raise funds to help reduce veteran suicide.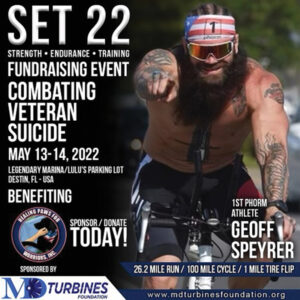 The event will begin at midnight at the Legendary Marina/Lulu's parking lot and be complete within 24 hours, ending at the Destin Middle School track, with an after party at Lulu's. There will be aid stations and opportunities to sponsor along the way. Geoff also invites others to join him. "If you can't do the whole event, do the longest run you've ever done. Cycle farther than you've ever cycled. Push hard. Suffer a little bit with us," he said. "There is power in numbers and we are better when we grind together and know someone has our back."
Sadly, 22 veterans and active-duty members take their lives every day, thinking there is no hope. But Geoff found health and wellness as his tool to face adversity and turned his life around. While in the military, Geoff was near explosives and later received medical care that adversely affected his health, resulting in lower leg trauma/surgery that left him with a life-long injury; reducing his chances to be able to run and facing the challenges of Post-traumatic Stress Disorder (PTSD) and Traumatic Brain Injury (TBI).
After leaving the military, Geoff spent the next 13 years in and out of incarceration and treatment facilities and became a fugitive; however, it was during these darkest years that he turned his life around. Instead of becoming a statistic and taking his own life, he became involved in physical fitness to heal.
Today, Geoff pushes himself both mentally and physically for this and other endurance events, trying to set an example for other veterans who are faced with this challenge to follow. In the past two years, Geoff has raised over $30K in support.
The proceeds for this year's event will be donated to Healing Paws for Warriors, a local veteran founded/veteran led 501(c)(3) that provides trained service dogs for combat veterans faced with PTSD, TBI and/or Military Sexual Trauma (MST) at no cost to the veteran. Continued support helps to reduce veteran suicide and increase self and family health and wellness. It's a resilience program of veterans helping veterans from personal experience and trained service dogs.
"If you can't make it, consider purchasing an event shirt or two or three for the whole family," said Geoff. "Or you can help by making a contribution or sponsoring the event. We will bring that 22-a-day average down to zero, but I need your help."
To sponsor, visit https://www.foundation.mdturbines.com/set-22-veteran.