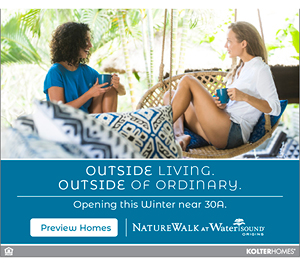 By Heather Bennett
One of the many great things about living along The Emerald Coast is our sense of community. We cheer on one another, we pray for one another, and we show up for one another when we are in need. Our community is passionate about showing up for each other during the holiday season in particular.
This Thanksgiving is a little different than others. We're a community full of hopeful people still recovering from the economic impact of Covid-19 on top of our everyday struggles. However, there are some really great nonprofit organizations and businesses here making sure that we still have a holiday meal to share with our families.
Harvest House Destin will be providing food items for an all-inclusive holiday meal to cook at home. Any families in the Destin, Sandestin and Mack Bayou areas that are in need of a holiday meal can contact Harvest House and they will be sent an invitation to attend a drive-through pick-up on distribution day Monday, November 23rd. Harvest House is always looking for food donations if you are interested in donating. They are down to a limited number of volunteers. So, if you're looking for volunteer opportunities, call them at 850-837-2277 to find out how you can help. You can also check out their website at www.harvesthousedestin.org.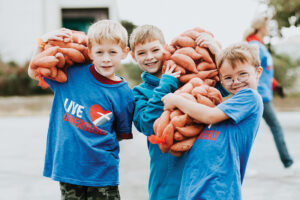 The annual Crop Drop Destin, which provides over 80,000 pounds of produce to more than 50 agencies and 6,000 families for Thanksgiving each year, is indeed scheduled to take place. However, they are still waiting on the details of how their produce will be delivered this year. The organization coordinates with farmers in Florida and Mississippi to buy produce that wasn't sold to the marketplace. Donations and sponsors are always welcome. The more produce they can buy, the more people they can reach. If you are interested in donating, visit their website at www.cropdrop.org. Keep visiting their website or Facebook page for more details on the Crop Drop event as it unfolds.
Food For Thought will be providing a pick up service for the families that are enrolled in their school programs in Okaloosa and Walton Counties, which will take place at different locations. They will be providing food that children need during Thanksgiving break, which is about 10 meals, and they will also receive food for a holiday meal that includes a turkey, rolls and fresh produce. Donations are always welcome. Their holiday food list includes instant potatoes, stuffing, cornbread mix, canned veggies and rice. You can check out their website at fftfl.org to learn more about donating food or how you can sponsor a family at Thanksgiving for just $40. If you would like to learn more about how you can get involved, email volunteer@fftfl.org to learn about volunteering opportunities.
Caring and Sharing in South Walton will be providing holiday food items for pick up November 16th-20th, the week before Thanksgiving. People must apply by filling out an eligibility form and qualify for assistance and must live in Walton County. They will get items for a holiday meal like mashed potatoes, stuffing, cranberry sauce, a turkey or ham and produce. Caring and Sharing is expecting roughly 300 families to pick up meals. They are looking for any additional volunteers to help pack meals, and to hand out food the week of pick up. If you're interested in donating or volunteering, contact them at 850-267-2866 or visit the website at caringandsharingsowal.org for more information.
In addition to the nonprofit organizations, two restaurants will be hosting free meals on Thanksgiving. AJs on the Bayou in Fort Walton Beach will have free meals available. Harbor Docks will have free Thanksgiving meals to go. Donations are welcome. (See Dining section for more details.)
This year, as every year, I am thankful for being a part of such a great community. I hope everyone gets to share a warm Thanksgiving meal with the people they love and care about.