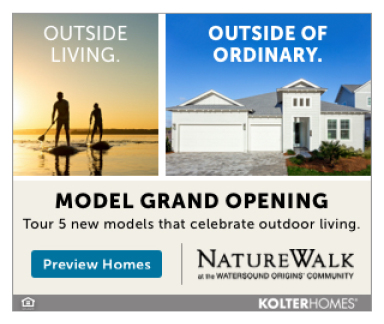 By Lori Leath Smith
More than a century ago, men coming home from a declared war joined their neighborhood American Legion Post. It was a place to tell war stories and find camaraderie.
Times have changed, but the mission hasn't. The non-profit American Legion exists to help veterans in need as well as people in the community—its motto: Veterans Strengthening America.
A local landmark, and perhaps hidden treasure, Destin's Davis-Sikes American Legion Post 296 brings this same spirit to our piece of paradise. Chartered in 1955, Post 296 was named after two of our fallen World War II American Heroes—Elborn M. Davis and Rolen C. Sikes. Elborn M. Davis was born on September 4, 1912, in Point Washington and was killed in action on July 17, 1944, at the invasion of Normandy, France. Rolen C. Sikes Jr., a Purple Heart and Bronze Star recipient, was born in 1959 in Destin. He was listed as killed in action on June 11, 1944, at the Invasion of Normandy.
Post 296 has a membership of more than 200s. "Service is our mission," says Corlene Ziegler, the Post's Commander and a Marine Corps veteran. "We're here to serve our veterans, military and families in several ways." For example, our Legion sponsors Boys and Girls State (where high school juniors learn how our form of government works) and Blood Drives.
Recently, the Destin Post's ballroom was upgraded aesthetically and is available to rent for parties of all kinds. "Walls have been repainted with two tones gray and bright white trim in the ballroom," says Commander Ziegler. "There's a big screen TV, private entrance, parking and two bathrooms. The rentals help us achieve our goals of providing service."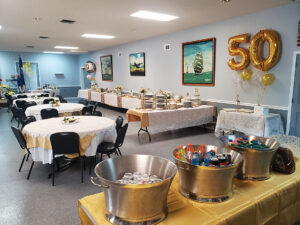 Recent ballroom rentals have included a 50th anniversary party, several quinceaneras, birthdays, retirement, family reunions and other celebrations. Numerous memorial services for veterans and family members happen frequently. "You can bring your own caterer and food," says Commander Ziegler. "No outside alcohol is allowed, but you can hire a bartender." Member and non-member pricing are very affordable at $450 for four hours."
Commander Ziegler invites the community to participate in the Legion's events also. One of the most cherished is the Wreaths Across America ceremony where wreaths are placed at every veteran's grave in the Destin Memorial cemetery. This year slated for Dec. 18 at 1 p.m., "If you have a veteran you'd like to have recognized, contact me or the Post," she says. Additional upcoming events include a Chili Cook Off, Oct. 17 and Breakfast with Santa Dec. 25.
And there's always fun and camaraderie to be had with ongoing activities held weekly:
Monday is Bingo night; Friday is Karoake night. On Saturdays, there's five TVs for college Game Day watching and Sunday's Pro Ball in the Lounge, noon to 7 p.m. There's Sunday Breakfast from 8:15-11 a.m. "One of our Sunday chefs, Ray Castro, is an Army veteran and my grandson helps with the dishes; his daughter is a server," says Commander Ziegler. In fact, several of the employees' children work at the Legion. "We hope this will teach them to serve and give." The Destin Post also "properly retires flags to the cleansing flames" four times per year.
Commander Ziegler wants the Destin post to increase its reach in the community, especially to the youth. "You don't have to be a member to participate in karaoke, steak night or other activities," she says. "All of the Post's happenings are open to the public. We also hope that community service and veterans helping veterans will appeal to younger people, too. We hope to expose them to American ideals…help them get to know the ones that paved the way for what we have today, have fun and hear the stories. It's time to teach the next generation."
Nationally, the American Legion has nearly two million members in roughly 12,000 Posts. There are many member benefits for $40 per year. Please consider joining. "If you become a member now when you don't need us, we'll be here when you do," says Commander Ziegler. "If it dies out with this generation, then the next generation doesn't have it. We invite you to visit and enjoy all the features and events in a friendly and patriotic atmosphere," she says.
American Legion Post 296 | 311 Main St. Destin 32541 | (850) 837-3818 | www.legion.org