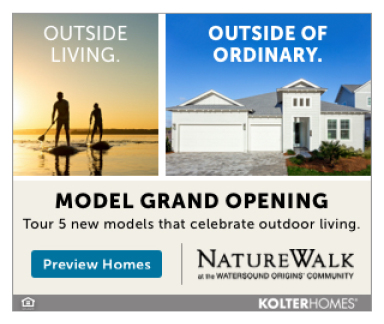 The Florida Department of Health in Okaloosa and Walton Counties has approached COVID-19 vaccination efforts similarly to the planning structure of previous vaccination programs after receiving its initial doses of COVID-19 vaccines. Allocated for first responders and seniors age 65 and older, the vaccines came from Moderna and were given Emergency Use Authorization by the FDA. According to data released by the Food and Drug Administration, the vaccine made by Moderna is highly protective for adults and prevents severe cases of COVID-19.
Though this first round has been completely disseminated in both counties, further immunizations will be scheduled as vaccine supply allows at no charge. No appointments can be made before the next dates and details have been announced on the Department of Health websites: http://okaloosa.floridahealth.gov and http://walton.floridahealth.gov. Appointments are unable to be made through email or walk-in. However, the state has developed a pre-registration system to schedule COVID-19 vaccinations for priority populations. To pre-register, visit myvaccine.fl.gov. Individuals can call and pre-register if they do not have Internet access. In Okaloosa, call 866-200-3599; in Walton County, call 866-201-3054.
Local area hospitals, Fort Walton Beach Medical Center, Twin Cities Hospital, White Wilson Medical Center and Ascension Sacred Heart, also received their FDA-approved vaccines recently and continue to vaccinate their front-line caregivers and staff. Ascension, overall, has already vaccinated more than 80,000 of its front-line caregivers and staff, Ascension Sacred Heart Emerald Coast.
Since February, the local, physician-owned medical group White Wilson has been working on the frontlines. "In less than a year, we have offered more than 10,000 COVID-19 tests and cared for countless patients infected with the virus. We have totally restructured our clinics so that we can keep our patients and staff safe and dedicated our efforts to finding ways to serve during this time," White-Wilson CEO Alan Gieseman stated. "We are excited to finally begin gaining ground in this fight."
Many long-term care staff and residents are receiving vaccines through Operation Warp Speed from Walgreens and CVS. Publix is now offering the vaccine in Okaloosa and Walton Counties at select locations. You are eligible if you are a healthcare worker with direct patient contact; a resident or staff in a long-term healthcare facility, or age 65 and older. Starting Wednesday, Feb. 3 after 5 a.m., eligible customers can access COVID-19 vaccine appointment availability.Visit www.publix.com/covidvaccine for more information.
According to the CDC, COVID-19 vaccination will make it substantially less likely that you'll get COVID-19. Based on what we know about vaccines for other diseases, experts believe the vaccine will help keep you from getting seriously ill if you do get COVID-19. Vaccine trials are reporting high rates of effectiveness. There is no way to know how COVID-19 will affect you and it can have serious, life-threatening complications. COVID-19 vaccines will not give you COVID-19. None of the COVID-19 vaccines use the live virus that causes COVID-19. The goal of each vaccine is to teach our immune system how to recognize and fight the virus that causes COVID-19. Sometimes this process can cause symptoms, such as fever. Immunity typically takes a few weeks to build. For more information on the COVID-19 vaccines visit www. cdc.gov/coronavirus/2019-ncov/vaccines.
As additional vaccine supplies become available and the state provides priority groups for vaccinating, counties say they will follow and share those plans. For the most up to date information on COVID-19 vaccination plans in Florida, please visit www.florida-healthcovid19.gov/covid-19-vac-cines-in-florida.