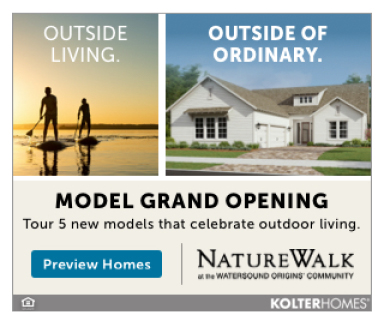 By Cali Hlavac, To Do In Destin
The Tarpon have arrived! A bucket list fish for many anglers, Tarpon are most commonly found in south Florida but Destin sees a passing migration during J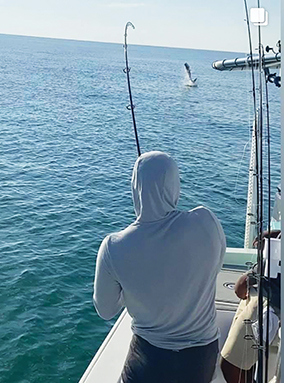 une and July. You'll find them swimming nearshore, by the beaches in large schools. Often you'll see them "rolling" on top of the water, while they feed and they are one of the only fish to break the surface to gulp breaths of air – partly why they can fight for so long while being hooked up.
One of the most intelligent fish, Tarpon are a prehistoric fish that have been dated back as far as 100 million years. They have no teeth, just a sandpaper like surface inside their mouths and they swallow their bait whole. Their scales are shiny and appear silver in color, and anglers will often take one scale as a prize for their catch.
Tarpon, or the Silver King, are considered a once in a lifetime catch. Once hooked up, these fighting fish will jump and shake in the air, trying to loosen the hook and break free. There is a technique to catching them and being able to get them to the boat is a huge victory.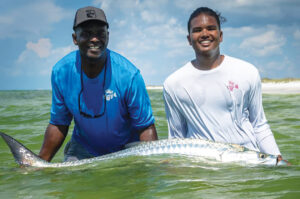 Anglers cannot remove Tarpon from the water, and most will get in the water with the fish to take their photo. Per the FWC, these fish are protected and are catch and release only.
For Destin already being a huge fishery, Tarpon add even more to area. Anglers can now target this bucket list fish during summer months on a boat, kayak, or fishing pier and have a shot at the beautiful creatures.
With all the changes daily we are seeing with the current state of the world, many people are also asking how our fishing industry has been effected. Fishing was deemed essential from the beginning of the Pandemic, so anglers have enjoyed time out the water while being socially distant from other boaters and fishermen. Another bonus is catching your dinner and avoiding the crowded grocery stores.
Captains have always cleaned their boats in between fishing charter clients, but most have now raised that standard to include extra sanitizing for the safety of everyone on board. Masks are not required, being outside in the fresh air, but guests are always encouraged to do whatever makes them feel most comfortable. Fishing is still an activity that can be enjoyed anytime, regardless of the state of our current world.