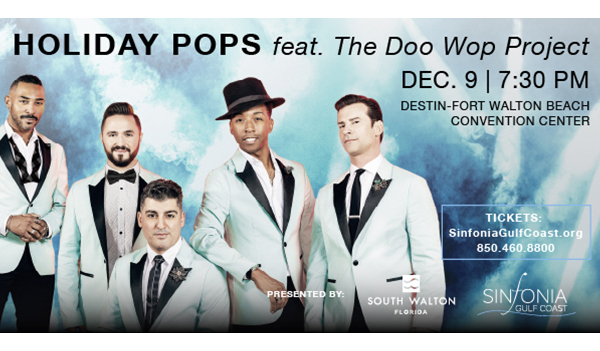 Dust off those skates and get ready for the holidays at The Village of Baytowne Wharf's Baytowne on Ice. Ice rink is open Sunday, Oct. 30 – Sunday, Feb. 5. Hours vary daily. Visit BaytowneWharf.com.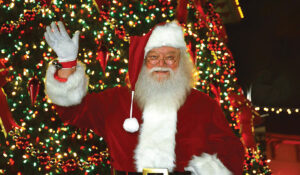 Kick off the Christmas season on Nov. 18 when Santa rides in the holiday parade down Main Street in Destin Commons to light the biggest Christmas tree on the Emerald Coast. Have fun with free face painting and photo opportunities with Rudolph and Frosty characters, all set to festive holiday tunes. The parade starts at 7 p.m. and fireworks will immediately follow.
A November holiday favorite is the Sparkling Wine and Holiday Lights, Nov. 19, at The Village of Baytowne Wharf in Sandestin. Stroll the beautifully decorated streets of Baytowne Wharf enjoying an evening full of holiday spirit, delicious appetizers and sparkling wine from 4-6 p.m. featuring more than 30 champagnes and delicious appetizers at featured Village restaurants. There's also plenty of holiday cheer, with carolers, bubbles and Baytowne Wharf's choreographed light show, 12 Nights of Lights. Tickets: www.baytownesparklingwinefest.com/
Light Up The Night Friday, Nov. 25, 5-6 p.m., when the Fort Walton Beach downtown Christmas lights and the Landing Christmas Tree will shine for the first time this holiday season. Festivities begin at 5 p.m. when Santa arrives at the Landing with Christmas music, a visit and storybook reading from Santa, and a message from Mayor Dick Rynearson. At 5:30 p.m. sharp, all of the downtown lights and the Christmas Tree will come on, welcoming the holiday season in Fort Walton Beach.
Santa arrives at Bass Pro Shops in Destin Commons Sat., Nov. 19, and will be there until Dec. 24. There's also free games, crafts and free, 4×6 professional photos with Santa. https://www.basspro.com/shop/en/santas-wonderland.
Here Comes Santa Claus, Sat., Nov. 26, 6-9 p.m. right down Baytowne Lane! Cheer Santa on as he makes his way to the Event Plaza Lawn to light up the Village Christmas Tree. Santa will start his horse drawn carriage journey into Baytowne Wharf at 6 p.m. and parade around the Village. Then he'll flip a switch to officially light up the Christmas tree for the holiday season. The fireworks light the sky immediately after around 6:15-6:30. There's also face-painting, kids crafts and, after the fireworks, visits and photos with Santa. Visit www.baytownewharf.com.
Holiday on the Harbor kicks off every year with Santa's grand arrival at Harborwalk Village. Visit with Santa and Mrs. Claus at HarborWalk Village beginning Saturday, Nov. 26, at the main stage from 1-4 p.m. Kids will enjoy crafts, face painting and a Rudolph-themed treasure hunt on Santa's arrival day. All of Santa's guests will receive a special treat and a free 4-by-6 photo.
Hosted by the City of DeFuniak Springs, starting the day after Thanksgiving, Chipley Park lights up with the annual Christmas Reflection Displays, a light display like no other in our area with more than 10 million lights reflecting on the lake and throughout the park. You can view the lights by walking, driving or even taking a horse-drawn carriage ride. Admission is $5 per person and children 5 and under are free. (850) 978-2999.
The Festival of Trees at Grand Boulevard at Sandestin runs from the Tuesday before Thanksgiving through Christmas Day. Participating non-profit organizations compete to win cash prizes totaling $7,000. Cast your vote for the People's Choice award. Festival of Trees is an annual event in the park at Grand Boulevard shopping center showcasing uniquely decorated Christmas trees from 12 local non-profit organizations.
Main Street DeFuniak Springs brings back Merry Main Street Nov. 26! Free to attend, Merry Main Street boasts live music and theatrical performances, an outdoor market, food trucks, rides on the Choctaw Express Train, visits with Santa and Mrs. Claus, kids character appearances by The Character Clubhouse, and more family fun – all taking place outdoors along Baldwin Avenue in downtown DeFuniak Springs. Events occur every Friday and Saturday until Christmas. https://bit.ly/MSD_MerryMain, Info@mainstreetdfs.org, (850) 296-9051.
Sowell's North Pole Drive Thru Christmas Lights Display is open nightly starting Friday, Nov. 26, 5:30-9 p.m. ending Dec. 26. Enjoy train rides, photos with Santa, camel rides and more! The elves are hard at work in the elf shack to provide hot cocoa, popcorn and other holiday snacks. Drive through is $15 per vehicle; train tickets: $2 per person. Cash accepted at gate or purchase online at sowellfarms.com. Located at 7650 Sowell Rd., Milton.