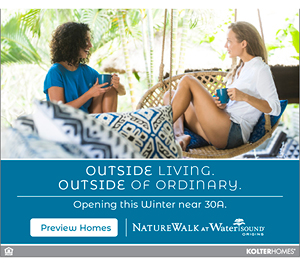 Skipper's Furniture and Mattress Depot is the ideal place to find the right mattress to give you a good night's sleep, or to find just the right furniture to give your home the look and comfort you desire.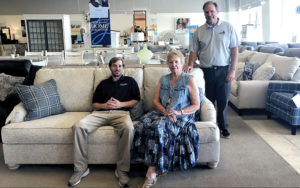 "We are a locally-owned hometown furniture store," said Stan Skipper Sr., who owns and operates the store with his wife Karen, his son Stan Skipper Jr., daughter Olivia, and son Karl. They also employ a full sales and delivery staff.
"I grew up here," said Skipper. "I have worked as a manufacturer representative for mattress companies including Sealy, Serta, and other well-known brands, before becoming an independent representative dealing with many mattress and furniture manufacturers, before opening my first store here in the Niceville/Valparaiso area."
One of Skipper's Furniture and Mattress Depot's best features is the wide variety of mattresses and furniture available. "We have a 40,000 square foot showroom," said Skipper. "That's more than an acre of furniture and mattresses for you to choose from. We carry all major mattress brands, such as Stearns and Foster, Sealy, and Tempur-Pedic, as well as our own private label."
Furniture brands available include Ashley, Catnapper, Klaussner, Benchcraft, and other well-known brands, including the Klaussner Trisha Yearwood furniture collection.
"You can choose furniture from many categories," said Skipper. "We have bedding, reclining and stationery furniture, bedroom and dining suites, sleeper sofas, and other furnishings. We can help you do your whole house exactly the way you want it, and also offer a wide selection of outdoor furniture to help you prepare for your backyard gatherings throughout the year."
When asked what advice he would offer someone searching for just the right mattress, Skipper replied, "Look for a mattress that provides comfort, with good support. A mattress that is too firm may prove to be uncomfortable to lie on for hours at a time, making it difficult for you to get an uninterrupted night's sleep."
One example of a comfortable mattress, he said, is a new Tempur-Pedic model made of special pressure-relieving material, which means less tossing and turning throughout the night.
Also we asked if the internet "bed in a box" craze has hurt his business?
"Absolutely not, we have had the bed in a box for 10 years for much less! We are at an advantage as a brick and mortar store because the customer can come in and actually test the mattress before they buy. They can also take it home in their vehicle the same day, or delivery is available.
"Don't wait too long to replace an old mattress," Skipper said. "Mattresses wear out gradually, and you may not notice how uncomfortable yours has actually become, until it really becomes a problem. Most mattresses should be replaced every 8 to 10 years. People often take great care in selecting just the right furniture to put in parts of their home that will be seen by others, while neglecting to select a high-quality mattress."
"Your mattress is really the most important piece of furniture in your house. After all, you will spend about one third of your life sleeping on it."
Another item that is growing in popularity, Skipper said, is the adjustable bed. Formerly regarded as something only for the sick or elderly, adjustable beds have now become a big part of a comfortable and modern lifestyle.
Such beds enable people to watch TV, read, and play video games before going to sleep. Modern beds also provide such features as massage, USB ports, and lighting systems.
"We have more than 80 models to choose from," said Skipper.
Skipper's Furniture and Mattress Depot has three locations: 597 N. John Sims Parkway, Niceville, 503 Mary Esther Cutoff in Ft. Walton Beach and 11840 U.S. 98 W., Miramar Beach. Visit a store or call 850-678-7800 or 850-837-3454 for a personal appointment.
"Come visit Skipper's Furniture and Mattress Depot," said Skipper, "and let us show you just how beautiful and comfortable your home can become."