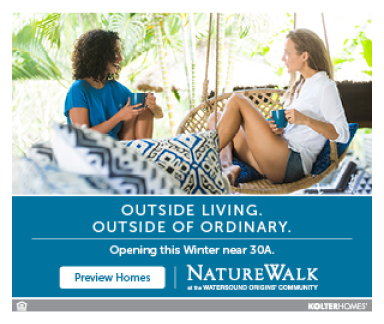 "Bring me a fish, I'll make you famous!"
By Helen Donaldson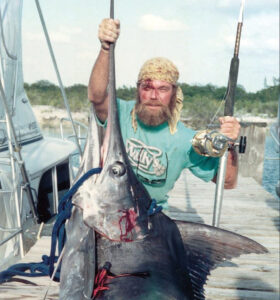 Destin Fishing Rodeo Weighmaster Bruce Cheves an avid storyteller, comedian, entertainer and the like, first arrived in Crestview in 1977, leaving his home state of California. Cheves, who says his name is of Scottish decent, derived from McChevers, found his love for the ocean as a child there in tide pools along the Monterrey coast. He was fascinated by seeing many species of marine life including eel, countless fish species and crabs of varied sorts. These experiences served to fuel his own inquisitiveness to venture out onto the Pacific Ocean only to be denied by the cruelty of sea sickness. Despite the uncomfortable queasiness, he still has fond memories fishing with the Italians notorious for commercial fishing and the ability to find the fish "without a lot of modern technology even for the standards back then," Cheves said.
It was those memories that encouraged Bruce to find his way onto Kelly Docks in Destin. Although largely encouraged by his mother, initially he found himself on a new journey in search of adventure. It was when he heard Captain Bruce Marler say, "If you pay attention, you will learn something every day" that he knew he was at the right place at the right time, and he never looked back. A resounding lust for life along with a strong desire to gain knowledge from Destin's Captains that fished more from the heart and personal experience than relying on technology, suited his style of learning and learn he did. A student of everything from weather patterns to moon phases, barometric pressure changes all would prove more opportune times to fish or not to fish. He paid attention to captains like Tommy Thomas onboard the RipTide who would "read the bottom" with his 735 machine spitting out the data on paper. This would show, if read correctly, the different types of fish on the bottom. "Christmas Trees" and dots would denote triggerfish, amberjack, and snapper which then allowed him to get his baits right to catch those different types of fish. All of this, in many ways, is what prepared him to not only weigh fish, but educate and entertain the packed docks of onlookers during the 31 days of some of the Gulf's best fishing.
Cheves' insatiable thirst for knowledge and a good-nature of a volunteer found himself on the Rodeo Dock in 1979 climbing up the pilings, and hoisting fish up and down the block and tackle, while assisting the then Weighmaster, Bill Sherman. That year, the Jaycees women's auxiliary asked him if he wanted to do it again. It was then, off and on, that he would spend time working the rodeo in between trips until 1991 when Bruce Cheves became the official weigh-in-master for the Destin Fishing Rodeo. His first memory as the new Weighmaster was on Moreno Point, weighing in his first fish and saying "Time is…." Hearing a collective hush fall over the crowd with their eager anticipation, was when that proverbial lightning strike hit and he has been hooked ever since. Bruce has weighed in over 20 world-record fish. And some that stand out in his mind is a guy he called the "Round Man" with a Pompano that weighed in at 8.9lbs. Others were a 39-lb. red grouper and a 54-lb. kitty Mitchell. Bruce said his deep love for the Rodeo staff, volunteers, the fishing fleet and seeing through the eyes of a new rodeo participant's (especially the children's) fresh weigh-in and their reaction to a new-found passion for fishing is what brings him back every year. It is something he has never grown tired of and continues to be a source of inspiration year after year. I think the inspiration is mutual, especially when they hear Bruce Cheves' now infamous quote, "Bring me a fish an' I'll make you famous!"
Nowadays, the weigh-in-master is called "Dr." Bruce Cheves. UWF President Judy Bense recently presented Cheves with the UWF Presidential Medal of Honor. The award, established by Bense in 2012, is given to individuals who have distinguished themselves by their actions and have contributed in some manner to the well-being of the university and the geographical region, primarily through public service and philanthropy. Cheves was recognized for his long-standing service within UWF's service region as he promotes Destin's heritage and educates thousands of locals and visitors about fishing, maritime history and local legends. He has initiated programs that introduce and promote fishing among kids, particularly those from disadvantaged situations. In 2010, the city of Destin honored Cheves by naming Oct. 16 "Bruce Cheves Day."
-Photos and story courtesy of Destin Fishing Rodeo.