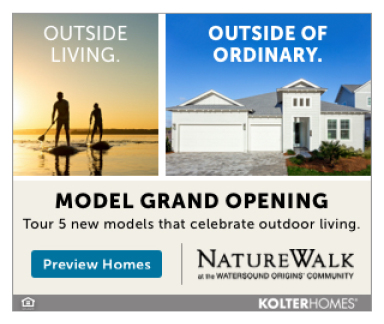 By Mary Chris Murray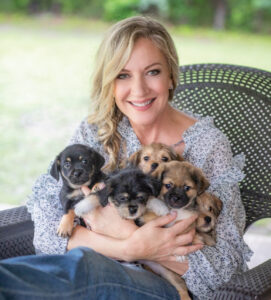 Her belief that "every abused, neglected and homeless animal deserves a second chance" is what makes Laurie Hood, founder and president of Alaqua Animal Refuge, a Hometown Hero.
A true visionary and passionate animal lover since childhood, Laurie, somewhat of a "Mom" to these animals, founded Alaqua in Freeport, the Southeast's premier, no-kill animal refuge and sanctuary for both domestic and farm animals located in Northwest Florida, more than 14 years ago. "I discovered that untold numbers of animals, at a rate of nearly 100%, were being euthanized in a five-county area due to the lack of a no-kill shelter or adoption center of any kind in the region," says Laurie.
Initially providing shelter to only 38 animals, Alaqua has since placed tens of thousands of animals into loving homes and environments and helped countless others through partnerships and community outreach.
With Laurie at the helm, Alaqua is currently undertaking a bold endeavor to build a one-of-kind facility and sanctuary on 100 acres of land. The new Alaqua home will be the first of its kind in the U.S., with an expanded footprint to continue to do the important work of animal rescue and rehab, as well as be an educational and training center for animal welfare advocates as a place that will inspire, empower and educate others to make change in our society.
And Alaqua's new home isn't just for animals. It will also be a place to help heal people through the powerful effects that interactions with animals have on the human spirit and body.
Alaqua's mission is to provide protection, shelter and care to animals in need; a full-service adoption center; and numerous educational outreach and community programs including Equine Interactions, an equine assisted therapy program for children and individuals with special needs, and for veterans and military service members who may be battling a variety of physical or emotional issues, such as PTSD.
A recognized leader in animal care, protection and advocacy, Laurie has authored a curriculum to assist law enforcement across the State of Florida for investigating and prosecuting animal abuse cases. And she has starred in "Animal PD," a television series on Nat Geo WILD showcasing stories of Alaqua's animal rescue efforts in conjunction with law enforcement.
In addition, she serves on many non-profit boards and community organizations including State Director for Florida for Animal Wellness Action; Founding Board Member of The E.O. Wilson Biophilia Center and Nokuse Education, Inc.; District Leader for Northwest Florida for The Humane Society of the U.S.; and Board of Directors for the Florida Wildlife Federation. She has served as the Vice Chair for the Committee to Protect Greyhounds in Florida and the Advisory Board for The Restore Act for Walton County.
Laurie has received numerous awards, including "Daily Point of Light Award" from President George H. W. Bush; the Pinnacle Award from 850 Magazine for her community service and leadership; and Communicator of the Year for Non-Profit from the Florida Public Relations Association, Northwest Florida Coast Chapter. Laurie is currently featured in the "Female Disrupters" series in Authority Magazine and Thrive Global. Under her leadership, Alaqua has also been recognized as "one of the best overall organizations in the U.S." by The Humane Society of the U. S., and as a "prime example of what a sanctuary should be" from the Global Federation of Animal Sanctuaries.
Laurie says, "I've made a lifelong commitment to improve animals' lives as we continue to journey into bold, unchartered territory in an effort to educate others about the importance of animals in our lives and their overall welfare."