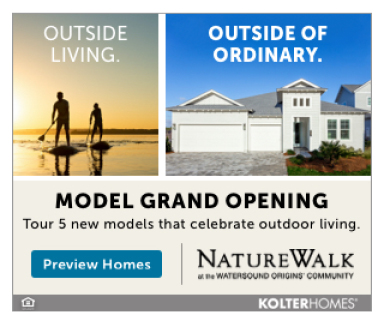 Speaking Up for Child Victims of Abuse and Neglect
By Kay Phelan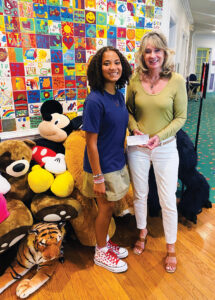 Meet 13-year-old Giselle McLaughlin, an eighth grade student at Liza Jackson Preparatory School in Ft. Walton Beach. Julie Porterfield, CEO of Emerald Coast Children's Advocacy Center (ECCAC), met Giselle at its Niceville Center when she presented a $280 donation check to Julie.
Giselle is taking an in-depth look at Florida foster care for her school "Graduation By Demonstration" (GBD) project. GBD is a process in which students undertake a major project that is of personal interest to them and may have a positive impact on their future career interests and decision making. The program is designed to take students out of their comfort zone, set goals and discover their interests. GBD culminates with a major presentation at school by each student about their project.
Taking on foster care as her GBD project, Giselle wanted to find a way to give back and create awareness of what children face. As it turns out, she has had first-hand experience in this area, coming very close to the foster care system. She was raised by her mother and step-father, both of whom were in the military. Unfortunately, in 2018, her mother took her own life. This caused a split-up of Giselle's siblings that included a younger brother and sister. In 2020, her step-father moved Giselle and her then 4-year-old sister to Northwest Florida to be closer to family. There was a brief stint in Texas and then back to Northwest Florida because of unpredictable circumstances. Last August, Giselle was taken in by their great aunt and uncle in Fort Walton Beach, passionate relatives who really understood the situation. Several weeks ago, Giselle was officially adopted by these kind relatives.
Although her siblings do not live with her, they are all close and communicate frequently.
"Throughout this period of instability after the loss of my mother, in sixth and seventh grade, I felt like I had no purpose in life," Giselle said. "But then once my great aunt and uncle stepped into my life, things began to normalize for me. Now I am so happy at Liza Jackson Prep School and involved with so many school activities."
With a shortage of foster parents in Walton, Okaloosa, Santa Rosa and Escambia counties, one now understands this teenager's avid interest in taking on this subject. Because of Giselle's foster care research for her school's project, she became aware of ECCAC.
Giselle has been very impressed with the many child-friendly services the non-profit organization provides for kids and their families dealing with abuse and neglect situations. In a couple of years, she hopes to volunteer at the Niceville Center saying, "I would love to stay involved, and hope I can give insight to other kids. It is a really nice thing ECCAC does for kids dealing with so many problems."
"It has been our pleasure to meet Giselle and acquaint her with our operation," Julie said. "She is a passionate and caring young lady. I'm certain she will do an impressive job with her GBD presentation. Who knows, maybe one day Giselle will be an important ECCAC staff member!"
ECCAC provides services in a child-friendly environment to help identify, treat and support children in abusive situations, as well as helping to prevent child abuse through education and prevention programs. With a center in Okaloosa County and the Pierce Family Center in Walton County, it houses representatives from the Florida Department of Children and Families, Child Protection Team, State Attorney's Office, local law enforcement, licensed mental health counselors and ECCAC's staff and volunteers. In ECCAC's 23-year history, more than 15,000 children have received more than 170,000 services at no cost.
For further information about the Emerald Coast Children's Advocacy Center, visit www.eccac.org. If abuse is suspected, call the anonymous Florida Abuse Hotline at 1-800-96-ABUSE.
Destin Life wants to know about YOUR Hometown Hero. Please send your recommendation to Lori@LifeMediagrp.com.