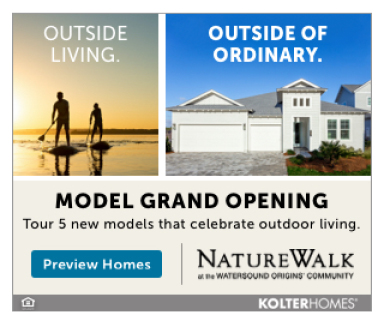 By Lori Smith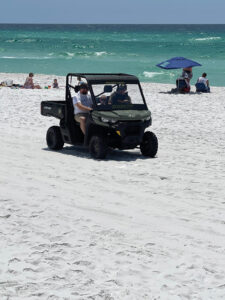 Mason Burnette, 6, loves Destin and the beach. So, on a beautiful Destin Day in May, Shantel Simpson, Salt Water Vacations guest relations manager, the Okaloosa County Sheriff's Office and the City of Destin gathered at James Lee Park to give him an amazing experience. Mason, a Make-A-Wish Georgia Foundation recipient struggling with Leukemia, had a big wish – to ride on the beach in a patrol vehicle for his birthday.
First, Mason was sworn in as a Junior Deputy by Sheriff Eric Aden, who presented him with a Junior Deputy Badge and K9 Deputy Tim Patterson introduced him to K9 Beau. Destin Mayor Gary Jarvis also gave Mason a city challenge coin along with a goodie bag that included a new copy of Mason's favorite book "Green Eggs & Ham," from the Destin Library.
His parents, Makayla Hall and Dustin Burnette, were truly thankful for those in our community making his wishes come true. "We just gave them the information and Shantel and the Make-A-Wish Foundation ran with it; they planned the entire experience," she said.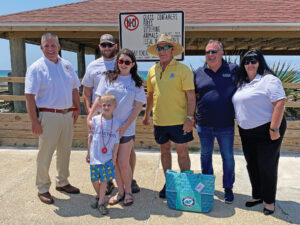 "I cannot express how grateful we are at Salt Water Vacations for all the hard work from OCSO, the City of Destin, the mayor, Mel Ponder and countless others who showed up for Mason," said Shantel. "We don't make any money. We simply work with the community and jump in and make it special. We initially took a phone call from the foundation and then excitedly booked the house for Mason and his parents, decorated it and took donations, all to make their vacation special."
The community was instrumental in providing additional activities that we locals love – free tickets to visit the Gulfairum, free pontoon rental services from Xtreme H20, free meals from Boshamps, Harbor Docks, Brotulas, Soleil, Crab Shack and Chick-Fil-A, smoothies from Tropical Smoothie, free access to the Fort Walton Beach Science Center and a Smile and Wave dolphin boat ride from Capt. Pam.