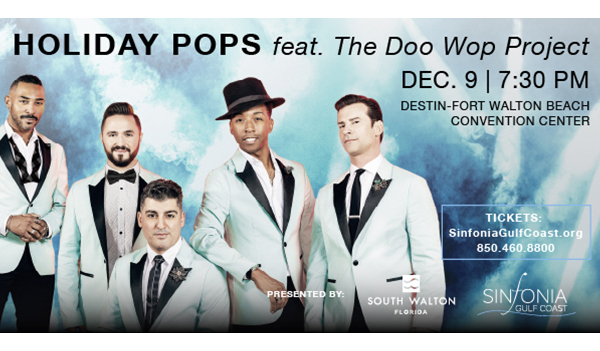 By Lori Smith
On this particular day, Olivia and her father were moving her to college—an exciting time in Olivia's life. They were on their way when a terrible car accident abruptly stopped their plans—leaving both father and daughter in critical condition and Olivia on the brink of death.
Both were air-flighted to then Fort Walton Beach Medical Center, Olivia at one point even losing her pulse. Hospital staff quickly went to work. Due to the numerous caring doctors', nurses' and practitioners' diligence, "both Olivia and her father's lives were saved," said Zach McCluskey, CEO, HCA Florida Fort Walton-Destin Hospital. "But it took more people than are sitting in this auditorium today to make sure that was possible," he said at a recent Chamber breakfast with roughly 250 in attendance. "After many months, we were able to return Olivia and her Father back to their lives. This is what makes it all worth it," Zach stated emotionally, as he conveyed the hospital's mission is to truly care for each life in our community.
Locally, Fort Walton Beach Medical Center, Twin Cities Hospital, Destin ER and Navarre ER were four of more than 450 HCA Florida Healthcare affiliated sites of care across the state that united recently under a new, statewide, shared brand—HCA Florida Healthcare—and have become HCA Florida Fort Walton-Destin Hospital, HCA Florida Twin Cities Hospital, HCA Florida Destin Emergency and HCA Florida Navarre Emergency.
HCA Florida Fort Walton-Destin Hospital has served the community for nearly 50 years. In the past five years, this hospital and other connected care sites have served more than 740,000 patients and invested in the community through the expansion of needed healthcare services, including the addition of freestanding ERs in Destin and Navarre; a 10-bed expansion to the only acute inpatient care rehab facility in Northwest Florida; an expansion of its main emergency room and addition of a roof-top emergency flight helipad; a new parking garage and a multi-phase project that encompasses building a new two-story patient tower with the capability of expanding vertically to four floors, bringing total capacity to 309 beds.
It is a 267-bed full-service hospital and is the only Level II Trauma Center in the Tri-County Area, with over 300 physicians. For women and children services, it has 24/7 neonatologists available and is the area's only Level II NICU. Its expanded emergency services include a dedicated Pediatric ER, 24/7 HCA Florida Destin Emergency, 24/7 HCA Florida Navarre Emergency, and full-service 24/7 HCA Florida Fort Walton-Destin Emergency. It is the only acute care hospital in the Tri-County area that offers open heart surgery, an Accredited Advanced Primary Stroke Center, an Accredited Chest Pain Center, and a Cancer Care Center that is accredited by the Commission on Cancer and an Associate of the UAB Birmingham Health System Cancer Community Network. HCA Florida Fort Walton-Destin Hospital also has the only inpatient acute care rehab facility in the tri-county area – The Rehabilitation Institute of Northwest Florida, located in Destin.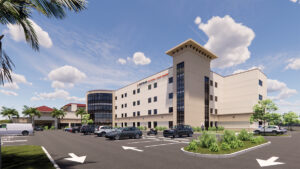 Zach said he's very excited about being a part of the new HCA Florida Healthcare network. "Our local hospitals and ER's will now collaboratively be connected with approximately 11,000 staff physicians, 77,000 colleagues, 49 hospitals, more than 350 physician practices and freestanding emergency rooms and more than 50 urgent care centers throughout the state." Zach said last year, the state network saw more than 6.4 million patient encounters and represented over one quarter of the healthcare encounters across the country.
"Because it's now more connected than it's ever been," said Zach, "through this comprehensive network, HCA Florida Healthcare can offer the utmost quality and personal attention to its patients, expand access to care, address the ongoing nursing shortage, respond better during times of disaster, advance diversity in healthcare and fund and collaborate with non-profit organizations to address high-priority community needs." With one baby born every 17 minutes at an HCA Florida Healthcare hospital and trauma outcomes better than the national average throughout the state, patients and families can continue to expect the same quality care from physicians and nurses, with no changes to facility hours of operation or phone numbers.