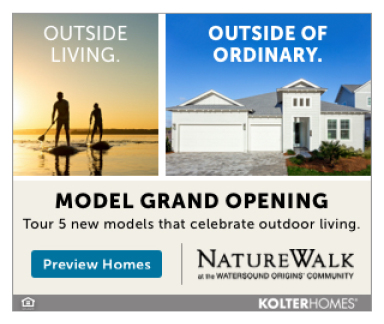 By CJ Lydon, Senior Living Community Advisor
"WHO" are some of the people who choose to live in a Senior Living Community and "WHY" and "WHEN" is the right time to make that transition?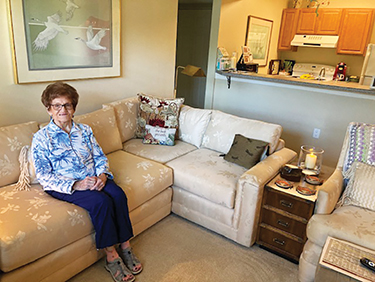 Meet Jeanetta! She was a 30-year resident of the Sandestin Resort Community. Her husband, who was a Marine veteran, passed years ago. She remained in their home for years after his passing. But as the years went by, she realized taking care of a home by herself was going to be too much. She had neighbors that moved to Brookdale which is located right within the Sandestin Resort and were very happy there. She visited often and heard stories of how much fun they were having with their new friends. She liked how spacious the apartments were and especially liked their screened in patios. "I came for a tour and the rest is history. I never even considered any other community. What I really like is that I am still making new friends. I love the staff and I just love our Sandestin community and all that this area offers. We have a great selection of restaurants, shopping and activities nearby as well as all of the activities and events that Brookdale offers each day." Jeanetta is a retired RN and worked at a Veterans Hospital in Tennessee. She was a volunteer with Caring & Sharing after she retired. She enjoys playing bridge, bingo, bible study, happy hour, trivia, socializing with her neighbors and talking about her extended family. She said transitioning to a senior living community was the right choice for her. She said some people wait too long and become a burden to their loved ones. She didn't want that and is glad her health is still very good.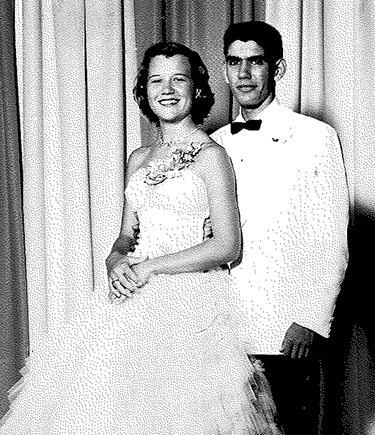 Meet Ed & Pat! They recently celebrated their 63rd wedding anniversary. They were both living in Niceville, but in two separate communities. Pat was living in an Independent Living complex that didn't allow her husband to reside with her, because of his care needs. They didn't offer any clinical or nursing staff to assist seniors as they age. Pat was very depressed that she could not even visit her husband. She shared her despair with her two sons and they realized they needed to do something for their parents. That's when they contacted Brookdale Destin, which offers both an Assisted Living Community and a Memory Care Community. This was the answer they were looking for. So, the process began of moving them both from their different locations to their new forever home. Here they can age in place and spend the rest of their days together! Ed is a retired Air Force Veteran. Pat has been by his side since they met in High School.
Each day Pat spends time with Ed and shares happy memories with him about their life together. Pat and her four-legged buddy Romeo share a first-floor apartment and Romeo has his own backyard. They enjoyed playing golf, traveling and playing bridge with friends. Pat and Ed certainly have that special kind of love!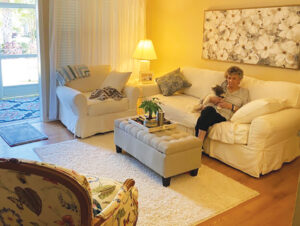 Meet Sally! She was also a long-time resident of Sandestin Resort Community. After her husband passed she, too, was wondering when would be the right time to make the transition to a senior living community. Both of her daughters recommended Brookdale Destin. One of her daughters is in healthcare and the other is involved in real estate. Sally came for a visit and signed a contract that same week. "I was getting lonely and wanted a community where I could socialize with people on a regular basis. I met several of the staff and really liked all of the activity I saw going on. I really like how friendly and helpful the staff is and I especially like all of the new friends I have made here."
Sally resides in a beautifully appointed two-bedroom apartment with her pal Joey. He really enjoys being able to sit outside with her on the patio. Sally is a very talented artist. She also crochets, enjoys bingo, happy hours and riding in the Community Golf Cart to one of the many restaurants or shops next door at Grand Boulevard. She says, "Don't wait, move in sooner rather than later. You'll be so glad you did!"