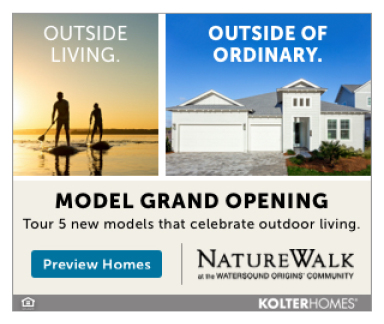 By Susan Benton, 30Aeats.com
Lionfish is a sweet, light, white, flaky fish that has a firm texture and has a taste somewhere between grouper and mahi mahi. The fish itself has venomous spines, but the meat is not poisonous. I really enjoy it lightly fried; its incredible flavor is ideal for fish tacos. Unless you are a pro diver or fisherman who is trained to spear lionfish, your best bet is to buy it from your nearest seafood dealer. I was ecstatic to find local lionfish in our Whole Foods sustainable seafood section.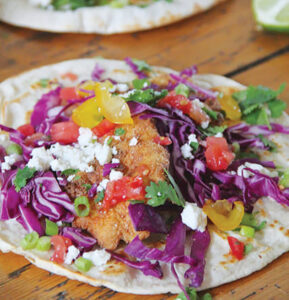 Lionfish Tacos
Ingredients
2 pounds lionfish (skinned, boned and cleaned) cut into 1-ounce strips
2 cups all-purpose flour
3 eggs, lightly beaten
3 tablespoons cold water
2 cups fine panko bread crumbs
Sea salt and freshly ground black pepper
Vegetable oil, for frying
1/2 head purple cabbage, finely shredded
1 bunch cilantro, leaves picked
1 bunch chives, chopped
3 limes, cut into wedges for garnish
Cotija cheese crumbled (optional)
Preparation
Whole Foods will clean the lionfish, fillet it, remove the bones and even cut it into 1-ounce strips for you. They made cooking this lionfish recipe a breeze. However, if you would like to purchase the whole fish and clean it yourself, I would suggest you visit https://lionfish.co/cleaning-and-preparing-lionfish-to-eat.
Cut the pieces of fish into 1-ounce strips. Set up a cooking station of flour, lightly beaten eggs with water added, and then the seasoned bread crumbs. Season each station with salt and pepper. Dredge the pieces of fish in flour, egg, and then bread crumbs and set aside on a clean dish. Once all the fish is breaded, deep-fry in small batches in (375 degrees F) vegetable oil, and set fish on paper towels on top of a brown paper bag. (Tip: I keep my Whole Foods brown paper bags for this purpose. Great to absorb oil when frying bacon too.) Keep warm until ready to serve.
Serve the tacos family style where everyone can add as much or as little to their taco as they wish. Assemble the fish in a pile on a plate; the chile sauce in a bowl; the Cotija cheese in a bowl; and the salsa in another. Set a pile of shredded purple cabbage, cilantro leaves, chopped chives and lime wedges next to the fish. Toast the corn tortillas lightly over an open flame, or warm in a skillet and serve.
Chili Sauce
Ingredients
1 cup Greek yogurt
1 cup mayonnaise
2 chipotles in adobo, plus 2 tablespoons of adobo sauce
1/2 lemon, juiced
Sea salt and freshly ground black pepper
To prepare the chile sauce, put the chipotles in a blender and puree until smooth. Add the Greek yogurt, mayonnaise, adobo sauce and lemon juice and continue to process until the mixture is creamy. Season with salt and pepper to taste and refrigerate until ready to use.