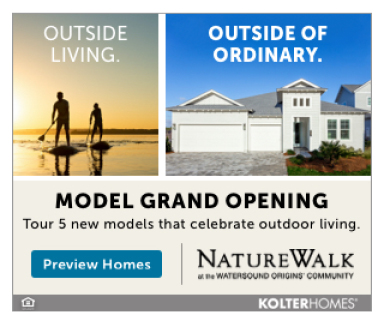 A new year gives us that annual opportunity to start fresh, to reinvent ourselves, set new goals, make resolutions, and just plain reset and refocus. For us on the Emerald Coast, moving into 2019 offers particular meaning this year by providing the chance to rebuild, renovate, and reimagine after October's hurricane. Our local businesses are no different. The Emerald Coast Mortgage Team at Inlanta Mortgage is looking to help its clients invest in themselves in 2019 by getting into the home of their dreams.
While many will look to invest in themselves by exercising more, living healthier, or going back to school, it's just as important to invest in your financial future. That's where Balenda Hetzel and her team of mortgage experts come in by helping make home ownership a strategic part of your 2019.
"While renting makes sense for certain situations, buying a home of your very own is not only an investment in yourself, but it's an investment in your financial future as well," says Balenda Hetzel, Regional Production Manager for Inlanta Mortgage. "In fact, you can often spend less on your mortgage than you pay for rent. Plus, you build equity in your home that can be a great financial tool in the future."
Balenda's Inlanta Mortgage team offers a diverse range of mortgage loan products that serves to find the right loan for you and your unique financial situation. Inlanta also offers VA and FHA loan programs, and has down payment assistance programs, all designed to help buyers afford homeownership in the Emerald Coast area. The team's ability to understand and work with each customer's specific financial situation has helped them successfully serve customers in the Florida panhandle area for more than 20 years.
"We get to know you, learn about your home ownership dream and help find the right product that fits you," noted Balenda. "Our team of lenders works closely with your real estate agent to make the process as easy and memorable as possible."
The team brings its local experience, along with its mortgage expertise, to offer outstanding service and genuine customer care that treats their clients as family long after the loan has closed.
"We don't just leave you at the door step with the keys when the transaction is over," she said. "We keep in touch, we celebrate family milestones, we commemorate your home-buying anniversaries, and most of all, we become friends with many of our clients long before the closing ever happens. When you work with our team, you can rest assured that you are not a mere transaction to us – you're family."
If you're looking to take the leap and invest in homeownership in 2019, give Balenda a call at 850-499-4759, or email her at balendahetzel@inlanta.com.
Happy New Year, Emerald Coast!