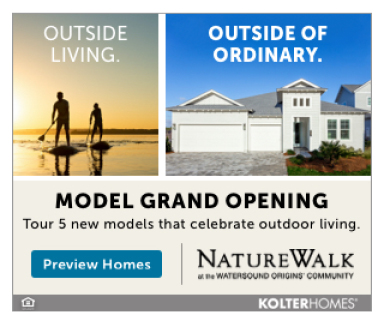 By Kenneth Books
Had enough of the Golden Arches? Look for the Golden Horses.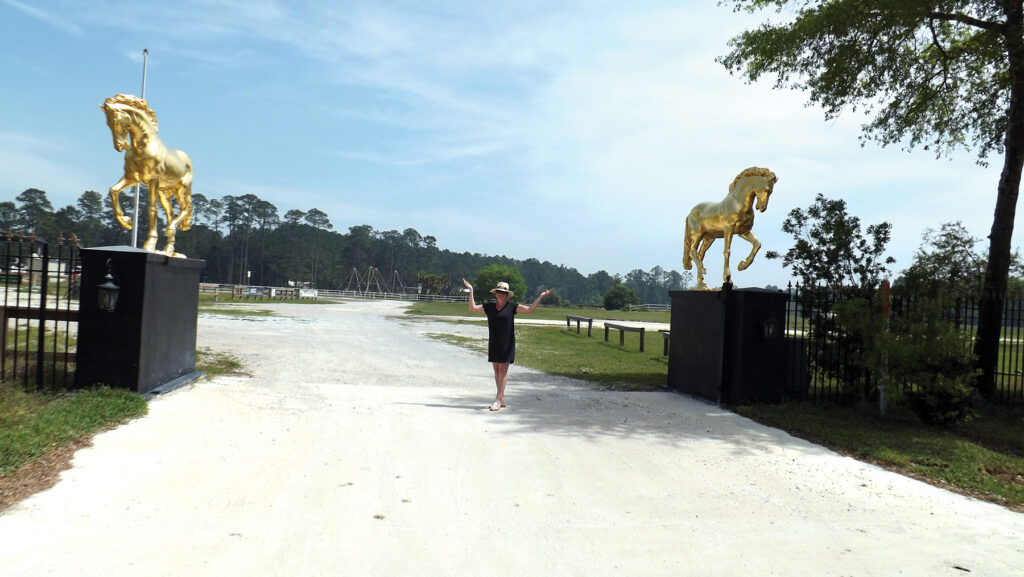 That will tell you you're at the entrance to the Horse Power Pavilion, a new, 70-acre, facility at 4497 State Highway 20 W, Freeport.
The Pavilion is the project of Kate and Fred Holland, who, with their two sons, Hamilton, 9, and Heston, 5, emigrated from Manchester, England, about three-and-a-half years ago.
"We love it here," Kate said. "It's a great place, especially for children."
So, they set out to build a business that would bring joy to people of every age. Currently, there's a play area for the youngsters, and plans for "Hamilton's Bistro," featuring live music, authentic British fish and chips and al fresco dining that Kate said will be open seven days a week for lunch from noon to 2:30 p.m. and for dinner from 6 to 10 p.m. She said the bistro should be up and running in four to six weeks. Part of the bistro experience will be enjoying beer brewed at the Pavilion's Hairy Hogg Brewery, and rich, Kona coffee the Hollands create under the name "Angry Ass Coffee."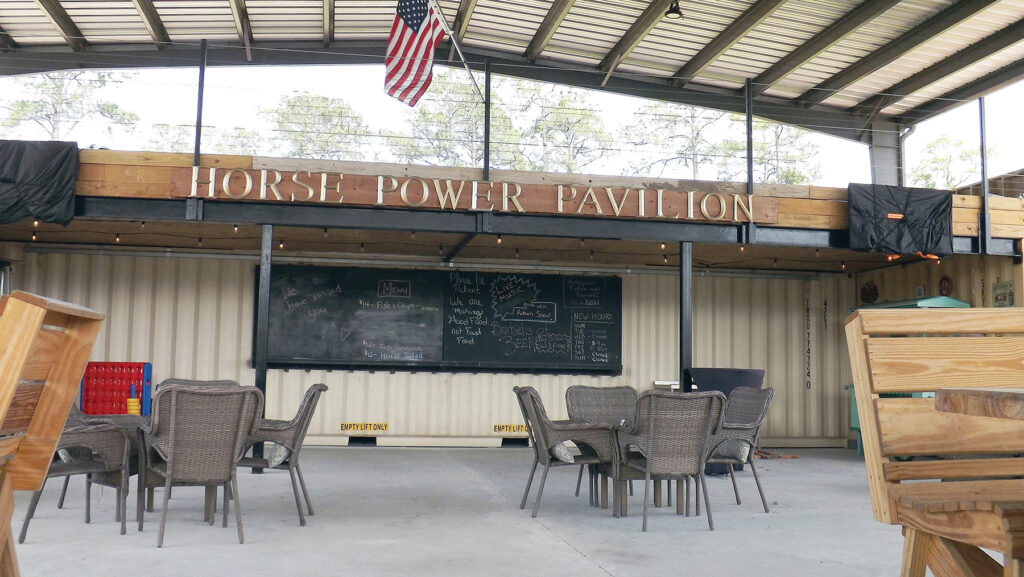 A wedding and event facility, called Open Oak Barn, will follow. And a campground and RV park is planned. "We want the campground to be open," Kate said. "I hate it when you can look into the window of the next RV."
There will be plenty for the kids, too, including home school clubs, forest activities and kids' summer camps. "We just want people to bring their kids," Kate said.
For the older set, there will be axe-throwing, with professional instructors to educate potential modern-day Vikings how to throw axes through the air and hit targets. An expert will provide a full safety briefing along with tips on the art of throwing.
For years, Kate said, the Hollands vacationed on the Emerald Coast. Finally, it seemed logical simply to move here. And the Golden Horses drew them to the property.
When we bought the Golden Horses, the gates were always locked," Kate said, "so nobody knew what was inside. It was just a vast waste of space." Thus, was born the idea for the Horse Power Pavilion.
The bistro is phase one of an ambitious building plan, to be followed by the campground in 2023, providing between 50 and 60 slots for RVs and "glamping," outdoor camping with amenities and comforts such as beds, electricity and access to indoor plumbing.
For more information, go to horsepowerpavilion.com or call (850) 520-1737.