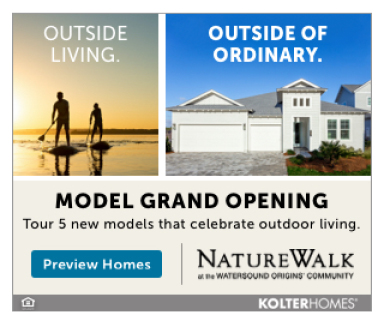 By Ron Sandstead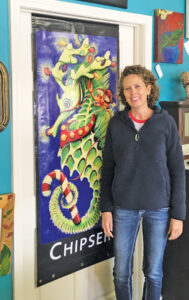 Each Christmas season, the City of Destin decorates the medians on Main Street. The Destin Banner Art Project decided to help decorate by creating holiday themed banners last year. It was a last-minute idea and we put it together in only a month. I asked some of our local artists to paint colorful and fun – and that is what they did. Here are the artists – and their paintings.
The Boat Parade Sailboat was painted by Lynn Craft. Lynn is a Destin native and has enjoyed many of the parades in the Harbor. With her painting, Lynn captured the beauty of the lights strung on the stays and mast and the lights reflecting in the water. Lynn's beautiful painting of the jetties and Marler Bridge is her third banner and is currently hanging on Main Street. Lynn's paintings can be viewed and purchased at Flutterby Antiques.
Christine Ramey's playful Children on the Beach was a multimedia creation showing children with Santa hats leaping into the air on a beach. This colorful painting was Christine's second artwork for our Banner Project. Christine owns a boutique gallery named Art & Soul 30A in Walton County where she sells her paintings, as well as other fun things.
The Ginger Bread House banner was painted by Destin resident Claire Gagne' Long. Claire's fun painting was of several lop-sided houses decorated with gum drops and lollipops. Her third banner of a sailboat is currently hanging at the Community Center. Claire was a past co-owner of Emerald Coast Gallery. Her artwork can be viewed at the Destin Pearl Gallery and at Artisano Boutique in Fort Walton.
Dorothy Robinson, a former Flint, Michigan native, painted a cute Christmas Elf. Her lady elf is accompanied by a helpful mouse holding a candy cane. Dorothy painted as a child and has recently rekindled her passion. Her second banner, Yoga on the Beach, is now hanging on Main Street and is part of her series of yoga paintings.
The Flamingo Sitting on a Snowman's Head is a good example of Estelle Grengs' whimsical impressionism. Estelle won the Mattie Kelly Poster Art Contest for a second time this year. She owns Estelle Studio & Gallery in Freeport where she teaches group classes and sells her art. Estelle's third banner of a flamingo wrapped around a palm tree is now hanging at the Community Center.
Joy Fine painted a colorful garland wrapped Christmas Tree. Joy is retired from retail sales and has been an artist in Destin for the last 25 years. Joy's third banner painting of a heron is now hanging at the Community Center. Joy loves painting coastal and tropical scenes and has some of her paintings for sale at Flutterby Antiques.
Poinsettia was painted by Kathy Schumacher using her signature palette knife style that makes her art look as much like a sculpture as a painting. Although Kathy lives in Niceville, her art can be viewed at the J. Leon Gallery and the Foster Gallery, both in Miramar Beach. A sailboat was Kathy's third contribution and it is currently hanging at the Community Center.
Painting Rudolph the Red Nosed Reindeer was obviously fun for Marie Chapman. Rudolph's eyes have a look of surprise as he presses his brightly colored nose in close to the viewer. Marie is a Shalimar resident and is very active in the Arts and Design Society of Fort Walton (ADSO) where she serves on the Executive Board. Rudolph was her second contribution to our project.
The happy Rudy the Red Nosed Seahorse was painted by Andrea Chipser. Sporting a string of Christmas lights and clutching a candy cane with its tail, Andrea's seahorse looks ready to lead Santa's sleigh. Since Andrea is a Destin resident she is able to participate in many of the local art shows. Her work can also be viewed at both the Foster and J. Leon Galleries in Miramar Beach.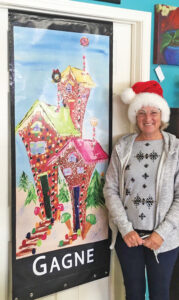 Our Banner Art Project happens because of our wonderful local artists. Our Christmas Banners were so much fun — we are planning on doing it again. If you live in our area and interested in painting something for this coming season, please contact me at ronsandstead@hotmail.com.
I love being able to credit these artists. And I thank them again for their generosity.