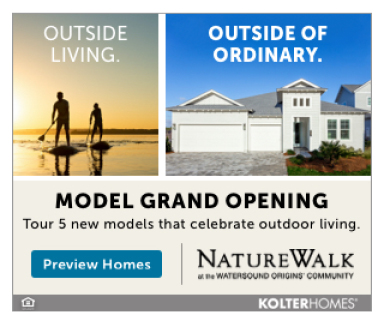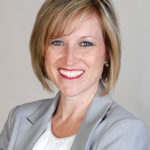 By Catherine Card, City of Destin Public Information Manager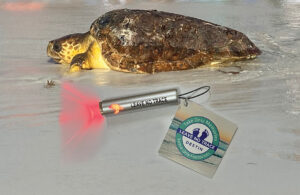 Sea turtle nesting season takes place on Destin's beaches May 1st thru October 31st. To help with education and awareness the City of Destin is giving out FREE turtle-friendly flashlights. Use these flashlights when you look for ghost crabs or go for a stroll on the beach at night. The red light helps keep sea turtles from becoming disoriented when they come ashore to lay their eggs. Thank you to the Destin Chamber of Commerce, Destin History & Fishing Museum, Emerald Coast Science Center, Florida State Parks (Henderson Beach State Park) and the Gulfarium Marine Adventure Park for participating with the city on this educational initiative for our residents and visitors. Each location will have the flashlights available to the public along with Destin City Hall. For more information about the initiative please visit https://youtu.be/x85x8KDOWAU.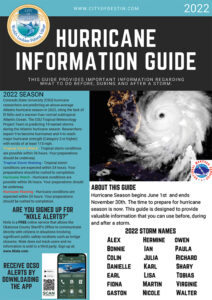 Hurricane season begins June 1st and ends November 30th. The 2022 City of Destin Hurricane Guide is now available on the City of Destin website and City of Destin Government Facebook page. This guide is designed to provide valuable information that you can use before, during and after a storm. Hard copies of the guide will be available at all city facilities as well as the Destin Chamber of Commerce. For more information please visit: www.cityofdestin.com/hurricaneguide.
The Destin Library's 2022 Summer Reading Program will set sail soon! This year, Oceans of Possibilities await readers with weekly themes exploring what the ocean provides as well as its mysteries and myths. Children and adults will be able to compete in reading challenges for badges and prizes including a grand prize drawing at the end of the summer. There will be weekly special events and activities for the whole family like presentations by the Center for Aquatic Sciences and the Choctawhatchee Basin Alliance, special story times, movies, and themed game nights. The kick-off bash for the Summer Reading Program will be held on the lawn at the Destin Library on June 3rd from 5-7 p.m. with lawn games, popcorn, snow cones, and FUN! To sign up, create an account through our Beanstack website at cityofdestin.beanstack.org or download the Beanstack app on your mobile device. Beanstack is a digital reading log where you will keep track of your summer reading challenge minutes and activities. The more minutes you log, the closer you get to earning reading rewards and earning entries into the grand prize drawings. Pre-registration on Beanstack will open on May 27th.
All Summer Reading events will be posted on the Okaloosa County Public Library Cooperative's calendar at okaloosa.librarycalendar.com. Each event will be posted with a registration form. Event space will be limited, so registration is suggested. If you need any assistance signing up with Beanstack or if you have any other questions, please contact the library at 850-837-8572 or library@cityofdestin.com.
The City of Destin's Summer Adult Kickball League will begin on Monday, June 20th, at Morgan Sports Center. The league is for ages 17+ and a mandatory captain's meeting will be held on June 6th, at 6:30 pm at Morgan Sports Center. The meeting will cover league rules, department policies, schedules, and uniform requirements. Player fee is $20 for residents (must reside within city limits and show proof of residency) or $40 for non-residents. Space is limited and open to the first 10 teams who meet all requirements. Games will be played on Monday nights with possible game times of 6:30, 7:30, & 8:30 pm. Games will be self-refereed with final call from City staff. Register online at www.cityofdestin.com/reconline. For more information call (850) 650-1241 or email: tbailey@cityofdestin.com.
Destin Summer Camps and Senior Programs!
Destin Kids Camps and Senior Programs abound this Summer! There are a variety of Kids Camps such as Archery, Babysitting Safety, Cheerleading, Cooking and Serving, Football, Dance, Soccer and more. There's also table tennis and senior programs including a Walking Club. Find the full list and register for camps and programs online at www.cityofdestin.com/reconline. For more information, call the Destin Community Center at (850) 654-5184.