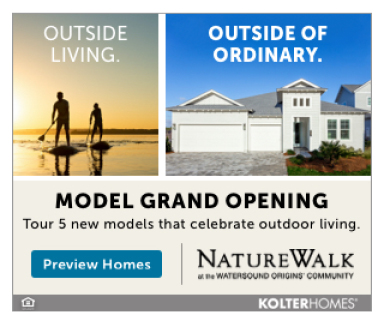 By Wendy Victora Rudman
wendyvrudman@gmail.com
In Destin, which is lined by white sand beaches and dotted with pools of all sizes, it may seem surprising that not everyone knows how to swim. Or that there are visitors and locals who are looking for something longer than a backyard pool when it comes time to exercise.
But amidst the rest of Destin's treasures is the Aquatic Center in Destin, which includes an 8-lane 25-yard lap pool and a family fun pool. The lap pool is heated and open year-round, while the fun pool is more seasonally used. The family pool will open in May for the season.
All are open to the public on a daily, weekly, monthly or punch-pass basis. Lessons for children and adults are also offered there.
The pool was reopened by the Emerald Coast Fitness Foundation in 2017, a few years after the local branch of the YMCA went bankrupt and shut down its facilities, almost overnight. Supporters raised $250,000, rounded up the community and gratefully accepted business donations to open the pool in Destin and an indoor 6-lane pool in Fort Walton Beach.
With the warmer months almost year, activities are gearing up all the ECFF pools. A large fundraiser, the Sip n' Splash will be held poolside May 14 from 6 to 9 p.m. On Sunday, May 15, the community is invited to register for a Free Community Swim Lesson at any of our pools. The lesson, scheduled to run from 2-4 p.m., will include water instruction and basic safety skills.
Businesses including The Jay Odom Group, Culver's and West Marine have already stepped up to support this important community event.
Sponsors are still needed. Call 850-863-7946 to sign up for the lesson, which will be in Destin, Fort Walton Beach and Crestview.