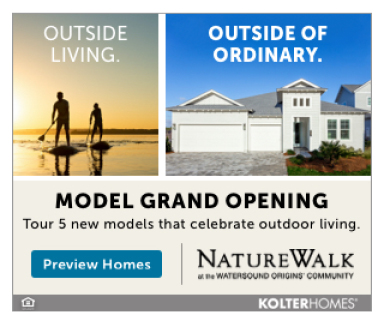 Fine art welcomed a record-breaking 6,200 plus art lovers to the 26th Annual Mattie Kelly Arts Foundation (MKAF) Festival of the Arts in October. $10,000 in cash prizes awarded to 29 artists, roughly 6,200 plus attendees, and more made this festival one for the books.
The two-day signature art celebration featured exhibits of more than 110 premier artists from throughout the U.S. showcasing a diverse palette of artistic style. "This year's success is a testament to how important the arts are for our community and a direct reflection of the 100+ talented participating artists, musicians, food vendors, and most importantly, our incredible festival producer Deb Nissley," stated MKAF CEO Demetrius Fuller.
Guest judges Adrienne Clow, Marketing and Exhibits Director for the Eastern Shore Art Center in Fairhope, Alabama; Jerry R. Johnson, Director of Public Art and Exhibitions for Thomasville Center of the Arts, awarded 27 ribbons and cash prizes including "Best in Show," three Awards of Excellence, five Awards of Merit, and 10 Judges' Recognition Awards.
Best in Show artist Curtis Whitwam expresses his love for waterways and wildlife, "I love to share the feeling of deep connection to nature through watercolor paintings and underwater videos that I create to inspire everyone to get outside and appreciate the beauty and abundance of wild Florida," says Curtis.
The Best in Show Adult winner of the Collaborative Art Exhibit was awarded to Ian Fagan. The Best in Show Student winner was Veronika Jacobson from Fort Walton Beach High School. The Collaborative Art Exhibit features adults and students competing for the Special McIlroy Awards in honor of the late Patricia McIlroy, Destin's First Lady, and an MKAF advocate and patron.
Artists honored as follows:
Best in Show Winner ($1,600)
Curtis Whitwam
Award of Excellence Winners ($800)
Michael Fagan
Roger & Renae Poer
Kelly Hatfield
Award of Merit Winners ($400): Robin Holt, Jeff Waldorff, Kelly Rysavy, Wanda Azzario-Goldberg, Joseph Frye.
Judge's Recognition Award Winners ($200): Chandler Williams, Andrea Chipser, Michelle McLendon, Maria Spies , Dorothy Starbuck, Robin Renee Hix, Tom Radca, Roger Disney, Michael Lunsford, Royal Miree.
People's Choice Award ($800)
Estelle Grengs
Poster Art Contest Winner ($500)
Estelle Grengs
Collaborative Exhibit Winners:
Best in Show ($200) – Ian Fagan – Taygaytay Market
Adult 1st Place ($100) Don David – Happy Face
Adult 2nd Place ($75) Steve Morrison – Rainbow Horizon
Adult 3rd Place ($50) Clint Eager – Pintail Duck
Best in Show – Student ($200) Veronika Jacobson
Student 1st Place ($100) Tara Row- Mind Peace
Student 2nd Place ($75) Olivia Huff – Untitled
Student 3rd Place ($50) Rayna Lowery – Chew Toy
Thanks to the generous support of 50 business partners, media sponsors, and a team of more than 100 volunteers, art lovers of all ages watched artists create works of art, browsed and purchased art from dozens of emerging and student artists, and engaged at the interactive children's art station. Beyond the visual arts, the Festival featured six music acts performing two days of continual live music and a sampling of the local culinary arts scene.
Event proceeds help to fund MKAF's cultural season of events and community outreach programs serving populations of K-12 students and families, including children and adults with special needs, at-risk youth, and a wounded warrior initiative for our returning combat veterans suffering from post-traumatic stress disorder.
For more information on how you can become a MKAF member, community outreach programs, volunteering or investing in the arts, visit MKAF.org or call (850) 650-2226.