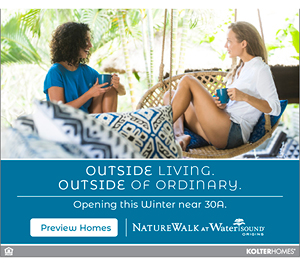 Emerald Coast Theatre Company re-opens its doors for Summer Camp 2020. In addition to the online Summer Camp programs now underway, ECTC has released the schedule for in-person, on-site classes, workshops and lessons designed for various age groups that range from preschool aged children through 12th grade high schoolers. Tuition ranges from $40 to $395 per student depending on the program. Sibling, military and multiple camp discounts are provided; payment plans and scholarships available for group camps/classes.
"We have had a ball with our innovative online offerings this spring, but we are thrilled to be able to reconnect with our parents and theater-loving kids for the 2020 Summer Camp season," said ECTC co-founder and producing artistic director Nathanael Fisher. "The safety and well-being of everyone in our ECTC tribe always comes first, so we are carefully activating our Safety Protocol plan in accordance with CDC guidelines."
ECTC programs are held at its performance space located at 560 Grand Boulevard in Grand Boulevard at Sandestin in Miramar Beach with additional locations in Defuniak Springs and Panama City. To register for ECTC Summer Camp 2020 sessions and for a complete schedule, call (850) 684-0323 or visit emeraldcoasttheatre.org/summer-camps. Follow ECTC on Facebook, Instagram, Twitter and YouTube.
Little Rascals Camp
Ages 5-7, rising Kindergartners. Tuition $125-$140.
Peter Pan Camp
Grades 2-12. Tuition $195.
Camp Showtime
Grades 2-12. Tuition $150-$170.
Disney's The Little Mermaid JR
Grades 2-12. Tuition $395 (payments available).
Film Camp
Grades 5-12. Tuition $195.
Advanced Camps & Workshops
Creative Theatre Games
Grades 3-5. Tuition $40.
FUNdamentals of Improv
Grades 6-12. Tuition $40.
Techies Rule
Grades 5-12. Tuition $150.
Musical Theatre Workshop
Grades 6-12. Tuition $175.
Advanced Acting and Vocal Techniques
Grades 5-12. Tuition $160.
Private Vocal Lessons
Four one-hour long sessions $240. Individual Lesson Scheduled with Peter Lake.
ECTC is following the Center for Disease Control (CDC) safety guidelines. To view the complete plan, go to https://www.emeraldcoasttheatre.org/ectc-safety-protocol.
The more camps you register for, the more you save on tuition. To learn more about scholarships or to apply, visit ECTC's website.