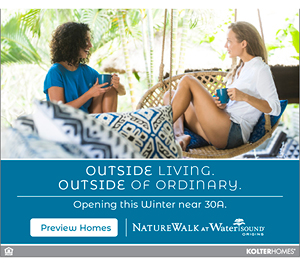 Ruth's Chris Steak House at Silver Shells Resort in Destin will host its 7th Annual Fall Wine Walkabout to benefit Mattie Kelly Arts Foundation's Community Outreach programs on Thursday, November 14 from 5:30 p.m. to 7:30 p.m. in the East Bar and Courtyard.
The Mattie Kelly Arts Foundation (MKAF) – a not-for-profit charitable arts organization founded in 1995, is Northwest Florida's champion of cultural arts and arts education for all.
Chef Ruston Johnson has created a special menu featuring multiple culinary stations with heavy hors' d'oeuvres paired with select fine wines courtesy of a variety of distributors. CEO Marcia Hull stated, "Once again, Mike Sable's team at Ruth's Chris stages an impressive culinary event as a valuable supporter of the arts. This annual event provides an opportunity for our members and art enthusiasts to learn the impact of MKAF"s cultural contributions to sustain a thriving arts and culture community for our residents and visitors." Live entertainment will feature the award-winning soul and jazz artist, Jones & Company.
Returning again this year, "Bubbles & Baubles," will allow patrons to enter to win a variety of eclectic and fine jewelry from local artists and jewelers, along with a complimentary champagne tasting.
Supporters can enter an amazing charity raffle where all will have an opportunity to win packages and exciting experiences. The MKAF Wine Pull has become a popular feature at this event that includes a collection of multiple bottles of fine wines donated from wine enthusiasts, private wine cellars, distributors and restaurants. Purchase numbered wine corks to match your winning bottles of wine. Please contact MKAF at 850-650-2226 to donate cash or wine to the Mystery Wine Pull or to the Bubbles & Baubles.
Tickets are $50 per person or $40 for MKAF members and available to purchase online at www.MattieKellyArtsFoundation.org. Proceeds will fund the Foundation's community outreach mission to provide cultural outreach programs serving K-12 students, adults and children with special needs, at-risk youth, and active/veteran military suffering from visible and invisible injuries in the community.