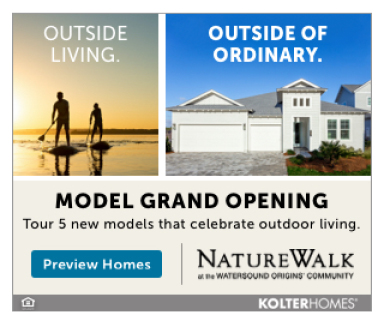 By Will Estell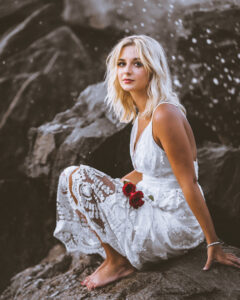 If you're a Destinite and a fan of live music and the creative types that bring it to life, then you've probably heard of Destin local Emily Bass. If you haven't, here's your introduction.
My fiancé and I, along with friends, first saw Emily live at AJ's in Destin this past summer. Being music lovers who routinely see three or more live performances most weeks, I'd say our group is pretty hard to impress—even when it comes to all the talented performers in the area. That said, everyone in our group was astounded by Emily's performance and the way she had such control over her vocals, while also playing guitar and interacting with the large crowd of tourists she was entertaining.
If it's not enough to be able to hold the attention of a group of seasoned music lovers–some in our group well-versed local band members themselves—while entertaining an outdoor crowd of tourists and locals, this talented 18-year-old was doing it all while performing original material she had written and composed. Did I mention again, she's only 18?
Let me give a little personal glimpse into how good I think this young lady's songwriting and presentation skills are by saying that after a few decades in media, having interviewed everyone from Sara Evans, Amy Grant, Kenny Chesney and Darius Rucker to FGL, Alan Jackson and the iconic Jimmy Buffett, I don't take just any music related story assignment. But when I've heard someone perform like Emily Bass does, and I believe that person has a good shot at making it, I am just as honored to do those feature stories as I am the big magazine cover stories with the uber well-known artists—and Emily is most definitely one of those people.
Appearing on both seasons 17 and 18 of The Voice, Emily certainty knows a thing or two about the competitive environment of the music business, and just how much tenacity, determination, and work it takes to get to that level. When you hear her perform, you will immediately know that too.
Emily was born in Houston, Tex., and raised in the nearby rural town of Magnolia. She began performing at roughly age 10, mostly in church and for family and friends. When I asked Emily about her aspirations and when she first knew music was going to be her path, she told me, "I just always knew this is what I wanted to do, and I never considered giving up to get where I want to be."
During her freshman year of high school, she decided to leave public school life and be homeschooled, so she could spend more time honing her musical skills, and putting in the work she knew it would take in order to pursue her career as a singer/songwriter in today's competitive musical environment.
She also decided to audition for The Voice. She didn't make the cut, but she says she gained valuable knowledge as to why she didn't, and just what it would take to rise above the rest and shine the brightest at that level.
When I asked Emily what it was like to perform in front of such well known judges as the show's Blake Shelton, Gwen Stefani, Kelly Clarkson, Katy Perry, Nick Jonas and John Legend, she told me, "It was nerve wrecking and stressful in some ways, but also easier than I thought in others. I think that level of input and feedback I gained from the judges that first year, really pushed me to get even better, and work on the aspects of my performance that I could best control to my advantage."
After her first attempt, and what she had learned from that tryout, Emily was determined to go back the following year, where did much better in front of the judges. Though she didn't make the final cut, she did get to perform live in front of all of The Voice's millions of television viewers two years in a row, and says the time she spent with the other artists and the judges has been very valuable in continuing her musical quest.
In addition to her performances – most recently opening for Cole Swindell this November – Emily writes and co-writes many of her own songs, and had just returned from recording in Los Angeles the day before we sat down at The Wave in Destin for this interview. Additionally, she's made recent trips to Nashville where she is recording to work for future releases with other artists, as well as working on plans for more upcoming performances in the new year, both locally and throughout the country. "I've been writing a lot and really love the creative aspect of songwriting, both for myself and with other writers," Emily told me.
"Dear Emily," her breakup song about giving advice to her ex boyfriend's new love interest, is definitely an intriguing and well-written lyrical piece that gets even better when her passion for the self-written tune shows in her presentation. When you hear her lyrical composition, it really takes you by surprise that she's only 18 years old, yet has all this life experience to pull and write from. It's very akin to what people thought about Taylor Swift's first few albums of work. The same can be said for her single, "Sometimes," featuring her friend Michael Williams.
Emily says she is currently working on a new EP coming in the next six months, with one of her new singles "I'll Just Not" dropping on all platforms on January 21st. You can check out more of Emily's music on most all streaming platforms, as well as keep track of her upcoming shows and releases on her personal site: EmilyBassMusic.com
Will Estell is a writer and magazine editor, with hundreds of published articles in various publications, as well as numerous additional online articles in an array of genres. He's founded 11 magazine titles from concept to fruition, both for other publishing companies and his own partnerships, while continuing to actively partake in freelance media projects for an array of local, regional, and national publications, such as this one. A father of three, Will splits his time between Destin and Navarre, along with his fiancée, ABC news anchor, Laura Hussey. When he isn't writing, creating or consulting in the media realm, he enjoys attending live musical events, hanging out with friends and the beach.