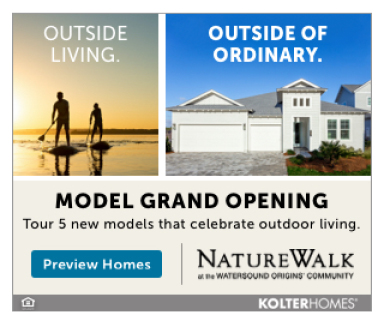 Bric a` Brac Restaurant & Night Club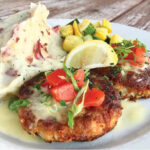 Now celebrating seven amazing years in the Destin community, colorful, eclectic fun is to be had at Bric a` Brac! They can help with your parties, promotions, birthdays, business events or really any private event! Voted "Best Crab Cakes in Destin" five years in a row, Bric a` Brac is the true definition of something for everyone—a family friendly, kid friendly, American-style restaurant well known for its tasty and colorful food selections served up in a fun, artsy atmosphere by professional and friendly staff. Locally-owned and operated since 2014 by twin brothers Rodolfo and Fernando Petit, their hands on, fun loving style, engaging charisma and true passion set them apart. But it doesn't stop there. Enjoy delicious locally-approved entrées while you listen to some lively tunes, dance or sing along. There's something for everyone!
11pm – 4am Latin Night Fridays & Saturdays – Music and Dancing upstairs/downstairs. 18+ to enter, 21+ to drink. GUYS $10, LADIES $5.
Thursday: Live Music from 6pm to 9pm
Friday: Jones & Co from 7pm to 10pm
Saturday: Live Music from 6pm to 9pm
(850) 424-6369
Shoreline Village Plaza,
824 Hwy 98 E, Destin
Bricabracdestin.com
Café Destin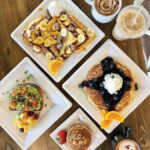 Café Destin offers an expanded menu serving breakfast staples such as pancakes, waffles with Nutella, omelets, Eggs Benedicts, biscuits & gravy and more. For a lighter take, they also have a variety of Fancy Toasts (avocado, salmon and more) along with pastries and muffins. For lunch, choose from a variety of burgers, sandwiches and salads. You will love the full-service coffee shop, offering everything from hot or iced fresh, local Amavida coffee to espresso and lattés. And there's diverse fresh fruit smoothies and a variety of tantalizing teas. Open for breakfast and lunch 7 days a week from 7am-2pm. and has free WiFi, encouraging you to bring your laptops and work during the day. There's also a conference room available for small groups, and the dining area can be rented for larger groups for networking, luncheons and more. If you haven't stopped in recently to check out the new menu, be sure to make breakfast or lunch plans soon! And don't forget the coffee!
(850) 424-6777
985 US-98 E, Destin
cafedestin.com
Mi Gente' Supermarket & Taqueria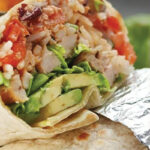 Open for breakfast every Saturday & Sunday and lunch and dinner 7 days a week, Mi Gente' is one of Destin's hottest dining spots for the whole family and friends to enjoy. With fresh ingredients and homemade recipes, this fun and festive restaurant will instantly capture your heart. Serving up huge portions, you can choose from an incredible select menu offering a diverse selection of delicious food from different Latin-America countries. Taqueria Mi Gente' is a treat you just have to experience for yourself. Enjoy a drink from the cantina, try a few tasty dishes on the menu such as rich and flavorful! Quesa-Birria Tacos topped with fresh diced onion, cilantro and a squeeze of lime juice served with the broth on the side to dip your tacos! Take a walk through their amazing and diverse supermarket and fresh meat department where you can buy a variety of Latin America groceries to take home. Get your fresh Tamales here! Open 7 days, 9am-9pm daily. Chili Relleno Tuesdays! Menudo Domingo de Menudo Sundays!
(850) 842-2992
733 Harbor Blvd., Destin
migenterestaurantandcantina.com
Taiwan Ice Cream & Poke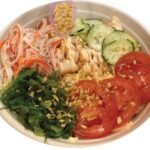 Taiwan Ice Cream & Poke is the only place in Destin to serve Hawaiian poke! There's also Taiwanese shaved ice and boba tea. Poke is a Hawaiian dish usually served with raw fish and can be made to order with cooked chicken, beef and shrimp, too. A variety of sauces, from spicy mayo to eel to sweet chili, accompany. Additional toppings can include pineapple, cilantro, carrots, cucumber, sweet corn, tomato, lettuce, edamame, green onion, red onion or crab meat. Then finally add a bit of crunch with sesame seed, fried onion or fried garlic.
Taiwan shaved ice is mixed with condensed milk and syrup then topped off with a choice of four toppings such as strawberries, pineapple, peaches, chocolate pieces, fruity pebbles, sprinkles, gummy bears, marshmallows and popping boba. The boba tea comes in four flavors: strawberry, mango, Thai and Taro.
Hours: 11 a.m. – 7 p.m.
(850) 353-2479
facebook.com/taiwanicecreamdestin
Two locations: Destin and Miramar Beach