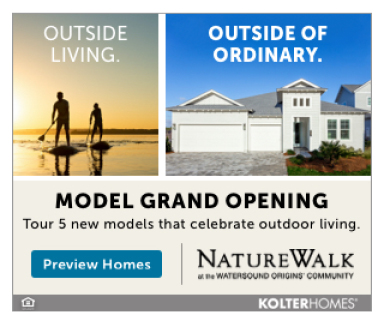 Destin Commons will be launching Destin's first food hall, offering a culinary and entertainment gathering place for locals and visitors, as well as a unique opportunity for the region's up-and-coming and veteran chefs.
Set to open in spring 2022, City Food Hall will showcase more than 10 specialty restaurant concepts offering food and drinks from around the globe, an expansive indoor/outdoor bar, and two state-of-the-art Topgolf full swing simulators with a variety of multi- sport games, several HDTVs and comfortable lounge seating.


City Food Hall at Destin Commons will be located in a 14,000 square-foot space next to Foot Locker.
City Food Hall is the brainchild of founders Peter Rounce and Kenzie Motai, who met while launching St. Roch Market (now MIA Market) at Miami Design District. With a focus on creativity, service and true hospitality, the duo successfully planned, developed and operated five additional food halls in cities from Chicago to New Orleans to Houston and more. Now, their new City Food Hall brand adds compelling entertainment and event programming to the mix.
Throughout the country, emerging and established chefs are using food halls to springboard their culinary concepts by introducing them in a low-risk environment. Food hall vendors aren't required to incur the typical build-out and start-up costs associated with a stand-alone brick and mortar restaurant, which includes construction, fixtures and furniture.
Food halls are a trend that is here to stay. Just 11 years ago, the Wall Street Journal reported there were only 25 food halls across the U.S. By 2016 there were more than 100 and now that number has grown into the several hundred.
Kenzie said the food hall concept enables his team to "bring new culinary talent to the Destin table," and they have begun discussions with area chefs specializing in Mexican, Japanese, Mediterranean and other cuisines. Guests will be able to order from their phone via the City Food Hall website and execute all transactions digitally.
"We are excited to create an environment that will appeal to Destin's discerning palate. Our platform is as equally suited for a family night as it is a first date, and we look forward to delivering memorable experiences to the community," said Peter, the company's CEO.
In addition, the two Topgolf Swing Suites will be a popular choice for Destin's thriving golf community. Perfect for novices and aspiring pros, the suites include a massive screen and several fun, multi-sport games. The Full Swing golf simulator technology is the same simulator used by PGA Tour pros Tiger Woods, Jordan Spieth and Jason Day for off-course practice.
"Golf enthusiasts can develop their swing and challenge their friends, all while enjoying a cocktail, craft beer and delicious food," Peter said. "And they can catch the game on one of our HDTVs. We believe City Food Hall will become one of Destin's top culinary and nightlife destinations."
For more information, visit cityfoodhall.com or email info@cityfoodhall.com.