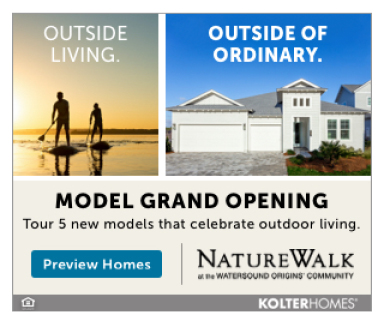 December has finally arrived and the bounty of colorful lights, lawn décor, door wreaths and holiday parties are in full swing. Since most of you have probably completed your decorating for the many holidays that are observed in the month of December (Did you know there are 14 holidays that are celebrated around the world in December?), let's discuss decorating and planning for New Year's Eve!
Whether you're planning on hosting a big New Year's Eve Party or celebrating with a few friends, your evening deserves a bit of glitz, glam and a lot of laughter! Unlike the stress of preparing a Thanksgiving meal or finding the perfect gift for everyone on your list, Ringing in the New Year should be a fun evening with minimal stress.
Decorating for New Year's Eve helps to set the festive mood and you'll only need a few glitz and glam items to create a WOW factor. Below are a few simple and easy decorating ideas to get your party started. (Note: I receive no financial benefit by referencing or your purchasing of these items.)
Starburst Sphere Lights – You can hang these dimmable, waterproof fairly starburst lights inside or outside for a fun sparkly firework effect. Source: Amazon – PXBNIUYA Brand.
New Year's Eve Party Hats – Its' okay to be a kid once and a while! These black and gold foil party hats add a lot of fun to your party and photos! Create a fun little table scape with them. Source: Papersource.com – Item 10014559.
Gold Tinsel Fringe Garland – This garland adds glitz and glam in seconds! You can drape it anywhere for an instant party! Source: merimeri.com – Sku: 199083.
2022 Happy New Year Decorations Kit – Create a fun picture wall with Black and Gold signs, Paper Fans, 2022 Foil Balloons, Banner, Foil Curtain and Balloons. Source: Amazon – NAIWOXI Brand.
Black, Gold and Silver Party Horns – Make a little noise at midnight with these fun black, gold and silver noisemakers. Source: Party City.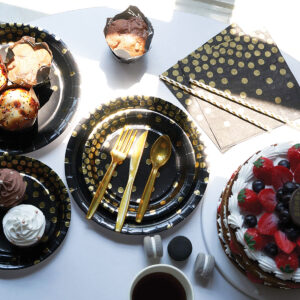 Cocktail Napkins, Plates, Cups, Utensils and Straws – Classic and fun black with gold foil polka dots! Serves 50 and disposable (no dishes to wash). Source: Amazon – Decorlife Brand.
Disco Ball Tumblers – Your guests will love sipping their beverages from these mirrored disco ball cups and they make a great party favor too. Source: Etsy.com
Gold Glitter Champagne Toasting Flutes – Elegant classic design that can be reused or tossed. Source: Amazon – Oojami Brand
Board Games, Music and Dick Clark's Rocking NYE Countdown with Ryan Seacrest – All of these items can help liven the party. You know your guests; pick what's fun for everyone!
Use some or all of the above-mentioned party decorations and remember to decorate your outdoor area for those party-goers that will want a bit of fresh air during the night. Keep your food prep simple with room temperature finger foods and have warming trays for a few hot items. Set up a bar area so everyone can enjoy their beverage of choice and remember to have lots of ice and water. Serve desserts later in the evening and offer coffee-cups-to-go for the drive home. Source: Amazon – Afubaka Brand
Happy New Year to YOU and yours! Cheers to good health, prosperity and, most of all, lots of love and laughter in 2022!
For questions, contact Kim Schneider, Coastal Design by Kim, (850) 904-6622, kim@coastaldesignbykim.com.