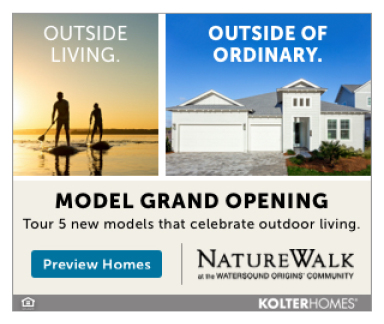 By Heather Bennett
This year I am Thankful to be spending the holidays with family once again. It's been too long for some, and although we may feel like we are returning to a sense of normalcy this holiday season, there is still an ongoing need for giving. Too many children don't have enough food to eat over a weekend, much less over Thanksgiving, and have to return to school hungry. Too many homeless veterans go without a warm meal all year long.
Okaloosa and Walton Counties alone are comprised of 35,000 people who are food insecure on a daily basis.*
There are families in our reach who are still struggling to get by who might need an extra boost this holiday season. Lucky for us, we live in a compassionate community that pulls together for its own. We have some great organizations ready to give this Thanksgiving, so we can all enjoy our holiday with family and friends.
Crop Drop, the event that kicks off the "giving" for the Thanksgiving season, will be happening again this year on November 20th. Since 2009, Crop Drop has provided thousands of pounds of produce that benefits more than 50 organizations throughout Walton, Okaloosa and Santa Rosa counties. Volunteers are still needed. If you are interested, please visit the website at www.cropdrop.org or visit the Facebook page. Volunteer information is available beginning November 1st.
During the Thanksgiving and Christmas holidays, Sharing & Caring of Niceville, an all-volunteer agency (roughly 70), participates with area churches and civic organizations to provide meals and gifts for families, specifically coordinating community efforts to meet emergency needs of individuals and families in the Niceville-Valparaiso-Choctaw Beach area. Normal hours are Monday-Thursday 9 a.m. to 2 p.m. and Friday 9 a.m. – noon.
Donations needed include non-perishable food, toiletries, diapers, laundry and dish soap. Monetary donations are used to purchase perishable food such as milk and eggs. If you are looking to volunteer or for an application, please contact them at (850) 678-8459 or visit sharing-n-caring.org/nicevillehome. Sign-up for Thanksgiving by Nov. 15 and Christmas by Dec. 10.
Families supported by Food for Thought programs across Walton & Okaloosa Counties will be provided food to prepare a traditional Thanksgiving meal along with food to support their students' needs while they are out of school for a week, which is about 10 meals they will miss by being out of school. For more information on how to enroll, please email Food for Thought at support@fftfl.org. The organization is solely dependent on the support of the community. They are looking for volunteers to get back to their pre-pandemic numbers in order to best serve the demand of families in need. This year, the local nonprofit plans to serve 700 families for the holiday. If you are interested in volunteering or donating to support their holiday efforts, please visit www.fftfl.org. You can also sponsor a family at Thanksgiving for just $40.
Destiny Worship Center is providing Thanksgiving meals for families in need in Freeport. You can help by picking up a Thanksgiving Bag between Oct. 23 (Saturday) – Nov. 20 (Saturday). Purchase and fill the bag with the list of items on the bag and drop off at the Destiny Campus NO LATER THAN November 14th.
Harvest House Destin will be providing food items for an all-inclusive holiday meal to cook at home. Any families in the Destin, Sandestin and Mack Bayou areas in need of a holiday meal can contact Harvest House Monday-Friday 10 a.m. -Noon by calling (850) 837-2777, or stopping into their location at 300 Mountain Dr. to place an order. Families will be able to pick up their meals on Monday, November 22rd at the food pantry. There will be no drive-through this year.
Caring and Sharing in Walton County is providing holiday food items for pick up November 15th-17th, the week before Thanksgiving. People must apply by filling out an eligibility form to qualify for assistance and must live in Walton County. Families will receive items for a holiday meal such as mashed potatoes, stuffing, cranberry sauce, a turkey or ham and produce. Caring and Sharing is expecting roughly 400 families to pick up meals. They are looking for any additional volunteers to help pack meals and to hand out food the week of pick up. If you're interested in donating or volunteering, contact them at 850-267-2866 or visit the website at caringandsharingsowal.org for more information.
AJ's plans to give back to those that might not have the means to celebrate Thanksgiving. They also are hosting a gathering place for those who are alone and want to share a holiday meal with others. To ensure no one is alone or hungry on Thanksgiving Day, AJ's on the Bayou and AJ's Grayton Beach is hosting a donation-only Thanksgiving Feast from 11 a.m. to 4 p.m. The feast will include traditional fare such as turkey, stuffing, mashed potatoes, sweet potato casserole, green bean casserole, cranberry relish, garden salad, dinner rolls and pies. The two locations will be open to everyone. The community is invited to join the AJ's family to give thanks. There is no charge; donations only will be accepted from those capable of making them.
If you are looking for a Thanksgiving meal out with the family, Harbor Docks is once again offering free Thanksgiving meals this year.
* Feeding America's Map the Meal Gap online tool shows that 2.8 million unduplicated individuals were identified in Florida as food insecure, or not knowing where they would secure their next meal, in 2017, 35,000 in Okaloosa and Walton counties.