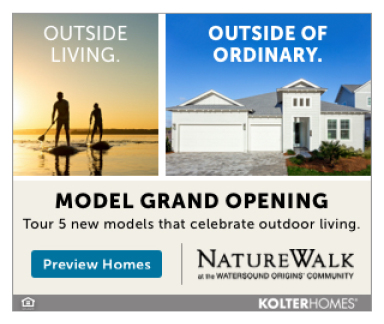 Baytowne is boomin' with events, activities and family fun for summer! The Village and all of its merchants welcome you to visit, shop, dine and play!
Red, White & Baytowne!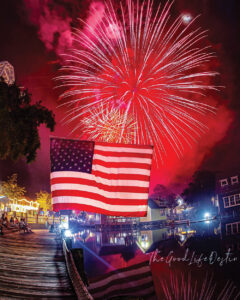 Sunday, July 4th
7-9:15 p.m.| FREE
Celebrate Independence Day at the Village of Baytowne Wharf, July 4 from 7-9:15 p.m. After a day of fun in the sun, come out for an evening that lights up the sky! Join Baytowne Village merchants for a spectacular 4th of July Red, White and Baytowne 2021 celebration with LIVE music from Donovan Keith on the Events Plaza Stage from 7-9:15 p.m., followed by a patriotic Fireworks display to light up the night sky at 9:15 p.m. The kids will love activities including kids crafts, face painting and balloon sculpting, too!
Hydroflight Monday
Mondays through Aug. 2nd 6:30 & 8:30 p.m. | FREE
Enjoy shows from fly-board extraordinaire Ben Merrell over the lagoon! Watch as he soars to the sky and makes waves at Baytowne Wharf.
Boomin Tuesday
Tuesdays through Aug. 3rd
7:15-9:15 p.m. | FREE
Turn your eyes on the sky and watch as we light up the night with a breathtaking fireworks show over the Lagoon at 9:15 p.m. PLUS now enjoy a DJ Dance Party with DJ Mike Whitty in the Events Plaza at 7:15 p.m!
Wednesday Night Concert Series
June 2nd through Oct. 27th
7-9 p.m. | FREE
Grab your blankets and lawn chairs and head out to The Village of Baytowne Wharf in Sandestin Golf & Beach Resort. This summer sit back and relax, and enjoy live entertainment during our concert series that features both local and regional talent from a variety of genres. Concert begins at 7 p.m. on the Events Plaza Stage. This Concert is free to attend and open to the public!
Live Music Schedule:
June 9: Biscuit Miller and The Mix
June 16: Will Thompson Band
June 23: Luke Langford
June 30: Dion Jones & The Neon Tears
July 7: Boukou Groove
July 14: Forrest Williams
Magical Thursday
Thursdays through Aug. 5th
7 & 8 p.m. | FREE
Join us for magic, music, and mayhem! Watch as our featured pirate Captain Davy takes you on an adventure with two magic shows on stage! 7 p.m. & 8 p.m. Show Times!
Baytowne LIVE Music
June 8th through July 2nd
Every Tuesday, Thursday and Friday 7-9:30 p.m.
The Village of Baytowne Wharf presents Baytowne LIVE on Adventure Lane. Located just across from Blast Arcade and Laser Maze.
Baytowne LIVE Schedule:
June 8: Steve Hall
June 10: Steve Hall
June 11: Jarred McConnell
June 15: Steve Hall
June 17: Steve Hall
June 18: Bobby Cutshaw
June 24: Steve Hall
June 25: Ken & Andi Johnson
June 29: Steve Hall
July 2: Jarred McConnell
Sunday Cinema
June 6th through June 27th 8 p.m. | FREE
Grab a lawn chair or blanket and cozy up on the Events Plaza Lawn for a featured film on the big screen!
June Movies:
June 6 | Maleficent
June 13 | Croods A New Age
June 20 | Secret Life of Pets 2
June 27 | Moana
And don't forget all the fantastic, fun activities with Adventure Land Playground, Baytowne Adventure Zone, Baytowne Carousel and Blast Arcade & Laser Maze. So much summer…so much to do at The Village of Baytowne Wharf!