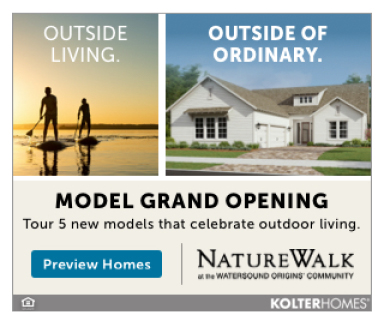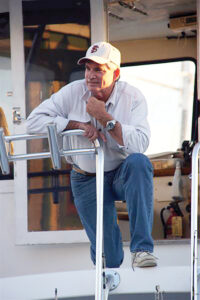 Destin Local Capt. Kelly Windes, aka "Capt. Commish" in the political world—"Killer" in the fishing world, is no stranger to hard work or retirement. In 2017, he retired from his more than 50-year, fishing-for-hire career aboard his beloved Charter Boat SUNRISE when he sold his 53' G&S Sport Fisherman to his son, Capt. Trey Windes. He had been driving a 38' Hatteras, Charter Boat OUTTA LINE. He wanted to devote more time to the Okaloosa County Board of County Commissioner District 5 position to which he had been elected in 2012. As his second term on the County Commission came to a close, he opted to not run again, but to retire from political life and return to being a fisherman again. This time though, he will not be working directly with the public; instead, he will become a commercial fisherman at the age of 74.
As a charter boat captain, Capt. Kelly Windes was a consistent Captain of the Year winner at the Destin Fishing Rodeo. The crowds always knew he would show up daily at the close of the weigh-in's around 6:58 p.m. Cutting it close was part of his charm, but his popularity was due to the size of the fish he caught. Back then, Captain of the Year was based on the number of winning fish you weighed in, and Capt. Kelly Windes brought in some whoppers, including several Rodeo and USGA world records.
The secret to his success, he will tell you, is investing back in the business. He didn't rely solely on navigation equipment and natural bottom to get a "mess" of fish. He spent tens of thousands of dollars annually to build more artificial reefs to which only he knew the readings. Making your own places to fish insures that other fisherman can't wipe out a spot before you get there. Having knowledge of what depth and areas would attract which species, he built a lot of "wrecks" that turned into good business and a great reputation.
Back in the day, charter boat captains would commercial fish during the winter to make ends meet. Instead of the 12-hour or more fishing charters which are somewhat glamorous, the captains would be gone 3-5 days at a time catching fish to sell to the local fish markets. Some of the fish would be shipped outside of the area, but they were all sold locally. That's what he plans to start doing again full-time.
His last meeting as a county commissioner was November 17, and he is already chomping at the bit to get out fishing again. He has made a lot of friends at the county, and he concedes he will miss them. They will tell you that he brought his work ethic and common sense to Okaloosa County, and they will miss him, too.
So, it's back to sea he goes! Will he retire from that? Who knows! Kelly says he's still got a lot of things he wants to do. So, when you see him, you could say, "Happy Retirement," but just know that retirement is never really an end for him. It's just a transition to something new.