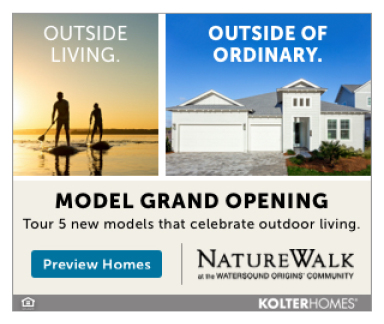 Mel Ponder Elected to Florida Association of Counties Board of Directors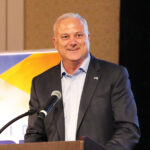 Okaloosa County Vice Chairman of the Board of Commissioners Mel Ponder (District 5) was elected to the Board of Directors of the Florida Association of Counties.
His new role with the FAC will be instrumental in guiding Okaloosa County with fellow commissioners within the state to address the diverse interests of the County as well as the state. He will spend the next two years supporting and supervising the Association's efforts.
In addition to representing District 5 in Okaloosa County, including Destin and portions of Niceville, he is the owner of Business Empowered, a workplace ministry, and is Government Affairs Director with the Emerald Coast Association of Realtors.
Trick or Treat Drive-Thru Boo & Jack-O-Lantern Contest
The City of Destin will host a Trick or Treat Drive-Thru Boo Mon., Oct. 25 from 6 – 8 p.m. at the Destin Community Center parking lot, 101 Stahlman Ave. Patrons will be able to trick or treat safely from the comfort of their vehicle. There will be booths giving out goodie bags, candy and prizes.
The City of Destin's 21st Annual Fall Festival Jack-O-Lantern Contest will be held on Monday, October 25 at the Destin Community Center. Judging will take place that day and all carved pumpkins need to arrive no later than 3 p.m. The pumpkins will be lit and on display at the City of Destin's Trick or Treat Drive-Thru Boo. All pumpkins not picked up by 8 p.m., Tues., October 26 will be discarded. For more information, call the Community Center at 654-5184.
New Dog Fun at the Destin Dog Park
The Destin Dog Park welcomed two, new dog agility pieces, a large boulder and a dog through the log. These new elements were made possible by the 2020-2021 Destin Chamber Forward Class. Earlier in the year, Destin Forward and the city's park staff laid down new sod and mulch.
LuLu's Marlin 5K 2021 Raises Funds for Local Cheer Squads
The Cheerleaders of Niceville High School, Destin Middle School, Fort Walton Beach High School and Destin High School invite you to the 5th annual LuLu's Marlin 5k, Nov. 6, to raise funds for their cheer programs. This event is a competitive and friendly run or walk through the beautiful Regatta Bay Golfing Community and followed by the best afterparty, awards, silent auction and door prizes. Your race entry includes a colorful race shirt. Race time 8 a.m.; package pick up day-of until 7:50 a.m., and the night before at LuLu's front deck 5 p.m.-8 p.m. with a special priced pre-race pasta dinner option if you so desire. Link to Active Registration: https://www.active.com/destin-fl/running/distance-running-races/lulus-marlin-5k-2021?int=
ECCAC Adopt-a-Family Time!
The Emerald Coast Children's Advocacy Center (ECCAC) is seeking donors who will purchase gifts for individual families for their Adopt-a-Family program to help children and their families in need over the upcoming holiday season. It is important that all gifts are new and unwrapped. Gift certificates are great for teens and Christmas decorations are always a bonus if funds allow. Over the years, the Adopt-a-Family program has helped hundreds of children and their families have a brighter Christmas. Last year, the program helped 197 children in 70 families have a festive holiday season. Sign up now on-line at www.eccac.org/adoptafamily. Or, contact Nicole Steinbrink at nicole@eccac.org, or call her at 850-833-9237, Ext. 222. Then shop for the families and bring unwrapped gifts by December 14 or sooner to the Niceville or DeFuniak Springs Centers. For those who wish to contribute, but might not want to deal with holiday crowds, consider making a 2021 year-end tax-deductible donation to ECCAC.
Exciting New Additions at the Destin Library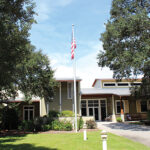 Last fall, the Destin Library received a generous CARES Act grant from The Institute of Museum and Library Services, which was used toward technology. The library has always had public access computers, but they have now added a Tablet Station with six Samsung tablets that library cardholders can use anywhere in the library. The new Self-Service Kiosk located by the circulation desk allows library cardholders to conveniently check out items for themselves. Scan your library card and place your items on the RFID pad to check out. This Self-Service Kiosk also makes printing from the public computers even easier as there are now fewer steps involved to access your print jobs.
DCWAF Surpasses $25 Million Donated to Help NW Florida Children in Need
Destin Charity Wine Auction Foundation (DCWAF), recognized as the fifth largest charity wine auction in the U.S. by Wine Spectator, is pleased to announce that since its inception, it has donated more than $25 million to help children in need in Northwest Florida. The positive impact of these funds has helped an estimated 100,000 at-risk youth with services ranging from medical care to food insecurity over a 16-year period. This year, DCWAF donated $2 million to 16 children's charities in Northwest Florida following its second virtual auction on April 25.
Sixth Annual Bloody Mary Festival—This month!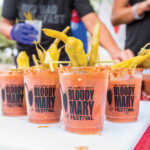 On Saturday, October 23, 11 a.m. to 2 p.m., The Market Shops hosts its Sixth Annual Bloody Mary Festival benefiting Habitat for Humanity – Walton County. The annual event, powered by Step One Automotive Group, will feature unlimited tastes of South Walton's most creative and innovative Bloody Mary's made with Distillery 98's Dune Laker Vodka and served by the finest restaurants and bars on the Emerald Coast. Parking will be available at The Market Shops with additional parking at The Beach House located in Sandestin Golf and Beach Resort. A complimentary shuttle will travel to and from the festival from 10:30 a.m.-3 p.m.
Purchase tickets at 850Tix for $40 in advance or $60 at the door. 11 a.m. to 2 p.m.isit www.themarketshops.com.
It's Almost Time for Eggs On the Beach!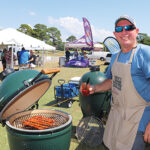 The Emerald Coast's official Big Green Egg EggFest cooking competition, Eggs on the Beach, will be held at Seascape Resort in Miramar Beach on Oct. 16 from 10 a.m. – 1:30 p.m. Presented by Bay Breeze Patio, the family-friendly event celebrates the delicious results of cooking on the Big Green Egg while benefitting two local charities—the Fisher House of the Emerald Coast and Food for Thought. To purchase taster tickets, visit www.EggsontheBeach.com.