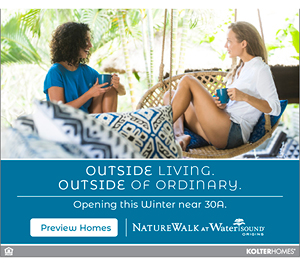 Community Bible Study
Join Community Bible Study (CBS), an international. inter-denominational organization committed to helping people grow in their relationships with Jesus Christ by exploring the Bible, Tuesdays, 7 p.m. to 8:30 p.m. at Destiny Worship Center, 122 Poinciana Boulevard, in Miramar Beach.
All receive a study guide and the topic will be the book of Galatians. Everyone is invited and please, bring a friend! For more information, please contact Rod Cameron, 501-804- 5900, RodinDestin@gmail.com or Pam Cameron, 501-690-8521, PamCameron16@gmail.com.
College Application Workshop at Destin Library
Applying to college this fall? The Destin Library can help with a workshop held on Oct. 8, 5-7 p.m. This event is free and open to the public.
Representatives from Northwest Florida State College and University of West Florida will be available to answer questions about the applications and admissions process. There will also be a 30 minute presentation on the common application and a 30 minute presentation on financial aid and scholarships.
For more information please call the Destin Library at 850-837-8572 or email Megan Fontaine at mfontaine@cityofdestin.com.
Friends Guild Programs This Fall at the Destin Library
"The Library in your Pocket" is an informative one hour workshop led by Megan Fontaine of the Destin Library on Oct. 8, 2 p.m. Learn to fully utilize the library's two digital collections, Overdrive and Recorded Books (RB) Digital. By the end of the session you will have downloaded both apps on your personal reading device, logged in using your library card, and checked out your first ebook, audiobook, or magazine.
On Oct. 15 at 2 p.m., the Independent Film Series continues with The Bookshop. Emily Mortimer plays a widow in the 1950s who risks everything to fulfill her dream of opening a bookstore in the sleepy, seaside town of Hardborough, England, even though the town doesn't necessarily want one. Also starring, is Patricia Clarkson and Bill Nighy. For questions about the Friends Guild or any events, please stop by the Destin Library or call at 850-837-8572.
Torrid Opens
Torrid, Destin Commons' newest retail addition, is now open. Known for fashion apparel, accessories, swimwear, and lingerie specifically made for the stylish woman in sizes 10 to 30. Torrid's collections inspire unapologetic confidence, which may explain why the trending brand is currently the fastest-growing plus-sized brand in fashion.
To learn more about Torrid, please visit www.torrid.com.
Verve Dance Company Opens
Come experience a pop-up workshop at Northwest Florida's premiere dance studio, Oct. 19 from 10 a.m. to 2:15 p.m., 27 Racetrack Rd NE, Fort Walton Beach. $15 per class or $50 for four classes.
10 a.m. – 11:30 a.m. Ballet
11:30 a.m. – 12:30 p.m. Legs, feet & back
12:30 p.m. – 1:30 p.m. Contemporary
1:30 p.m. – 2:15 p.m. Ballroom
The Verve prepares dedicated and passionate dancers for a career in Dance Arts. Participate in a rigorous training program and performance ensembles to learn necessary skills to prepare for entry into a university dance program and/or professional dance company. For daily class schedules and info, email vervedancecompany@yahoo.com or visit thevervedancecompany.com.
Hurricane Michael Relief
In collaboration with The Sonder Project, Save the Closet, and Rachal's Recovery Relief, Inc., Destin Commons is hosting a four-day donation drive.
On Oct. 3-6, bring donations of food, clothing, and household furnishings to the storefront between Express and Steve Madden during regular operating hours.
On Oct. 6 from 12 p.m. – 4 p.m., Destin Commons will host an event at Center Plaza on Main Street where the three non-profit organizations will share their missions and tell stories of the recovery.
For a list of items needed or more info, visit DestinCommons.com.
Emerald Coast Physical Therapy Grand Opening
Emerald Coast Physical Therapy is having its grand opening on Oct. 14, and is currently accepting and treating new patients with or without insurance. Dr. Danielle McKinney has a passion for helping both men and women overcome pelvic floor dysfunctions. "Just because something is common doesn't make it normal," she says. "It's not normal to pee when sneezing or jumping, to have pain with intercourse or to have abdominal separation," says Dr. McKinney. Check out their new space and say hi to the family at 35008 Emerald Coast Pkwy., Destin. Visit emeraldcoastpt.com or call us at 850.714.6166.
Life Issues Real Answers
Life Issues, Real Answers is back on the air with Dee Chernicky and Licensed Mental Health Counselor Valerie Peterson. The show airs every Friday at 11 a.m. on WPSM 91.1 FM radio and on WPSM.com and airs from Just Love Coffee Café in Destin. The mission of the show is to help people solve life's issues with the power of God's Word. No matter what you're walking through, God has a promise that's bigger than your problem!
Dee is a wife, mother, author of Activating the Promises of God, weekly radio host and successful business entrepreneur. She is also an ordained minister through Victory Christian Center, a graduate of Victory Bible Institute in Tulsa, Oklahoma. In her book, Dee teaches readers how to unlock the power of the Bible and empower their lives!
Valerie is a Florida Licensed Mental Health Counselor. She is also a Certified Clinical Mental Health Counselor, and a National Board Certified Counselor. With a Bachelor's Degree in Social Work from Ashland University and a Masters Degree in Pastoral Psychology and Counseling from Ashland Theological Seminary, she specializes in marriage and family issues, and addictions in her private practice with Destin Counseling Center.
Listen at WPSM.com, download the app or visit LifeIssuesRealAnswers.org.
David Yurman Event To Benefit the Junior League
McCaskill & Company will host an exclusive David Yurman event on Fri., Oct. 11 – Sat., Oct. 12, 2019 from 10:30 a.m.- 5 p.m. each day at their Destin gallery located at 13390 US Hwy. 98 W. A portion of the sales from the event will directly benefit the Junior League of the Emerald Coast.
View an array of David Yurman's iconic designs featuring a curated selection of rings, bracelets, necklaces and more. David Yurman is a celebrated American jewelry company founded in New York by David, a sculptor, and his wife, Sybil, a painter and ceramicist. Today, with their son, Evan, they create timeless, yet contemporary collections for women and men defined by inspiration, innovation, consummate craftsmanship and Cable—their artistic signature. The brand is recognized for its unconventional approach to creating jewelry: mixing metals, adding diamonds to silver, introducing unexpected materials, as well as developing cutting-edge technology in jewelry-making. McCaskill & Company vice president, Carolyn Brigman, as a former member of Junior League, continues to partner for the benefit of the organization and the community. www.mccaskillandcompany.com/blog/events/.
It's a Sweet Sunday with Pumpkins and Primrose!
Sun., Oct. 20 from 1-4 p.m. on the Grand Lawn at The Henderson, experience fashion, family and flavors of fall. FREE to attend, meet on the Grand Lawn from 1 to 4 p.m. to shop merchandise, participate in festive, fun-filled crafts and photo ops, listen to live music, sip on seasonal beverages, and purchase a pumpkin to bring home just in time for Halloween! The pumpkin patch, provided by Village Baptist Church, will provide a special backdrop for your fall-themed family photos. You'll also receive a complimentary 5"x7" printed photo from Epic Photo Co. courtesy of Destin Commons.
Live music will be performed by Sarah Anne and The Sunshine Band and, for the kids, there will be face painting and pumpkin crafts provided by Abrakadoodle Art Education and Parties- NWF. Proceeds will benefit The Sonder Project, a global non-profit charity that focuses on strengthening communities through food security, clean water, housing and education.