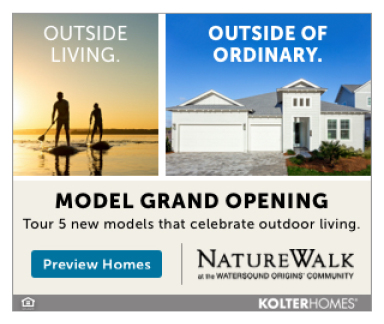 ECCAC's A Night Under the Stars Rescheduled to Nov. 11
A Night Under the Stars to celebrate 20 years of the Emerald Coast Children's Advocacy Center concert has been rescheduled for Wed., Nov. 11 Held at the Mattie Kelly Cultural Arts Village, the Modern Eldorados will still be the headliner for the evening with Nic Turner and the Lucky Strike Retros opening. Jim 'N Nicks, Island Wing Company, and Tropical Smoothie will be serving tasty food! There are still VIP tables available at various levels and General Admission tickets for $35. To purchase tickets, visit emeraldcoastcac.ejoinme.org/anightwiththestars. As this is Veterans Day, attendees are encouraged to wear their red, white, and blue!
From Flood to Forever Home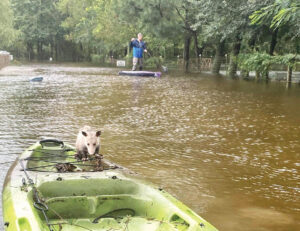 Alaqua Animal Refuge will begin the process of moving to its future home sooner than planned. The Refuge suffered critical flood damage with the majority of its animal buildings, dog kennels, cat cabins and other animal enclosures significantly under water. Originally the move was planned for early 2021, but it was determined that most of the buildings were beyond repair. If you would like to contribute and donate, you can do so by visiting this link: www.bit.ly/alaqua-move.
Gulfarium C.A.R.E. Center is Awarded Funding by the Sea Turtle Grants Program
In April, the Gulfarium C.A.R.E. Center received a grant for $7,858.27 from the Florida Sea Turtle Grants Program to help purchase a new stainless steel surgery table, a secure narcotic medication safe, a stainless steel utility cart and a surgical light system for their sea turtle rehabilitation hospital. These new items will benefit sea turtles in NW Florida and Alabama.
The Center was chosen through a competitive application process open to coastal county governments, educational institutions and Florida-based nonprofit groups striving to improve the livelihood of sea turtles and conserve Florida habitats.
Airport Road to Matthew Boulevard Opens to Six Lanes
Crews in Okaloosa County are "paving the way" to the new final configuration of U.S. 98, between Airport Road and Matthew Boulevard. Earlier this year, travel lanes were shifted to the outside of the roadway to provide space to construct a new median, turn lanes and inside east and westbound travel lanes. In mid-October, crews began placing the final "friction" layer of asphalt which takes approximately three weeks to complete. Once complete, the roadway will be stripped with the final configuration including three travel lanes and a bicycle lane in each direction. All construction work between Airport Rd. and Matthew Blvd. is estimated for completion in late November.
Destin Library Opens with Limited Hours
The Destin Library building is open to the public Mondays, Tuesdays, Thursdays, and Fridays from 9 a.m. to 5 p.m. and on Wednesdays from 1 p.m. to 5 p.m. Curbside Service will still be available Monday – Friday, 9 a.m. to 4:30 p.m. For more information or questions, contact the library at 850-837-8572 or library@cityofdestin.com.
Explore Botany for Kids with the Destin Library
Destin Library's Living Wonders: Botany for Kids, an interactive program for children ages 7-12, is now running until Dec. 20. Learn how to paint with colors extracted from plants, the secret language of flowers (floriography), how plants are used to make medicines and much more! Register on the Library's Beanstack app at cityofdestin.beanstack.org or download the free mobile app then click on the activities tab at the top of the page to start earning Living Wonders badges. Participants who earn all 12 badges are entered into a grand prize drawing at the end of the program. For more information, contact the library at 850-837-8572 or library@cityofdestin.com.
Children's Volunteer Health Network Welcomes New Executive Director Kelley Mossburg
Mossburg's 35-year career includes impressive experience in senior-level leadership of major national companies, including Long John Silvers, Schenck Company, and Pepsi Co., where he held leadership positions at both Frito Lay and Kentucky Fried Chicken. In regards to non-profit work, Mossburg helped build the Exceptional Foundation of East Alabama, a non-profit for special needs adults in Auburn, Ala. He was also board chairman for both the Orlando Chamber of Commerce and the Junior Achievement of Central Florida. Mossburg grew up in Atlanta, Ga., and attended Auburn University where he met his wife of 41 years, Debbie. For more information about Children's Volunteer Health Network, visit their website at www.cvhnkids.org.