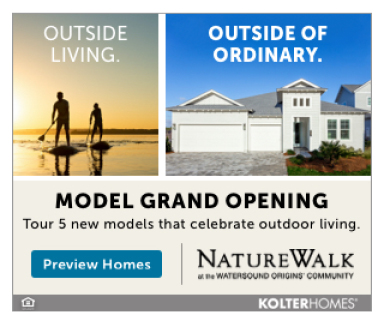 March 29 was Vietnam Veterans Day. And, in Destin, 45 Vietnam-era veterans and one Gold Star family member were recognized for their service and sacrifice. State Rep. Patt Maney, a combat wounded veteran, was the emcee. Combat wounded veteran Joe Osorio introduced each veteran as they received their recognition.
The Davis-Sikes American Legion Post 296, Destin, recognized these patriots after 50 years of silence or disdain by some Americans. Rep. Maney presented Purple Hearts to his brother, Edward, a purple heart and 92-year-old Ray Bourque, who served in both the Korean and the Vietnam wars. For information about the Vietnam War 50th program, visit http://www.vietnamwar50th.com. If you or someone you know should be recognized, contact Post 296 Commander Corlene Ziegler at 850-687-1819.
Fore! The love of animals, Alaqua's inaugural Golf Tournament, will be held Saturday, May 21. Proceeds will go toward the comfort and feeding of all the animals at Alaqua Animal Refuge in Freeport. Golf at Windswept Dunes is $200 per player and $750 per team. Registration is at 8:30 a.m.; Shotgun Start at 10 a.m., Yappy Hour and Awards from 3-5 p.m. next door at Alaqua. To register, sponsor or donate, visit https://app.eventcaddy.com/events/fore-the-love-of-animals. Sponsorship Opportunities are available.
In honor of National Poppy Day, the Davis-Sikes American Legion Auxiliary unit 296, will host a drive-by poppy day from 11-2 p.m. May 27. Drive through the parking lot at 311 Main St., Destin, stop for a poppy and make a donation. Funds raised will support veterans' programs.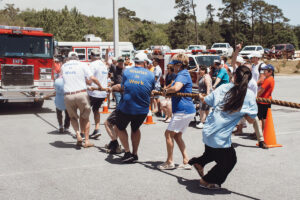 The Rotary Clubs of Destin, Niceville-Valparaiso, Mid-Bay and Fort Walton Beach teamed with other non-profit community organizations to raise additional funding to complete a patio renovation for the Twin Cities Pavilion with a Fire Truck Pull competition that included 14 teams. The Rotary Club of Niceville-Valparaiso placed first at 11.46 seconds, East Niceville Fire Department at 11.64 seconds for second place, and 3rd Planet Brewing at 11.68 seconds for third place.
Event organizer, Bob Hoffman stated "With a generous gift of $10,000 from Crosspoint Church of Niceville and all the participants and donors of the Fire Truck Pull, this collaborative effort rasied over $15,000 to complete all the renovations.
The 66th Annual Billy Bowlegs Pirate Festival, beginning with a Downtown Pub Crawl, will take place May 12, ending with the Torchlight Parade May 16. The Billy Bowlegs Pirate Festival includes a Downtown Pub Crawl May 12, 5-9 p.m. Stops include Fokker's Pub, Salty Duck, Downtown Music Hall, Prop's Brewery, The Block, and Coasters. On May 13, a concert at the Landing will feature the Hollywood Vagabonds from 6-8 p.m. The night will be capped off with fireworks over the water at 8:30 p.m. Food and beverage concessions will be available for purchase. On Saturday, May 14th, at the Fort Walton Beach Landing Park there will be Pirate-themed activities for kids from 11 a.m.-3 p.m. May 14 at the Fort Walton Beach Landing Park. At 2 p.m. Captain Billy 66 and his krewe of scallywags will march inland, distributing beads, booty and coins.
You can help RE-Fill the Backpacks. Food for Thought has been forced to cut back on the amount of food going into bags for the rest of the school year due to the impacts of inflation and food costs. The bags now contain six items instead of 13 in an effort to manage the 40 percent increase in costs. The Alys Foundation will match donations up to $15,000. See https://fftfl.org/products/matching-gift.