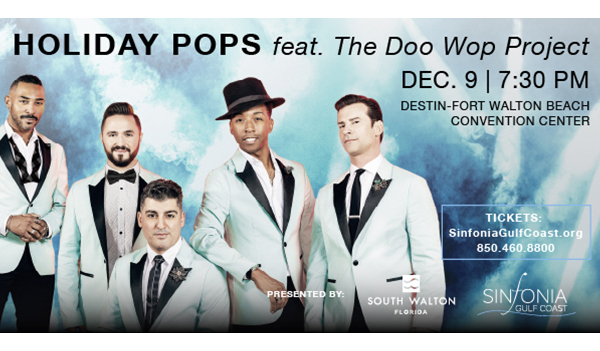 NWFSC Receives $2 Million Grant for Collegiate High School
In February, Northwest Florida State College (NWFSC) received a $2 million Early College Career and Technical Education grant from Governor Ron DeSantis and the Florida Department of Education, which will allow it to expand the Collegiate High School by introducing the first class of ninth graders and implementing a new degree track. The new degree track will enable students to earn an Associate in Science in Computer Information Technology or an Associate in Science in Engineering Technology while simultaneously earning their high school diploma.
The Collegiate High School is a public charter school located on NWFSC's Niceville campus and is free to students.
Destin Men's Club Meeting
The Destin Men's Club (ARMOD – Active Retired Men of Destin) will meet for its monthly luncheon meeting on March 11, 11:30 a.m.-1 p.m. at the American Legion (311 Main St., Destin) and includes lunch ($15)—Gumbo and minimal potato bar (butter, sour cream, cheese and bacon bits), salad, bread and Key lime pie. Mr. John Hofstad, Okaloosa County Administrator, is the guest speaker. To attend, contact ARMOD President Jim Wood at (850) 502-9468 or e-mail armyguyindestin@embarqmail.com.
Soirée On The Bay
Enjoy a lavish gathering with fine wine, food and spirits benefiting Children's Volunteer Health Network (CVHN). Presented by the Dugas family, the Soirée will take place on their stunning family estate overlooking the Choctawhatchee Bay in Santa Rosa Beach. The main event is Sat., March 19. Starting at 3:30 p.m., guests will enjoy a mix and mingle style event featuring small bites, wine samples, and live music from the Tip Tops Band. A sunset toast during the ceremonious shooting of the cannon and fireworks complete the evening. For tickets: www.cvhnkids.org/soiree-on-the-bay. VIP – $1,000 per person. Includes Friday's event, Saturday's VIP Party and Main Event. Main Event – $300 per person. Proceeds from this event benefit CVHN's second mobile dental clinic, providing free restorative dental services to children in need throughout Okaloosa and Walton counties.
Buggin' Out: A Vintage VW Festival and Car Show
Vintage Volkswagen lovers, start your engines and head to The Island Resort March 11-13—the 2nd Annual Buggin' Out Festival is a weekend full of spectacular vintage cars, poolside fun, live music and more! On Friday, March 11, festival guests are invited to a pool party at the grotto pool, with drink specials, a live DJ, and more. Saturday, March 12, is the main event! From Noon to 4 p.m., more than 60 vintage cars will be on display, along with live music, local vendor booths, groovy cocktails, kids' activities and more. Attendance Saturday is free. All vintage vehicles are welcome in the car show, but only Volkswagen buses and bugs will be judged and eligible for awards. All vehicles must be registered in advance, as space is limited and on a first come, first served basis. Registration includes attendance at Friday's pool party, confirmed space for your vehicle in the car show, breakfast at Fish House and complimentary drink tickets to be used at any of the four bars on The Island Resort. To register: https://850tix.com/events/buggin-out-a-vintage-vw-festival-and-car-show-3-12-2022.
2022 Emerald Ball Set for April 30th
The 2022 Emerald Ball to benefit Ascension Sacred Heart Emerald Coast will be held Saturday, April 30, at 6 p.m. at the Hilton Sandestin. The inaugural event in 2019 raised an amazing $217,631, thanks to the generosity of our community. This year's proceeds are earmarked for a state-of-the-art CT scanner for the hospital's pediatric and adult patients. The evening will begin with a cocktail hour at 6 p.m. followed by dinner and dancing. Entertainment will include live music by Tribute Show Band of Mobile, Ala. Plans also include a bourbon and wine pull and a photo booth for guests to capture memories of the occasion. A highlight of the evening will be the opportunity to enter a drawing for a $5,000 shopping spree at McCaskill & Company. Tickets for this exclusive jewelry drawing will be available to purchase for $100 each and limited to 150 entries. Individual tickets for the Emerald Ball are available to purchase for $150 and include reserved seating, dinner and two drink tickets. Sponsorship opportunities are available.
Local groups Host Fire Truck Pull to Benefit Twin Cities Pavilion
Multiple community organizations are teaming up to complete fundraising for a major project at Twin Cities Pavilion (TCP). "You could say we are 'all pulling together' to sponsor a fire truck pulling contest on April 23 at 3rd Planet Brewing," said Bob Hoffman, coordinator of the team effort to address safety and cosmetic issues at the front entrance area at TCP. "We're looking for any community group or business willing to come out and have some fun to help the residents of TCP." The Rotary Clubs of Mid-Bay Bridge, Niceville/Valparaiso, Destin and Fort Walton Beach, along with the Knights of Columbus from Christ Our Redeemer and Holy Name Catholic churches are supporting the effort with donations, planning and staffing. Also helping with donations and staff are the Okaloosa County Fire-Rescue Organization, Valparaiso Realty and Dynamic Software Solutions. There will be two divisions, with the Open Division being for the more serious competitors to show their stuff. A team consists of 10 people who pull the fire truck 15 feet one time, and the best time wins. There is a $200 per team entry fee that all goes to the project. Prizes in the Open Division will include medallions for each team member in first, second and third place.
Debbie Bruce Honored as Destin Chamber's Business Person of the Month
During the Destin Chamber's Feb. 11 Business Before Hours Sponsored by Century 21 Blue Marlin Pelican, Debbie Bruce of A 2 Z Specialty Advertising was honored with the Chamber's Business Person of the Month Award. This award is presented directly from the Chamber's Board of Directors to a Destin area businessperson showing vision for his or her business and leadership in our community. A 2 Z Specialty Advertising is a promotional product distributor with the ability to supply businesses with every possible promotional product from more than 3,000 suppliers. Its mission is to help businesses create long-lasting relationships with their clients through the power of promotional products. Gabby Bruce, Debbie's late husband, purchased A 2 Z Specialty Advertising in 1997, after a long career in radio and entertainment. He was known throughout the community for his work with local businesses and his involvement in many non-profit organizations. After Gabby's death in March of 2020, Debbie took over his role in the company and chose to honor his legacy through the "Gabby Bruce You Make a Difference Award," presented to 12 companies throughout 2021 for their significant impact on the community.