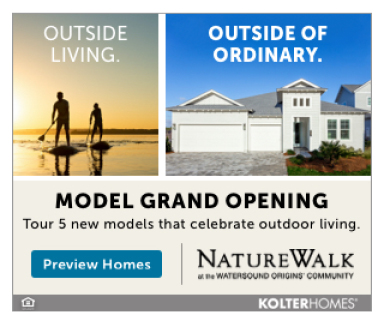 Join the Heritage Museum of NWF for Summer Camp 2022. Week 1 is for Grades K-2 and will be from July 11-15. Week 2 is for Grades 3-6 and will be from July 18- 22. Bring a daily lunch and the museum will provide a light snack. Classes such as weaving, gardening, science and history are offered. Roll call will start at 10 a.m. The museum, 115 Westview Ave. Valparaiso, will have an attendance raffle for one lucky winner. Call (850) 678-2615 to register and pay: $75 for the full week or $17 a day.
20th Annual Emerald Coast Blue Marlin Classic June 22-26
Timed to coincide with the peak of the Gulf Coast's blue marlin season, the Emerald Coast Blue Marlin Classic at Sandestin Golf & Beach Resort sets the precedent for sportfishing tournaments.
ECTC's Production of "The Tempest" at Grand Boulevard Thursdays
Part of Grand Boulevard's Coastal Culture series, "The Tempest" plays every Thursday at 8 p.m. in The Grand Park through July 28. The show is free. Bring a blanket or lawn
chair. In case of rain, "The Tempest" will be performed upstairs in the 560 building. (850) 684-0323; www.emeraldcoasttheatre.org.
The Destin American Legion will hold a flag retirement ceremony on Flag Day, June 14, at noon with 600 flags respectfully retired to the cleansing flames. American Legion Post 296, 311 Main St., Destin.
Buccaneer Pirate Cruise Adds Friday Night Pirate Life After Dark Cruise for 21+
Unleash your inner pirate aboard the 90-minute After Dark Cruise with the Pirate Life band Friday nights during the summer, featuring live music courtesy of The Crossbones, a pirate-themed rock band, and other pirate performers on the 100-foot pirate ship. Cruises are available every Friday night through Aug. 12. Book at BuccaneerPirateCruise.com.
Southern Star Dolphin Cruise Adds Morning Dolphins & Donuts Cruise
Enjoy the peace of a Destin morning with a relaxing scenic cruise aboard the Southern Star. Complimentary donuts will be served as you cruise our picturesque Emerald Coast waters and observe dolphins in their natural habitat. Coffee, Mimosas, and Bloody Marys will be available for purchase as well. Experience up-close viewing of pods of coastal bottlenose dolphins while relaxing to island music aboard the glass-bottom boat. Cruises are available mornings through Aug. 10. Book at southernstardolphincruise.com.
2022 Okaloosa County Mosquito Control Schedule
The Okaloosa County Mosquito Control Program schedule for treatment by broadcast spraying pesticide for control of adult mosquito populations is detailed at https://myokaloosa.com/sites/default/files/users/pwuser/SouthCountyDestinArea2.pdf.
Maps showing general treatment area by days of the week are also linked. Treatments will begin one hour before sunset.
The Annual Smoke on the Coast BBQ & Fireworks Festival takes place Sunday, July 3, at Destin Commons, including entertainment, barbecue sampling, face painting, photo booth and the Independence Day firework extravaganza. Free admission; $1 barbecue samples. Live music by Tobacco Road.
Northwest Florida State College was recently presented with the Triumph Gulf Coast Horizon Award for its accelerated implementation of its FAA certification program at the Aviation Center of Excellence. The Horizon Award is presented to organizations that demonstrate outstanding innovation and lead efforts to create substantial job opportunities throughout the region.
Impact100 of Northwest Florida, Inc. announced that a record-breaking 530 women have signed on to award five $100,000 grants to local nonprofits this year.
Impact100 NWF provides $100,000 grants to nonprofit organizations in Okaloosa and Walton counties. Participating members each contribute $1,000 toward available funds. Thirty-three local nonprofit groups have received grants in 11 years. A total of $3.6 million has been dispersed to date. Grants are awarded in the following areas: Arts & Culture; Education; Environment, Recreation and Preservation; Family and Health & Wellness.
Eligible local nonprofits should submit grant applications by June 15. Details are available at impactnwf.org.
Children in Crisis (CIC) recently held the Trust-Based Relational Intervention training designed to prepare adults to work with children, families and in systems of care affected by trauma. Participants from Children in Crisis, Fresh Start for Children & Families, One More Child and The Pearl Project met at CIC's Kid's Clubhouse for the training, led by Mary Ann Day, Tyler and Leslie Fuller, TBRI Practitioners with The Pearl Project. Edie Rodgers, Foster Parent at CIC's Emergency Shelter, said, "We are going to try several of the examples that were shared in the training. We are working with the kids to create a 'Respect' poster, featuring the children's words." There is a shortage of Foster Parents in District 1 area, which includes Escambia, Santa Rosa, Okaloosa and Walton counties. For information on becoming a CIC Foster Parent, call (850) 864-4242.
CEO of the Mattie Kelly Arts Foundation Demetrius Fuller joins the Hello Frances Podcast again this month to share MKAF updates. Shantelle and Demetrius discuss the importance of art in a community, the mental health benefits art can provide, the impact of art on culture, and so much more. Demetrius also shares what MKAF has in store for the community for the rest of 2022. If you are not a member yet, another incentive to join will be unveiled during this episode. Learn more about MKAF at mkaf.org. Questions for us? Email hello@francesroy.com. Listen at: https://francesroy.com/community-arts-initiatives-with-demetrius-fuller.
Ali Brady – the writing duo of Alison Hammer and Bradeigh Godfrey – will come to Destin June 20 to celebrate the launch of their debut novel The Beach Trap. The book is set in Destin and has a scene that takes place at Boshamps Restaurant.
The Beach Trap is about two best friends torn apart by a life-altering secret with one summer to set the record straight.
When Kat Steiner and Blake O'Neill, both age 12, meet at Camp Chickawah, they have an instant connection. But everything falls apart when they learn they're not just best friends—they're also half-sisters. Confused and betrayed, the girls break off all contact.
Fifteen years later, when their father dies suddenly, Kat and Blake discover he's left them a joint inheritance: the family beach house in Destin. The two sisters are immediately at odds. Blake, who has recently been demoted from regular nanny to dog nanny, wants to sell the house, while social media influencer Kat is desperate to hold on to the place where she lived with so many happy memories.
Kat and Blake reluctantly join forces to renovate the dilapidated house, with the understanding that Kat will try to buy Blake out at the end of the summer. The women clash as Blake's renovation plans conflict with Kat's creative vision; meanwhile, each sister finds herself drawn into a summer romance. As the weeks pass, the two women realize the most difficult project they face this summer will be coming to grips with their shared past – and learning how to become sisters.
A local bookstore will be on-site at Boshamps at 3 p.m. selling copies.