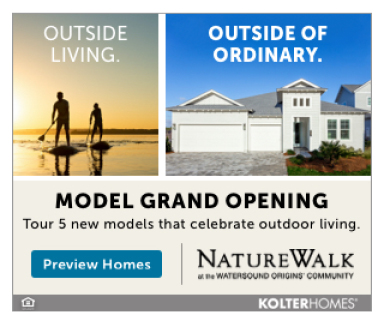 The Gulfarium is adding a new stadium and dolphin exhibit with three primary pool habitats—a show pool, exhibit pool (with a large split-level underwater viewing area) and encounter pool. The proposed show stadium will have an occupancy of 480 people and include stadium-style seating areas with overhead shade canopies. Okaloosa County commissioners approved the expansion that will include a new dolphin show stadium, dolphin encounter pool and dolphin viewing area. Plans are for the complex in the property's northwest portion to be expanded to more than 31,000 sq. ft. There are no plans to stop dolphin shows in the meantime. The current show stadium will be transformed into a new attraction when the project is over. Established in 1955, the Gulfarium not only provides family-oriented entertainment, it also facilitates conservation, research, education and community enhancement. For example: The C.A.R.E. Center has treated 640 endangered sea turtles; school field trips and hands-on experiences are ongoing as well as pier and beach clean-up events.
Wednesday Winter Movie Series Returns to the Destin Library!
Every Wednesday at 1:30 p.m. and running through March 9, enjoy a free movie and complimentary popcorn. Film fans are welcome to bring their own movie-friendly snacks and beverages with tight lids. Seats fill up fast, so arrive early. Movies are subject to change based on availability at the time of the showing:
1/5 – Murder on the Orient Express (2017): Kenneth Branagh, Penelope Cruz, Willem Dafoe
1/12 – News of the World (2020): Tom Hanks
1/19 – Victoria & Abdul (2017): Judi Dench, Ali Fazal, Tim Pigott-Smith
1/26 – Percy Vs Goliath (2020): Christopher Walken, Roberta Maxwell, Christina Ricci
Attendees to the movie will also be treated to a 15-minute Tech Talk prior to the showing. Technology Programming Specialist, Skylar Dennis, will provide instruction about mobile devices, internet security, navigating websites or anything else tech related. If you would like any further information, please feel free to contact the library at 850-837-8572 or library@cityofdestin.com.
The Destin American Legion will be retiring flags on January 16th at noon. There will be a short ceremony and then the work begins. If you can participate in the ceremony and/or help retire, please contact Corlene Zieglar at corlene_z@yahoo.com.
The Emerald Coast Music Alliance's (ECMA) annual festival is being held January 6-14 and will feature live performances by ECMA musicians, some of whom are returning guests from previous festivals. More than 50 performances feature eight talented artists joining Artistic Director, Alon Goldstein. Performances will also feature live interaction with artists. This year, the ECMA is excited to announce that dance is being incorporated into the Festival as they welcome two new guest performers. As in previous years, musicians perform for schools, senior centers and organizations such as Emerald Coast Autism Center, and there is never any charge. The ECMA musicians will perform a free live concert on January 13th at 7:30 p.m. at Tyler Recital Hall, Northwest Florida State College. Seating is limited; arrive early!
Destin High School has hired E.G. Green as its first football coach. A native of Fort Walton Beach, E.G. played at FSU and then the NFL. He's an icon in Okaloosa County as well as his late father, Coach Ernie Green, who retired from Ft. Walton Beach High School in 2015 after 35 years of coaching and education.
Want to be a Lifeguard? Okaloosa County is holding tryouts every Wednesday and Friday at 8:30 a.m. through February. Pay, after training, starts at $18 per hour. Interested applicants should arrive at the Beach Safety headquarters located between The Boardwalk and Angler's on Okaloosa Island. View the job listing at www.governmentjobs.com/careers/okaloosa/jobs/3347804. For questions and more information call: 850-259-4131.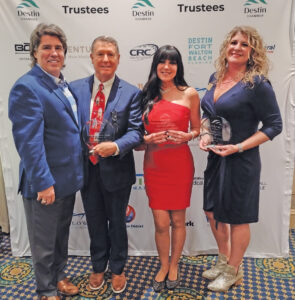 In December, Destin Chamber members celebrated the Chamber's most outstanding individuals and businesses during the Annual Holiday & Awards Party. For going above and beyond in service to the Destin Chamber and the community, Jenni Brunson of Okaloosa Gas, received the James D. Neilson, Sr., Chairman's Award for Volunteer Service. For the first time, two of the annual awards were sponsored by Destin Chamber Trustee members. Trustmark National Bank sponsored the Business Person of the Year Award, "because we felt it lined up with our core values – integrity, service, accountability, relationships and solutions," explained Christian Carlee, AVP and Branch II Manager. Due to a conflict, the actual presentation of the award is being delayed until the Chamber's Jan. 14 Business Before Hours at Shoreline Church. Okaloosa Gas sponsored the Ann Gibson Community Service Award presented to David Butler of Faith Assembly Christian Church and Mission Of Compassion. Christine Martinez received the Paul Woolman Ambassador of the Year Award for her tireless efforts as an ambassador to ensure the events and activities in which she is involved flow seamlessly for those in attendance.
Impact100 of Northwest Florida is recruiting members to join its 2022 membership base. Nonprofits need support to provide services to those in need in Okaloosa and Walton County. They welcome women 18 years or older to come to a membership event, meet the members, and learn how they can become a positive force for good in their local community.
The upcoming membership event for this month is Sun., Jan. 23, 2-3:30 p.m. at Westonwood Ranch (Freeport). For a listing of this year's dates and further details, visit www.impactnwf.org or Facebook @ImpactNWF. Women between the ages of 21 to 39, who might not have the financial resources to join Impact100 NWF, can apply for a scholarship called the NextGen Program at www.impactnwf.org/nextgen-program/. Impact100 NWF's successful community outreach has granted over $3.6 Million within Okaloosa and Walton counties over the past 10 years.
Emmanuel Sheppard & Condon (ESC) is proud to announce the addition of adoption to its roster of legal practice areas. On Oct. 28, 2021, attorney Clay Whittaker joined the firm, bringing with him expertise in adoption and a four-year-old adoption practice, Gulf Coast Adoptions. Clay is a licensed attorney in Florida and Alabama and practices in both state and federal courts. Gulf Coast Adoptions will operate under the umbrella of ESC and will provide the Gulf Coast area with trusted, knowledgeable adoption services for expectant mothers, birth mothers, and families looking to adopt. If you're an expectant mother considering adoption for your child or are interested in adoption, you can contact Gulf Coast Adoptions 24/7 at 850-999-7977. Or for more information, visit gulfcoastadoptions.com.
Warren Averett Recognized on 2022 Forbes Lists: America's Best Tax Firms and America's Best Accounting Firms
Warren Averett CPAs and Advisors, one of the Southeast's largest accounting and consulting firms, is proud to have been listed on two of Forbes' annual lists: America's Best Tax Firms and America's Best Accounting Firms for 2022. The lists were compiled from the results of thousands of surveys. Recommendations from professionals working at tax and accounting firms (peers) as well as professionals working with tax and accounting firms (clients) were considered in equal measure. Self-recommendations were excluded from the analyses, multiple quality reviews were conducted prior and more than 4,400 recommendations were considered.