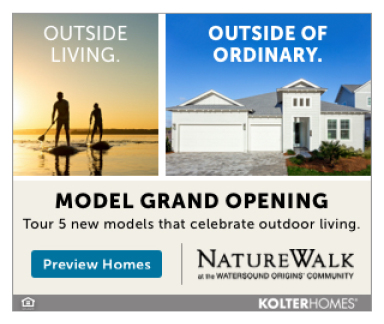 2021 Destin Rotary Club Fall Butt Rub Charity Fundraiser in Full Swing!
Get your butt now! Rotary members rub, smoke, pull, shred and cook the best, mouth-watering pork butts to support various charities including Food for Thought, Harvest House Destin, the Mattie Kelly Arts Foundation (MKAF), the Boys and Girls Club of Okaloosa County and the Destin Rotary Scholarship Fund, contributions directly supporting those in need.
The Rotary Club of Destin is known for its smoked pork butts which have won many awards over the years! For $45 you'll receive approx. 5 lbs. of meat shredded, bagged and ready to eat! There's also "half butts" for $25 which is half the meat.
Visit facebook.com/DestinRotary to purchase yours directly or from any Destin Rotary member. Hurry! They always sell out! Pick up on Sept. 18 at 3997 Commons Dr, Destin, FL 32541 (In front of the Ryland Morrow Allstate Agency).
Join International Coastal Beach Cleanups Sept. 18!
In collaboration with Okaloosa County, Choctawhatchee Basin Alliance, and Wet Inc., The City of Destin, will host its International Coastal Cleanup Kick-Off Day on Sat., Sept. 18th from 8-11 a.m. Online pre-registration encouraged! There are two clean up locations associated with this registration.
1) Norriego Point: Gulf Shore Drive (Holiday Isle), Destin
2) Mattie Kelly Park & Joe's Bayou: 800 Beach Drive, Destin
Following the beach cleanup, there will be a complimentary breakfast. Breakfast is limited and will be available on a first come, first serve basis.
In collaboration with Okaloosa County, the Okaloosa County Tourist Development Department, The Crab Trap, Destin, and Henderson Beach State Park will host its International Coastal Cleanup Kick-Off Day also on Sat., Sept. 18 from 8-11 a.m.
The Crab Trap Destin: 3500 Scenic Highway 98 East, Destin, FL 32541
Henderson Beach State Park: 17000 Emerald Coast Parkway, Destin, FL 32541
Following the beach cleanup, The Crab Trap, Destin will be providing a complimentary pancake breakfast between 9 to 10:30 a.m. Breakfast is limited to the first 150 clean-up volunteers, with a priority to those who have pre-registered through Eventbrite. Breakfast is sponsored by: S.E.A., a Saltwater Restaurant initiative that helps support programs that protect and preserve our beaches. Learn more at: saltwaterrestaurants.com/sea
CHECK-IN BEGINS AT 8 A.M. FOR ALL LOCATIONS.
A free event t-shirt will be available on a first come, first serve basis, with a priority given to those who have pre-registered through Eventbrite. Prizes will be awarded for the most cigarette butts collected!
B.Y.O.B: Bring Your Own Bucket! Help us conserve and reduce additional waste by bringing your own cleanup equipment:
· Bucket or mesh bag for debris
· Reusable hand gloves or garden gloves (or trash pickers!)
· Reusable water bottle
The Taylor Haugen Foundation Hosts Savor the Sound Fundraising Concert
The Taylor Haugen Foundation will host a fundraising concert on the afternoon of Oct. 9 at the Mattie Kelly Arts Center Amphitheater in Niceville. After a decade of success with Savor the Season, a wine and food pairing fundraiser, the foundation's new goal is to host a family festive outdoor concert fundraiser, Savor the Sound, that provides entertainment for their community of supporters while honoring Taylor's legacy as they work to protect youth athletes from abdominal injuries.
Savor the Sound is a family friendly Saturday afternoon event at Northwest Florida State College's outdoor amphitheater. Niceville-based Duchess will headline with Parker Willingham set to open. The venue will also host local food trucks, local breweries, VIP venue sponsors, a raffle and live auction.
This is a special venue and fundraiser for the Taylor Haugen Foundation, as their first ever fundraiser was a concert at the Mattie Kelly Arts Center with the All-American Rejects.
Tickets are are $20 per person or $50 for a four pack available at Taylorhaugen.org and mattiekellyartscenter.org.
GOP Lincoln Dinner Sept. 25

The Okaloosa County Republican Executive Committee (OCREC) will have its annual Lincoln Dinner fundraiser on Sat., Sept. 25, 2021, at the Island Hotel. Representative Anthony Sabatini will be the keynote speaker. He is a Republican member of the Florida House of Representatives, serving the 32nd District since 2018. Representative Sabatini is a strong advocate for individual liberty and a constitutional freedom fighter for Florida. He has filed and sponsored legislation on a variety of issues, such as cracking down on Big-Tech censorship, mandating the use of E-Verify, making Florida a Second-Amendment Sanctuary, tightening elections laws, etc. He is the only member of the state legislature to receive a 100% rating by the American Conservative Union and the highest lifetime rating from the Club for Growth in Florida (95%). He received his B.A. and J.D. from the University of Florida and also serves as a captain in the Florida Army National Guard. For more information on the Lincoln Dinner and to obtain tickets, visit the Okaloosagop.com website. You may also contact OCREC Chair Sandra Atkinson at 850 543-8742 or OCREC Vice Chair Cheryl Stubbs at 850 797-3605.
LuLu's Marlin 5K 2021 will be held Nov. 6!
The Cheerleaders of Destin Middle School, Fort Walton Beach High School, Niceville High School and the new Destin High School invite you to the 5th annual LuLu's Marlin 5k to raise funds for their cheer programs. This event is a competitive and friendly run or walk through the beautiful Regatta Bay Golfing Community and followed by the best afterparty, awards, silent auction, and door prizes. Your race entry includes a colorful race shirt. Race time 8 a.m.; package pick up day-of until 7:50 a.m., and the night before at LuLu's front deck 5 p.m.-8 p.m. with a special priced pre-race pasta dinner option if you so desire.
LuLu's | 4607 Legendary Marina Dr., Destin
DINK FOR PINK: Breast Cancer Awareness Fundraiser Benefiting The Foye Belle Foundation
The Hammock Bay Pickleball Club (HBPC) is hosting an all-day event, Sat., Oct. 9, 2021, from 8:30 a.m.-5 p.m. Try your luck at winning one of the many valuable items donated for the RAFFLES. EAT at the delicious food trucks, shop local vendors and cheer on the HBPC as they dominate the courts! HBPC and Foye Belle Shirts will be available.
All proceeds from the event will go to the Foye Belle Foundation and its Blue Bag Movement conceived by Chelsea Berler, a local on 30A, who lost her short battle with aggressive breast cancer in 2018 at the age of 34. It was through Chelsea's regular chemo treatments that the Foye Belle Foundation (Foyebelle.org) and the 'Blue Bag Movement' was born, named after her grandmother, Foye Belle, who passed away from cancer when Chelsea was a child.
The Foye Belle Foundation is a non-profit, volunteer organization that packs blue bags with love, hope and support and donates them to cancer patients who are actively seeking treatment. The blue bags are filled with goodies that are not only comforting, but help pass the time away during treatments. The foundation operates 100% on donations in order to provide these free Blue Bags.
To learn more about Chelsea and Foye Belle, visit FOYEBELLE.org. To participate, contact Event Director Courtney Blackerby at cblackerby@absolutecamservices.com. Visit FOYEBELLE.org for more info. Hammock Bay Pickleball Courts, 1850 Hammock Great Bend, Freeport, FL 32439
Tickets now on sale for Shelter House's "Purses with a Purpose"
Purses with a Purpose, a signature Shelter House event, returns for the 10th anniversary event to be held at Destin Commons, Sept. 23-25. Shoppers will have the opportunity to select from hundreds of new and gently used purses, wallets and accessories up for sale or auction. Festivities kick off with a VIP event at 5:30 p.m. on Thursday, Sept. 23, in the former Williams Sonoma storefront next to Steve Madden and Express. New to the event this year, shoppers that are unable to attend the event in person will have access to virtually bid on handbags in the silent auction.
VIP tickets are $25 before September 23 and $30 purchased at the door. Purses with a Purpose reopens for bargain shopping on Friday, September 24 from 12–8 p.m. and Saturday, Sept. 25 from 12–4 p.m. with deep discounts on remaining merchandise, plus muffins, mimosas and free admission. Both Friday and Saturday are free to attend and open to the public.
For more information, visit Shelter House's Facebook page or www.shelterhousenwfl.org and http://bidpal.net/purseswithapurpose.