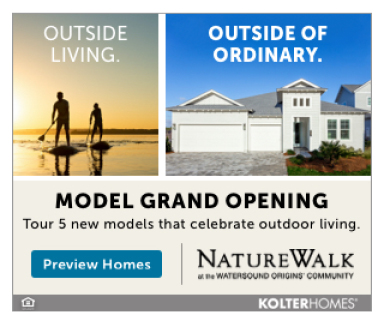 Harvest Wine & Food Festival Raises Over $100,000 For Local Children!
Imagine casually strolling through WaterColor's picturesque property soaking up filtered sunlight emanating through the trees, experiencing a crisp, warm Gulf breeze while sipping on the most delicious wine and tasting coastal culinary cuisine while live music resonates.
This year's Harvest Wine and Food Festival was one of those Chamber of Commerce afternoons when you have to pinch yourself as a reminder it's reality. And the event raised more than $100,000 for local children.
The wine festival, presented by the Destin Charity Wine Auction Foundation which supports 16 local children's charities, was back this year for four days of epicurean excellence. Held in November, the sold-out event featured high-end wines from around the world and the best culinary selections from throughout the southeast. It also included wine dinners and the return of the famous Grand Tasting. Wines were paired with seafood, barbecue and other delectable delights. Craft beer and spirits were also prominent for those who prefer it.
A virtual auction featuring rare wines, unique items, and experiential trips was active throughout the festival weekend. Proceeds benefit DCWAF and its mission to connect wine enthusiasts to raise money benefiting children in need in Northwest Florida. Since its inception in 2005, DCWAF has donated more than $25 million to its 15 partner charities, impacting the lives of more than 100,000 children in the local community.
Bloody Mary Festival Raises $30,000 for Habitat for Humanity-Walton County
The annual Bloody Mary Festival, held in October and powered by Step One Automotive Group, raised $30,000 for Habitat for Humanity – Walton County, a record-breaking amount for the festival. The sold-out event welcomed more than 1,000 guests and featured unlimited tastes of the Emerald Coast's most creative and inventive Bloody Marys made with Distillery 98's local Dune Laker vodka served by 17 of the finest restaurants, bars, and catering companies in Northwest Florida.
Guests voted for the coveted People's Choice Awards for the "Best Bloody Mary in South Walton:"
1st Place People's Choice Award – The Beach House
2nd Place People's Choice Award – Cannery Lane Cantina
3rd Place People's Choice Award – Camille's at Crystal Beach
A panel of select food critics and local celebrities also judged each Bloody Mary:
Judge's Choice Award – Signature Catering of 30A
All awards were custom made by local artist, Maxine Orange.
100 Men Who Care Presents First Award to C.A.L.M. House of Niceville
100 Men Who Care, a nationwide network of people interested in supporting non-profit groups in their local communities through giving circles, has launched on the Emerald Coast.
100 Men Who Care – Emerald Coast's mission is to help fund charities and non-profit organizations operating in and impacting our Okaloosa and Walton County communities and is part of the 100 Who Care Alliance with more than 700 chapters worldwide. Coining the phrase, "The Power of 100," each chapter meets quarterly gathering its 100-plus members at a rotating local venue. Each member contributes $100 quarterly to a giving pool. Local charities and non-profits then have an opportunity to describe their mission, needs and plans before the membership. The evening concludes with members voting to choose one local charity to receive the proceeds. The result is a one-time donation of up to $10,000 meant to have an immediate and meaningful impact for the chosen organization.
Scott Rude, management consultant and university instructor; and Andrew McDowell, Wealth Manager with Arbor Wealth Management, founded the local chapter and are recruiting local like-minded community members. In October, the chapter allocated its first award, $2600 to C.A.L.M. House of Niceville. 100 Men Who Care is welcoming new members wishing to benefit our community. Email Scott at 100mwcec@gmail.com or through the group's Facebook page: https://www.facebook.com/100MWCEC/.
The next quarterly chapter meeting will be held at the Palms of Destin Resort on January 18, 2022 at 5:30 pm.
For more information, email 100mwcec@gmail.com or visit the website at www.100mwcec.com.
"Eggs on the Beach" Cooking Competition Raises $39,500 for Local Non-Profit Organizations
Presented by Bay Breeze Patio, the 7th Annual Eggs On the Beach cooking competition raised $39,500 for local non-profit organizations, including its two non-profit partners—Fisher House of the Emerald Coast and Food for Thought. Held at Seascape Resort in October, the family-friendly event welcomed more than 600 tasters and volunteers who sampled an array of delicacies cooked on Big Green Eggs by 22 cook teams. Food for Thought and the Fisher House of the Emerald Coast, received a $16,250 donation.
"Once again, our cook teams delivered deliciously creative bites, which ranged from shrimp and grits and tuna dip to pork belly, chicken and sausage bites to bananas foster dessert," said Bay Breeze Patio co-owner and event founder Susan Kiley. "It was such a fun day and it was humbling to see the community come together once again to support great local causes."
In addition, $7,000 was donated to four local non-profits whose cook teams impressed tasters and earned the most votes. Healing Paws for Warriors served the winning bite and earned $3,000. The Eggstras cooked for South Walton Academy and earned second place and a $2,000 donation. Sinfonia Gulf Coast and Boys and Girls Club of the Emerald Coast tied for third place. Chef Pam Wellborn of 30A Destin Ice House cooked for Sinfonia and earned a $1,000 donation. Going toe to toe with Sinfonia, the Boys and Girls Club of the Emerald Coast presented their scorched chicken wings earning $1,000.
Overall winners included: 1st Place: Healing Paws for Warriors, 2nd Place: Saltwater Restaurants and 3rd Place BE-CI. Judge's Choice winners include 1st Place: Brock Landscaping Cooking for Fisher House of the Emerald Coast, 2nd Place: Blue Angels Foundation and 3rd Place: Saltwater Restaurants.
Eggs on the Beach has donated more than $205,500 to local non-profits since its inception in 2013. For more information, visit EggsontheBeach.com. For more information about the Big Green Egg, visit BayBreezePatio.com.