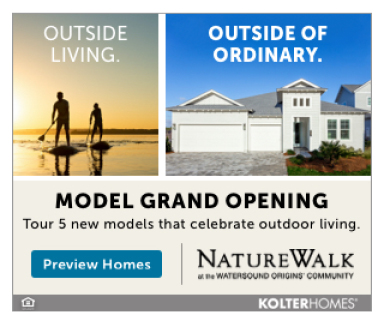 By Hannah White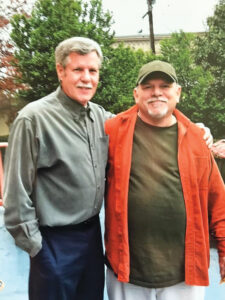 Local resident Butch McKay has witnessed first-hand the consequences of stigmas and misconceptions about Alzheimer's, a progressive and fatal brain disease affecting more than 580,000 Floridians.
When Butch's partner of 40 years, Darrel, became lost and confused after dropping Butch off one day, Butch began to suspect something was wrong. Following this first incident, he began to notice other warning signs in his partner, such as Darrel frequently forgetting things and repeating himself. Knowing that Darrel's parents had both been diagnosed with Alzheimer's, Butch urged him to visit his doctor and get evaluated for the disease. However, despite the warning signs, Darrel was in denial of the idea and firmly refused evaluation, even when his doctor also advised him to come in.
It took an entire year before Darrel finally consented to going in for an evaluation and getting officially diagnosed with Alzheimer's. He lived six years following his diagnosis, passing away in 2017.
This story is sadly an all too familiar experience for many Florida families. However, there are things you can do to ensure loved ones enjoy their life as much as possible. For Butch, it was important to be accepting and to come to terms with the changes, to not resent the new person Darrel had become.
"I did his eulogy and spoke about saying goodbye to two fantastic men who were both named Darrel and shared the same body," Butch remarks.
This June, during Alzheimer's & Brain Awareness Month, it's vital to recognize the signs of Alzheimer's and understand how to communicate with your loved ones living with the disease. Right now, more than 6 million Americans age 65 and older are living with Alzheimer's. Society's stigmas, stereotypes and misconceptions about Alzheimer's add yet another layer of hurt to this already difficult disease.
Stigmas about Alzheimer's can also create rifts in the personal relationships of a person living with the disease, shaking up their support network during a time when it is desperately needed. Friends and family members may struggle with denial of the diagnosis or avoid interacting with their loved one living with Alzheimer's.
Misconceptions about Alzheimer's can discourage both those living with the disease and their loved ones from addressing the disease and having the best quality of life possible, so it's important to combat stigma and stereotypes.
The Alzheimer's Association shares these five tips to combat stigma associated with Alzheimer's disease and other dementia:
Educate yourself. Learn the facts about Alzheimer's and other dementia, including symptoms, disease progression and challenges facing caregivers. The Alzheimer's Association website alz.org offers robust disease-related information. The association also offers online and in-person education programs and other helpful resources. Once you've learned more, share your knowledge with others, and don't be afraid to challenge misinformation.
Don't make assumptions. Alzheimer's and dementia affects each person differently. A diagnosis doesn't mean the person will have to stop their daily routine or favorite activities immediately. If someone says they have been diagnosed with dementia, take them at their word, no matter their age. Recognize that "Alzheimer's is only for old people" is another common misconception.
Continue to show support. People living with dementia don't want to lose their friends or stop doing activities they enjoy. Be supportive and stay connected. Social engagement can contribute greatly to a person's well-being and lets people with dementia know you care.
Support the caregiver. Caregivers need support, too. Knowing more about what they go through is a good start – most caregivers wish that more people understood the realities of caring for someone living with dementia. If you know someone who is caring for a person living with dementia, show understanding and offer help. They will appreciate it.
Remember the person inside. Above all, remember that people living with dementia still have hopes, dreams, and aspirations like the rest of us. If you have a loved one diagnosed with dementia, know that feelings of loss and grief are normal, and will likely grow more intense as the disease progresses. However, it's possible for the person to live well with dementia, and maintain their quality of life for as long as possible. And you can help that person live well, too.
The Alzheimer's Association has resources available throughout Florida to support you and your loved one. Access a 24/7 Helpline available at (800) 272-3900 or learn more about programs and services near you at Alz.org/CNFL. Another way to show your support is at the Alzheimer's Association Walk to End Alzheimer's, the world's largest event to raise funds and awareness for Alzheimer's care, support and research. The 2022 Walk in Pensacola will take place Sunday, Oct. 2. On Emerald Coast, it will take place Saturday, Oct. 29. Visit alz.org/walk to register.